Keep your garden furniture looking its best with our useful tips.
No garden design is complete without the perfect set of garden furniture, but how do you keep it looking its best? Find some handy tips to protect your garden furniture, whatever material.
Wooden Garden Furniture
Wood makes a stunning addition to any garden, with its classic feel and organic touch. However, because it is a natural product, it generally needs more regular care than other materials to make sure it remains in the best possible condition. A yearly, or more, application of wood oil helps prevent rot. For teak wood furniture, however, experts advise that oiling is not required.
At the beginning of the season, give your wood a general clean with some hot soapy water, or a hardwood cleaning fluid. If your wooden furniture has seen better days then you can lightly sand it after cleaning. Be sure to brush away any dust, and then oil or paint your furniture.
Do not use a pressure washer on soft woods like eucalyptus, as the strength of the water jet can cause damage. For teak furniture you can use a pressure washer.
When you have wooden furniture, there are a few options available to you after cleaning. You can let your furniture age naturally to a beautiful silver. Alternatively, for creatives, you can use wood paint to add a splash of colour and rejuvenate your garden. Finally, you can keep your furniture looking brand-new with a staining oil. The choice is yours.
Metal Garden Furniture
Metal garden furniture does not require much attention to keep it looking its best. In most cases a simple clean with hot soapy water and a non-abrasive cloth will do the trick. You can also use a pressure washer on metal furniture. However, be sure to be using a low setting, particularly on fragile areas like a glass tabletop.
For steel garden furniture, any scratches that expose bare metal will need to be treated to prevent rusting. Any rust that has set in can be removed with steel wool and then touched up with an exterior metal paint of the same colour.
Aluminium garden furniture is rust-proof. However, it can be affected by aluminium oxidation. This changes the colour of the metal over time but will not affect the strength of it. To keep your aluminium furniture looking its best, be sure to clean it regularly and keep it covered during the winter.
Another great tip for metal garden furniture is to polish it with car wax after cleaning to make it a little more water-resistant.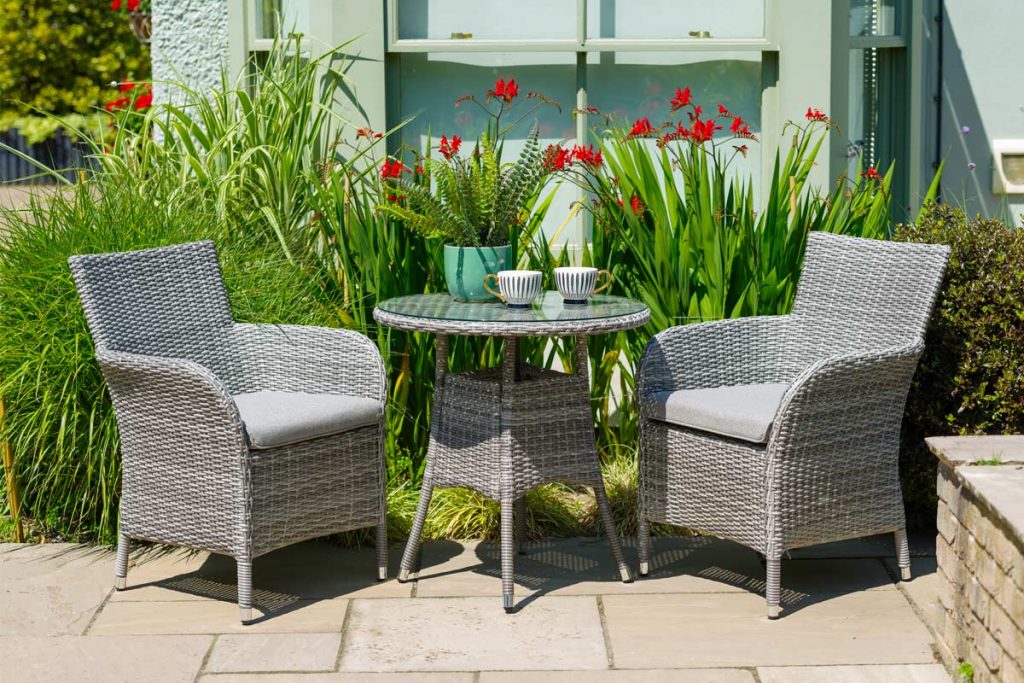 Rattan Garden Furniture
Rattan garden furniture is a synthetic material that's UV- and weather-resistant, and therefore doesn't require much looking after at all. Just wash your rattan furniture down with soapy water as and when you need to. Be sure to give the frame underneath some attention. Most frames are metal and will need the same care as you would give to metal furniture, mentioned above. For those looking for the garden furniture needing the lowest amount of maintenance, rattan is the perfect choice for you.
Garden Furniture Covers
You have our tips to protect your garden furniture, but also don't forget that we also stock garden furniture covers to fit all types of garden furniture. Cover up your furniture to keep it protected from adverse weather conditions, or over the winter months. This will reduce the amount of maintenance that you will need to do. It can also be a good idea to, where possible, move your furniture indoors during the winter months.