It is important to know how to look after your garden furniture outside.
When you invest in good garden furniture you want to know that you are getting something that will stand the test of time. But what garden furniture can be safely left outside? We have put together some handy information on the different types of garden furniture and how well they will last if left outdoors.
Rattan Garden Furniture
Rattan garden furniture is perhaps the best garden furniture for leaving outside all year round. Its synthetic material is UV- and weather-resistant, meaning it will withstand weather conditions. It will also require a lot less cleaning when compared with other materials. Any cushions or soft furnishings that come with your rattan set may not be quite as weatherproof as the rattan. Consider storing away soft furnishings during the colder months. You should also check the metal frame of your rattan furniture and treat this, as required. Although rattan is weatherproof, it is still advisable to cover it during the winter to keep it looking its very best.
Aluminium Garden Furniture
Rust-proof aluminium garden furniture is another great choice for leaving outside, come rain or shine. This metal will just need a quick clean to keep it looking its best. You may also want to keep this furniture covered during the winter months. This will minimise the amount of maintenance required by protecting it from bird droppings, insects, or dirt. Most of our metal garden furniture range is made from coated aluminium, making it an extremely good choice of furniture to leave outside.
Other Metal Garden Furniture
Other metal garden furniture can be left outside if treated. However, it is always advisable to store it away in the colder months to avoid rusting and corrosion.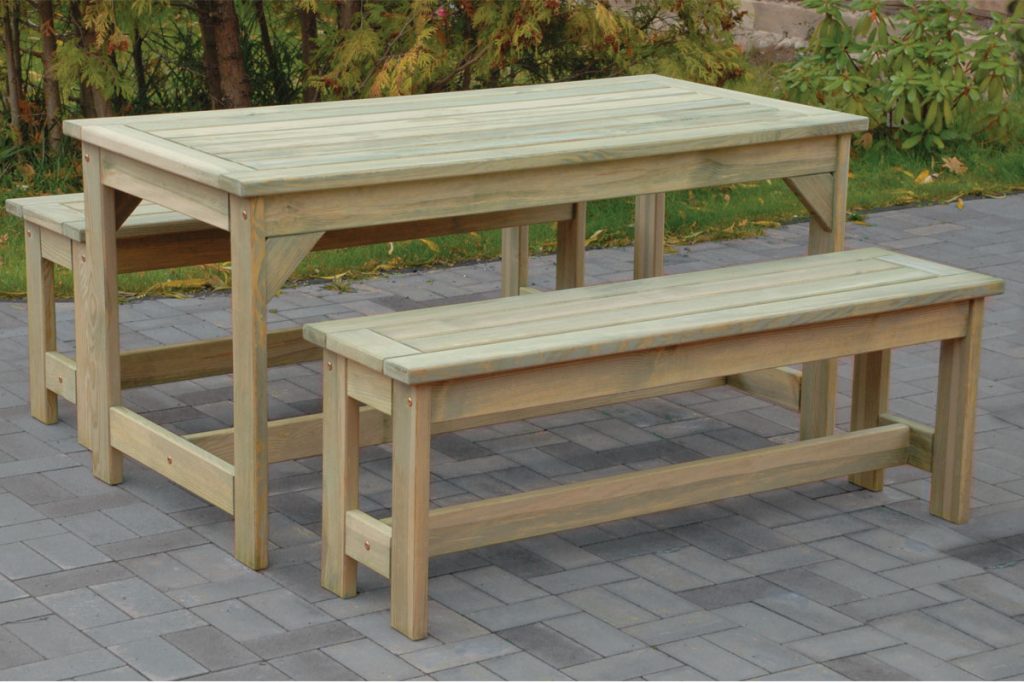 Wooden Garden Furniture
Good-quality wooden garden furniture can be left outside if it has been treated. However, most wooden furniture will require some kind of ongoing maintenance to keep it looking its best. You can learn more about maintaining wooden furniture in our blog "How to protect garden furniture". Some wood may also change colour with age. You can either allow the wood to age naturally, treat it with a stain or even repaint it. Once again, it is recommended to keep this furniture covered when not in use.
Plastic Garden Furniture
Although not always the most attractive of garden furniture, plastic will not rust or rot, so can be left outside. However, it is worth considering that plastic furniture tends to be quite light and therefore may need to be secured during strong winds. Plastic may fade from exposure to the sun, so you may wish to cover it when not in use to avoid this.
View our full range of garden furniture to find the right set for your garden.