People so often assume that really good-looking natural stone has to be very expensive that we thought we'd feature an old favourite of ours this week: Kota Blue Limestone.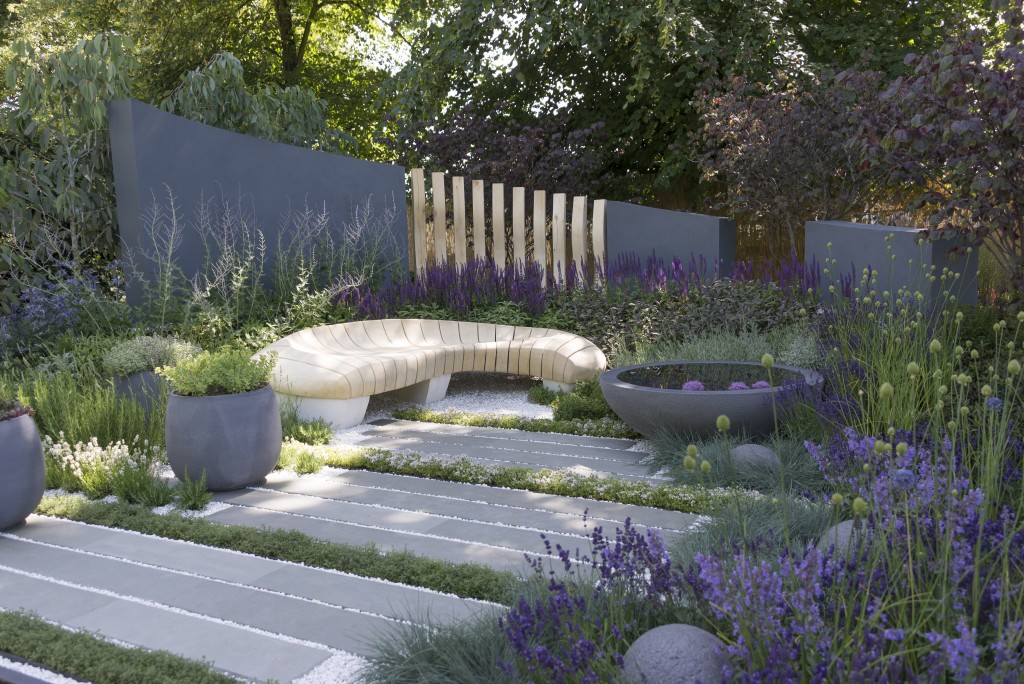 The Healing Urban Garden (HUG), designed by Rae Wilkinson and built by Living Landscapes, was awarded a Silver Gilt medal at RHS Hampton Court Flower Show 2015
You may remember that it featured in the Living Landscapes HUG garden at Hampton Court Flower Show last year, awarded Silver Gilt. It fitted well in designer Rae Wilkinsons's modern design because, although it's a riven stone, it has a naturally flat surface. Combine this and its even colouring with its sawn edges and you have a very smart, stylish product that looks good in more traditional settings too.
Its blue tones are ideal for complementing a calming colour palette—Rae paired it with blue and silver planting—but are certainly worth thinking about if you want to balance borders that will sing out with something hot and zingy.
For such stylish paving, though, it's a very cost-effective choice and even though it's just £24 per square metre you don't have to compromise on quality. Limestones have, at times, got a bad press because softer varieties can suffer in the acid rain that falls in the UK. We chose Kota Blue because it makes the grade as being hard-wearing and durable.
Kota Blue Limestone in mixed sizes. Image courtesy of Nic Howard Garden Design
Nearly six years ago, when we first started supplying it, we said, "When you take price, durability, maintenance, quality and colour into account, of all the stones we supply Kota Blue ticks all the boxes."
Our range has extended hugely since that time, but Kota Blue Limestone hasn't stopped ticking those boxes.