Large areas of paving can be something of a design challenge.  It all depends on proportion. After all, the drive leading up to Blenheim Palace is larger than a lot of people's plots – house and garden combined – but in no way overwhelms the building.
A large patio with Raj Green Sandstone by Landart
Back in the normal world, though, a client who hankers after an enormous, one-level patio might not realise that, if the space isn't carefully handled, he'll end up with something that will overwhelm his garden and give the alarming impression of an airport runway.
Choosing a natural stone with plenty of colour variation (such as Raj Green Sandstone) can be one answer.  If paving is uniform in pattern and colour, it draws attention to the shape and extent of the area. Break it up and immediately those aspects become less obvious.
An area of paving broken up by using squares of setts in place of some individual paving slabs.
Textural changes can also help. They encourage the eye to linger on some areas and pick out others, thus creating parts within a whole and drawing attention away from the extent of the space. Setts are the most obvious design tool for this, versatile enough to lay in curves to break up rectilinear corners, as edging, to create pattern, or laid in squares to replace individual paving slabs. This approach works particularly well in more rustic settings.
The uses to which the client wants to put his patio – dining, barbecuing, lounging, an area for raised vegetable beds – give purpose to changes in texture and colour, making it a reasonable decision to lay a different colour around, say, a fire pit to separate it from the dining area. Setts can help make the transition between colours and divide an area into sections, perhaps used in a shaped block to make a substantial textured break between the dining area and the sun loungers.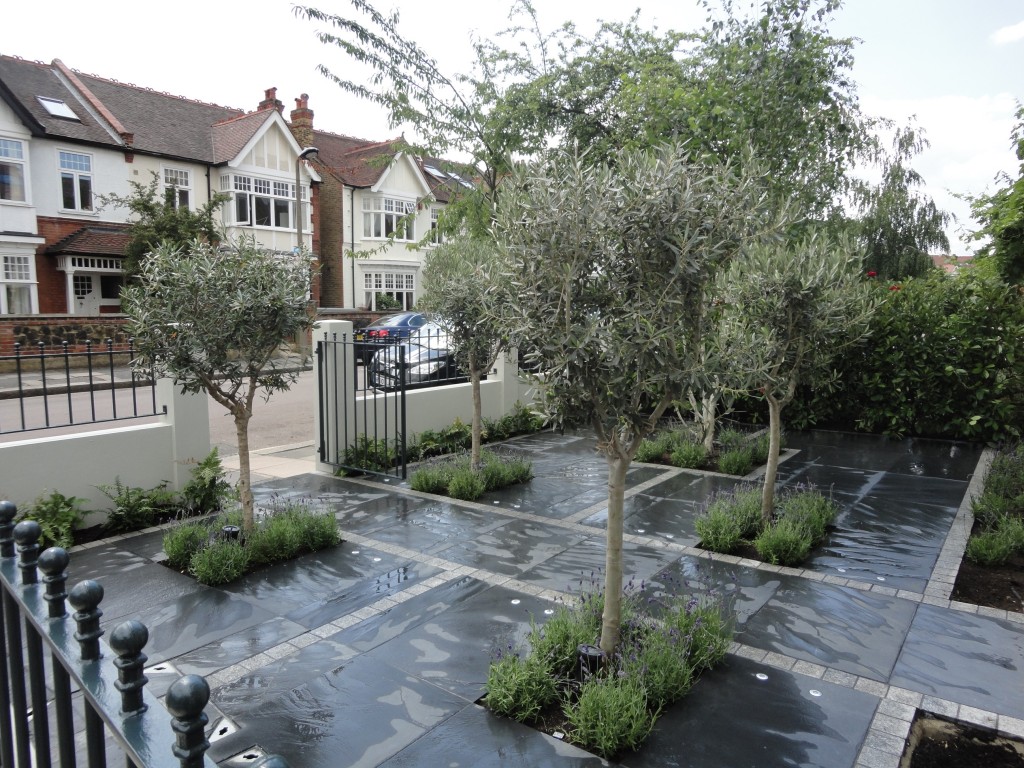 Silver Grey Sawn Granite Setts have been used to break up a large area of Blue Black Slate paving. Image courtesy of Harrington Porter.
An alternative suitable for more modern settings would be to inset runs of smooth pebbles. These can usefully encourage a certain pathway across a space as people are less likely to tread on them.  They certainly introduce a more three-dimensional texture than mortared paving, while maintaining a smooth uniformity themselves. (We'll be introducing you to our new range of aggregates and pebbles in the New Year.)
But don't forget the subtleties of paving patterns. If setts and pebbles are unsuitable for any reason, varying the size and shape of the paving slabs themselves will break up an area. Why not lay plank paving in contrast to square or rectangular paving slabs to outline the dining tables and chairs, or use it to intimate a pathway within the paving towards a feature further away in the garden?