It's an issue with many different opinions. Some say you should use large format paving in small areas because it gives the illusion of space; some say small paving slabs, or even setts, to keep in proportion.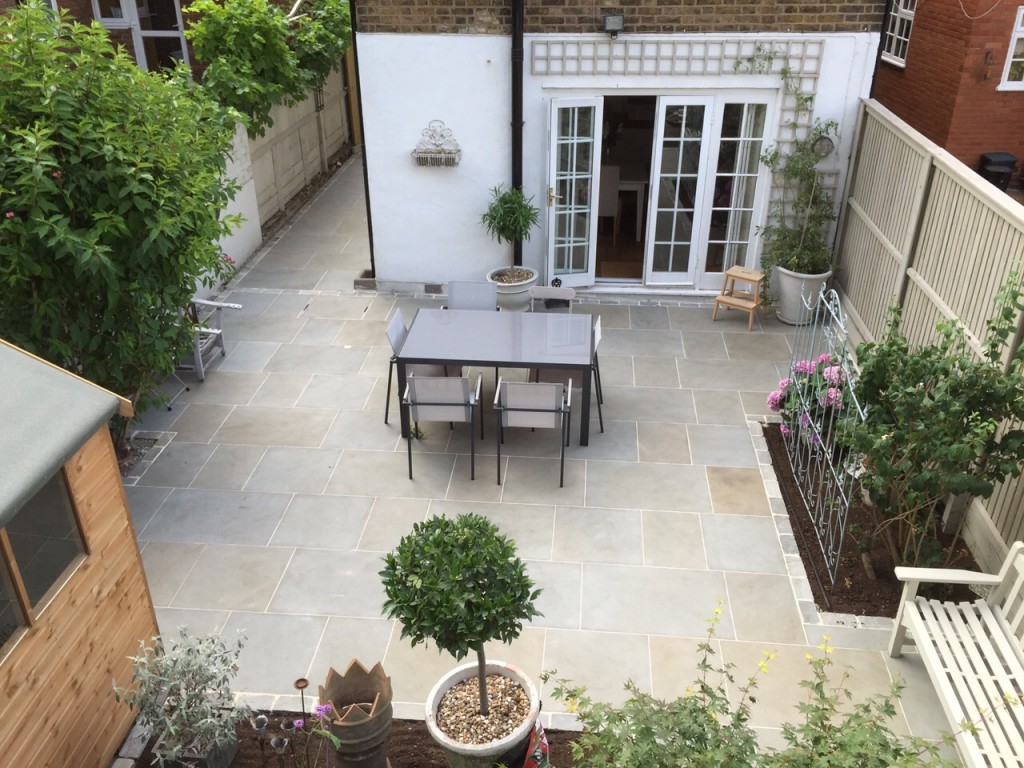 Image supplied by Jardin Landscapes. Featuring Heath Sawn Sandstone from London Stone.
Recently James Morris of Jardin Landscapes renovated the back yard of an old coach house in Bromley. "It's a building you'd never know was there if you weren't going there," he said. "All around are modern and mock Tudor housing. This had ironstone cobbles in the driveway where the horses came in, put down because they're so hard they wouldn't get chipped by the horseshoes."
It was the back that needed attention. The owners, a retired professional couple, hated the existing 1970s patio so much that they didn't feel able to use it. In its place they wanted to create the feeling of a country courtyard to match the house.
This is why James chose Heath Sawn Sandstone. The mellow grey with hints of brown suited the older property, and offered a similar feel to Yorkstone at a more economical price.
The borders were already in place, so apart from replacing the shed, the main work was laying the stone. James chose a linear bond with three sizes of paving slab laid randomly. "It's a matter of personal taste," he said, "but if you put very large format paving in a small space you end up with hard standing with a few lines on it and it lacks visual interest. If you use small paving, it looks busy."
Image supplied by Jardin Landscapes. Featuring Heath Sawn Sandstone from London Stone.
The slabs are laid with gaps of 5-8 mm. "The gaps are as important as the paving," added James. The mix of sizes, highlighted by the pointing, means that the paving pattern doesn't overwhelm the space but creates a relaxed feel in keeping with the age and character of the building.
The slabs were sealed before laying. "It saves staining and picture framing," said James, "especially on a more porous stone like sandstone." And, given that the couple installed a barbecue soon after, it also means that marks from splashes of fat will be easier to remove.
We don't think anyone could quibble with the result James achieved. But that doesn't mean you don't have a strong opinion on paving formats. So, leave a comment below to let us know what size paving you prefer to use in small spaces.