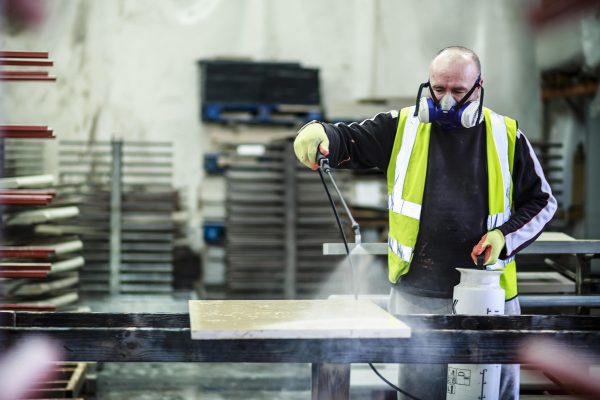 Find the answers to all your questions about sealing and pre-sealing.
At London Stone we know a thing or two about sealing and pre-sealing. We have put together this handy information so that you can easily find the answers to all your questions in one place.
To seal or not to seal?
Strictly speaking, no stone needs sealing and pre-sealing. However, modern demands on stone have greatly increased. We expect our stone to perform higher than ever before. Contemporary garden styles demand pristine, un-weathered paving, and we want our natural stone to successfully compete with porcelain in terms of hardiness. Riven stone and even hard, dense stones can benefit from sealing. When it comes to sawn stone we strongly recommend sealing. When natural stone is sawn the pores are opened, which increases the need for maintenance.
Does Porcelain need to be sealed?
Although an already hard-wearing stone there is a new, smaller particle sealer on the market from Dry Treat. This sealer has been developed specifically for surfaces with low absorption rates. The application of this sealer will make it easier to clean porcelain overall. This sealer should be used before grouting to assist in the subsequent removal of grout haze. Used to seal micro pores in polished porcelain and quartz surfaces, this sealer offers permanent, long lasting protection that will hold up to commercial cleaners and equipment. When applied by accredited applicator this Dry Treat sealer comes with a 10-Year Performance Warranty.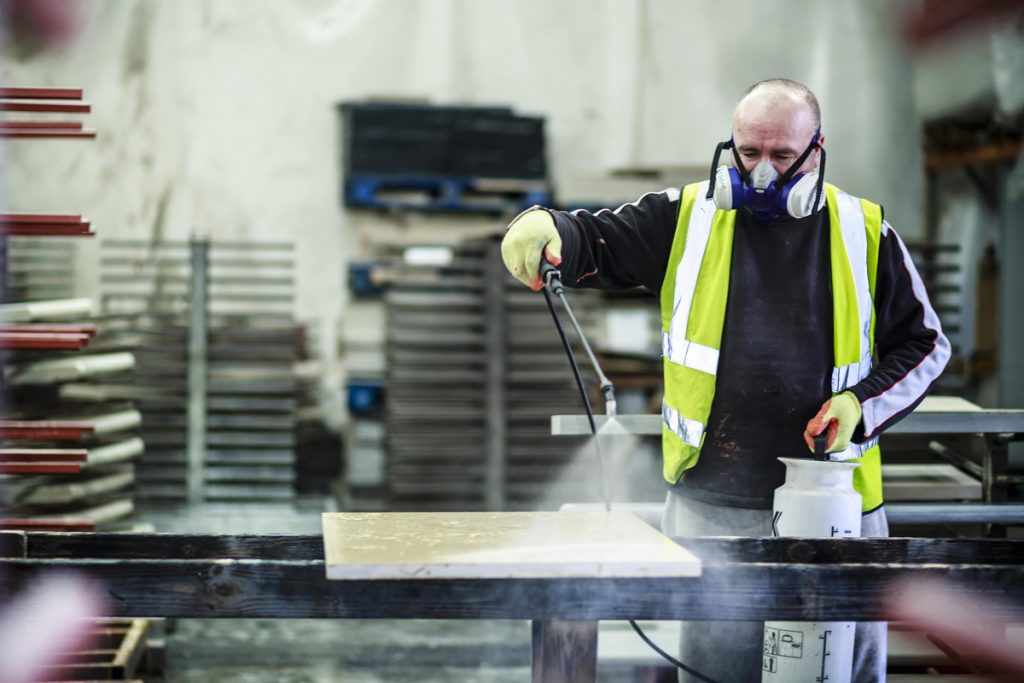 Types of sealant
Traditional Topical Sealant (coatings) -
Pros
Impervious to liquids.
More cost effective.
Provides a good short-term solution.
Cons
Prevents moisture from escaping.
Mould can build up underneath the sealant.
Efflorescence can be trapped in the stone.
Changes slip resistance – especially when wet.
Changes appearance of stone.
Wears quickly under traffic and UV light.
Needs stripping and reapplying.
Impregnating Sealant (penetrating) -
Pros
Allows stone to breathe – pores of stone are left open.
Moisture can escape as vapour.
Slip resistance is not affected.
Appearance of the stone is not affected.
Forms a longer bond with the stone. Where Dry Treat is used, the bond is permanent and Dry Treat does not need to be re-applied.
Cons
Initial investment is more expensive.
Benefits of sealing with Stain Proof
Dry Treat's Stain Proof sealant is a premium water- and oil-repellent. It has deep-penetrating, permanent bonding technology for long-lasting, superior stain protection. Equally suitable for indoor, outdoor, residential, and commercial use, the sealant is super-breathable and stands up to alkaline cleaners and pressure hosing, making the stone easier to clean. Not just this, but Stain Proof, unlike other sealants, will retain the natural surface colour and finish of stone paving. It will also delay the onset of algae, greatly reduce or stop efflorescence occurring, and can prevent picture framing.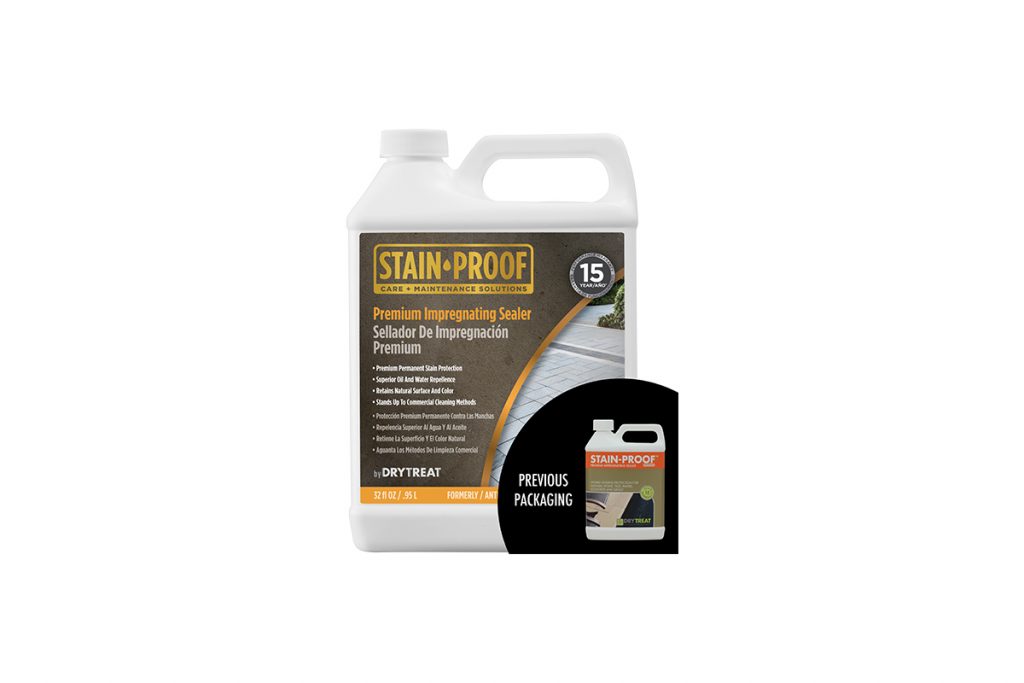 When should you seal your paving?
There are a few options for sealing and pre-sealing. The best option is to have your paving pre-sealed by us. This is carried out in a dry, clean, and controlled environment. This is an accredited application method, and a warranty is available on request. This method will also help to keep the stone clean during installation.
The next best choice is to seal before installation. This application method is not complex but needs to be followed precisely or problems can occur, and you will require enough space on-site to seal. This method will also help to keep the stone clean during installation. For more information, see our Quick Guide to Sealing Natural Stone.
An alternative option is to seal after installation. This method is, however, weather dependent, which can be difficult in the UK climate, as the stone must be clean and dry. Again, the application process is not complex but must be followed precisely. You should ideally seal before pointing. If you are using Dry Treat, then you will be able to walk on the sealed areas during application.
Dry Treat technology
Dry Treat impregnates further into the surface of the stone than other sealers, to offer longer-lasting protection. We have also carried out our own extensive tests of the various sealants available on the market and, in our experience, Dry Treat offers superior performance. For this reason, we always recommend Dry Treat products. Some other benefits of Dry Treat include:
Prevents/reduces efflorescence, as water carrying the minerals that cause efflorescence cannot get close to the surface.
Prevents/reduces freeze/thaw spalling, as the surface of the stone is protected by the sealant's action in preventing water seeping up from underneath and repelling moisture from above.
Reduces algae growth ingrained into the stone.
Average coverage rates
Stain Proof -
Portland Limestone 5m2 per litre
Sandstone 6m2 per litre
Limestone 7m2 per litre
Granite/Basalt 8m2 per litre
Slate 12m2 per litre
Porcelain and Quartz sealer -
Porcelain 30-40m2 per litre
Please note, these figures allow for the 2 coats required as part of the application process.
Why does my stone still get dirty?
External stone has quite a textured surface for an improved slip-rating, which will inevitably collect dirt more easily. A sealer will make the surface water-, oil-, and stain-resistant, but even an impregnating sealant won't make it dirt-proof! So, an impregnated surface will mark occasionally. Leaf marks are one of the most common problems, with leaf sap/tannins left on the stone, which look almost like rust marks. Most marks can be removed with the correct cleaning agent, but in some cases multiple chemicals may be necessary to break down different layers of grime.
How soon can I jet wash my new stone?
Be sure not to jet wash stone for at least 4 weeks after sealing. Dry Treat Stain Proof takes around 4 weeks to migrate and cure into the stone. Pressure washing before the sealant has fully cured will damage the bond it creates with the stone. It is also worth noting that natural stone can be damaged by pressure washing. If the surface of the stone is damaged, the sealant may become compromised.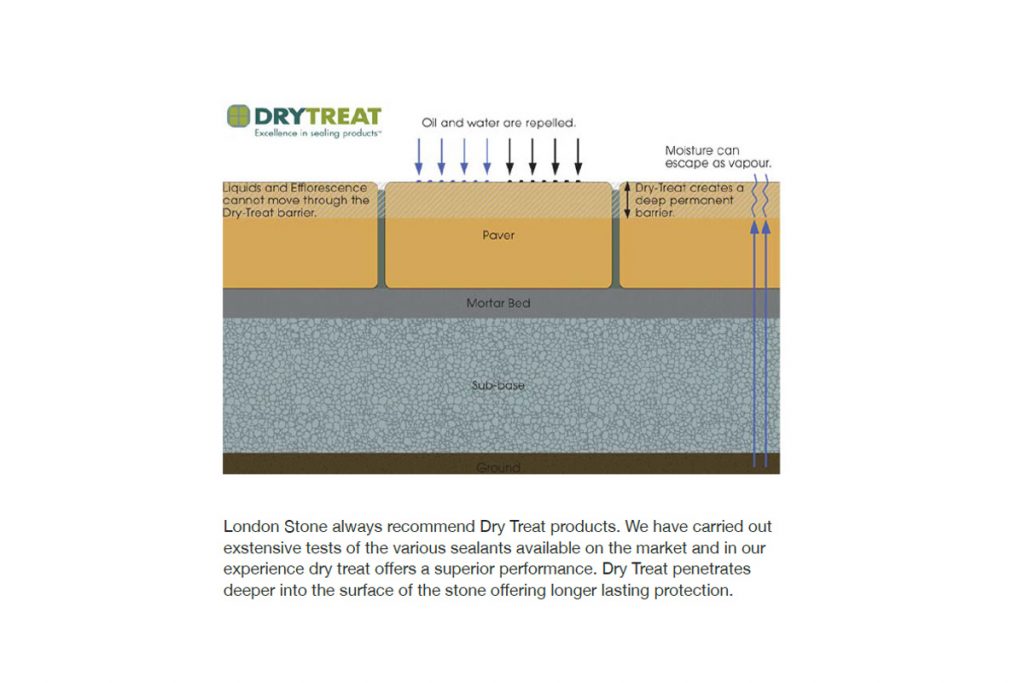 Do I need to seal all sides of the stone?
No, just the top surface. Dry Treat will penetrate the stone 4-6mm. Be aware that if the bottom is sealed, then due to the water repellence of the sealer, a sand and cement mortar will not bond to the slab.
Cleaning & maintenance
Any outdoor paving will need maintenance and cleaning; this includes sealed stone and porcelain. A jet wash is the best tool for the job, along with a stiff deck brush and emulsifying pad. You will need cleaning agents to break the bond of the dirt with the stone and the physical action of a brush/emulsifying pad to lift the bond the dirt has created. A jet wash can be used to remove the dirt from the surface, but must be used correctly—on a low setting and held away from the stone.
Imagine you are washing a car—you would not just use water but also a car shampoo to clean. Use the correct cleaning agent for the dirt/substance being removed.
Cleaning & chemicals
Which chemical should you use for which kind of stains?
Rust, efflorescence and grout haze - Dry Treat Acidic Cleaner can be used to remove these marks. Suitable for use on Porcelain, Sandstone, Granite etc
Black spot and algae – Mould and Stain Remover can be used to remove these marks. Suitable for all materials.
General grime and dirt – Stone and Masonry Cleaner (SMC) can be used to give your patio a deep clean. Suitable for all materials.
At times it may be necessary to use multiple cleaning products in different orders. For example, SMC to remove general dirt and reveal black spot and rusting. Mould and Stain remover for the black spot and Acidic Cleaner for the rust.
You know hopefully have all the answers to your sealing and pre-sealing questions. If you have any further questions please do not hesitate to speak to one of our members of the sales team.