There are so many metal pergola kits available; find out how to pick the right one for your garden.
The addition of a metal pergola to your garden or patio is the perfect way to create a private, shaded space for relaxing and dining in comfort. It will also make a hard-wearing and durable structure that can add the finishing touch to bring your garden together. However, with so many metal pergolas available it can be difficult to know how to choose the right one for you. We have put together a few factors for you to take into consideration that will help you to choose the perfect pergola for your garden.
How you will be using your pergola
Consider the use your pergola will serve. Will your pergola's main use be to provide shade and shelter? In which case, you may want to consider one of our options with a remote-controlled retractable roof. This will allow you to adjust the roof according to the ever-changing British weather. Or if you are looking to create a space that you can enjoy late into the evening, our options with built-in lighting may be the better choice. This way there is no need to come inside when the sun goes down; instead you can enjoy your garden long after dark. If your pergola is there to add the finishing touch to your garden, our stylish options have something to suit every garden design.
Where you will be using your pergola
Wherever you set up your metal pergola kit, it is sure to create a small haven for you. The location—whether you are positioning your pergola over an outdoor dining table or creating poolside shade—may affect your choice of pergola. We have both freestanding and wall-connected pergolas and obviously the right one will depend on where you are setting it up.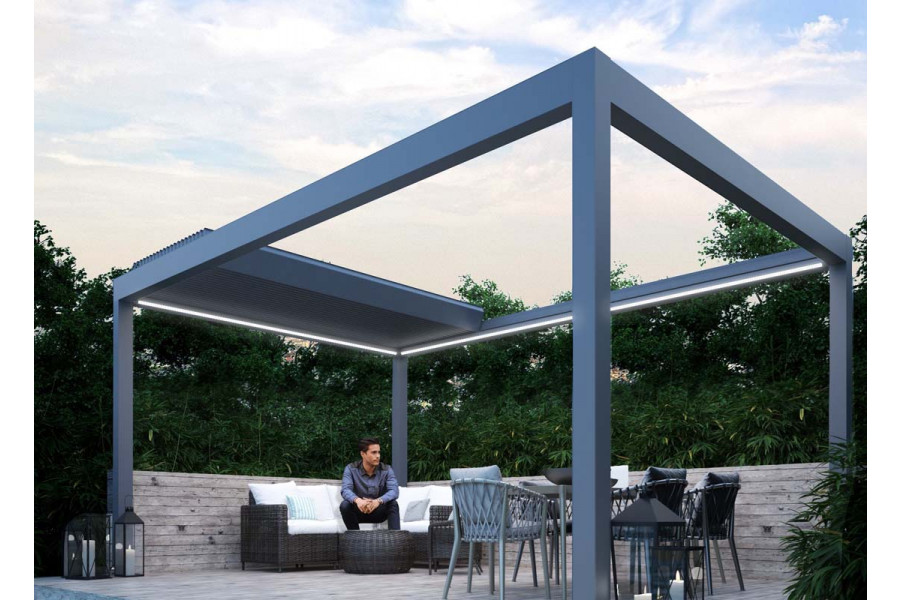 Pergola Size
Now that you have considered the use of your pergola and where you are going to put it, you should think about the size. Our ranges are available in a variety of sizes. You will want to get an option that is large enough to fit over your furniture or other chosen area, but not too large to look out of place. Be sure to take into consideration both the length and height of the structure. Think about any surrounding objects, like trees, foliage or structures that may impact the fit of the pergola, as well as the final appearance.
Start shopping our metal pergola kits now and transform your garden.