Why You Need A Metal Pergola With Sides This Spring
Pergolas incorporate beauty and functionality into your garden. These impressive structures provide seating, shade, and outside comfort.
A thoughtfully designed pergola will provide character to your outdoor space and define areas. A pergola can be a relaxing corner for tired gardeners, a cosy garden nook for readers, an outdoor dining area and much more.
Picture yourself surrounded by friends and family dining alfresco this summer under our Pinela Louvered Roof Pergola. 
Outdoor Living Area
Pergolas are the perfect way to extend the home into the garden, creating an open-air, outdoor living or dining area. During the warmer seasons, a metal pergola is the perfect space to entertain friends and family. Even during the cooler temperatures, you can enjoy the definitive space of a pergola, especially if there is a fire pit to help keep you warm.
A metal pergola with sides is the perfect place for you to relax, entertain, and make the very most of your garden. Simple, yet stunning, these structures that can turn any garden into an amazing place for eating, relaxing, and entertaining family and friends. This is probably the most important point of having a pergola; it is an outdoor area that you can turn into an intimate setting.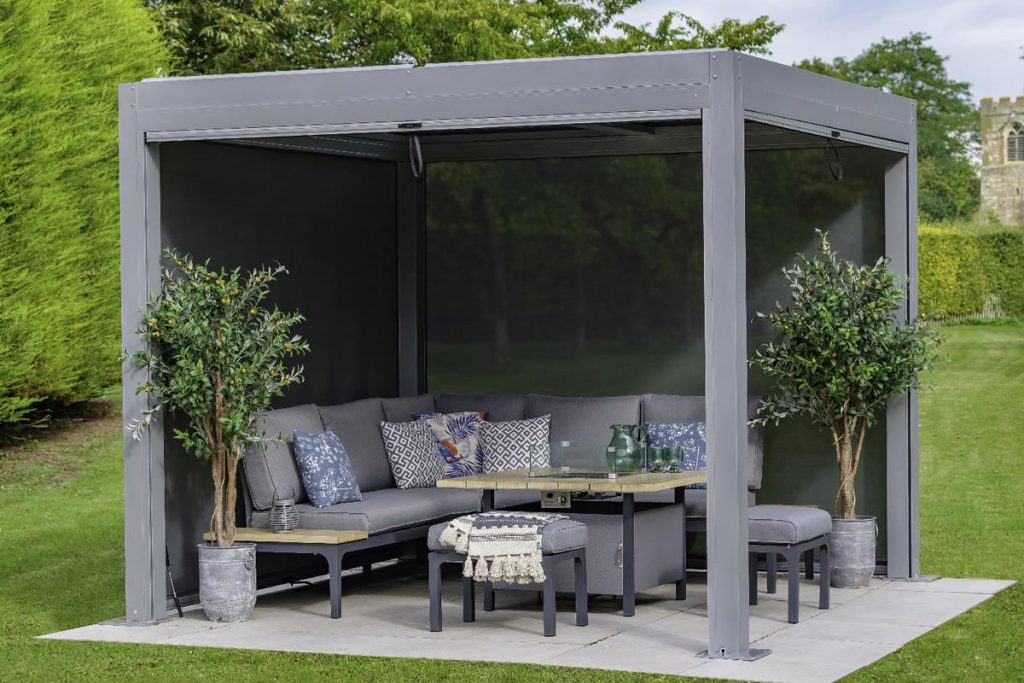 Enjoy time in your garden whatever the weather with a stylish Light Grey Metal Pergola.
Shelter and privacy
Not only are metal pergolas sleek and stylish but they also provide shelter within your garden. Come rain or shine, with a pergola you can continue to make the most of your garden, whatever the weather. In the height of summer, the pergola can provide some much-needed shade to protect your family from hard UV rays. During spring showers, a metal pergola with sides is the perfect way to shelter your family from the rain from all angles. Additionally, a pergola can add some privacy to your outdoor space.
For a totally versatile solution to staying outside on a rainy day or during the warmness of the sun's rays, consider a pergola with a retractable canopy. You can either shield yourself completely from the elements or slightly retract your canopy to enjoy the drizzle of the rain or warmth of the sun. With a pergola, your outdoor living space is no longer limited by the weather. It is functional in nearly any climate, giving you the opportunity to enjoy your outside space throughout the seasons.
Adaptable
Pergolas with a retractable roof and sides give you more options. The benefit of a louvered pergola is that you can change the roofing to allow in more light or provide more shade, thanks to the adjustable mechanisms. You can opt for a completely open and airy feel, or a more secluded option that provides you with a garden sanctuary. The versatility of a pergola with retractable roof and sides provides you with a changing aesthetic that will keep your garden looking fresh.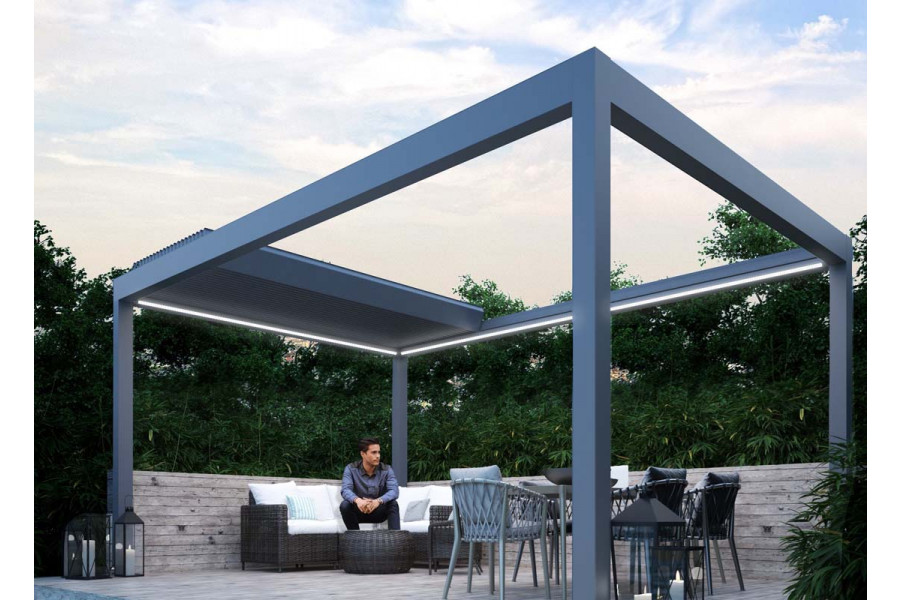 Spend your evenings in the garden relaxing with a nice glass of wine under our Pinela Deluxe Louvered Roof with Lights.
Personal Style
The simple structure of a pergola is unique, but you can easily add your own personal touch to it. You can enhance its attractiveness by adding outdoor accessories that reflect both your personality and outdoor space. Design your garden the way you want it to look and make your pergola the centrepiece of it all.
Create an outdoor pergola with an old romantic feel by encouraging climber plants to grow up and around. Pair this with more flowers and soft furnishings. If your style is more minimalist, then keep it simple. Stick to a monochrome colour scheme and scale back on the accessories.
Transform your pergola into the perfect reading and relaxing corner. Lay out a carpet, put some cushions on the floor and create a cosy spot to relax and unwind with a coffee and a good book. Alternatively, create a unique garden nook. Position garden swings under the pergola, a small coffee table and swing the day away in the garden.
You can also get creative with lighting around your pergola to transform it into your perfect outdoor space. Select furniture that best serves your garden and position this under the pergola to make the most of it year-round. Other ways to make the most of your pergola are with a hot-tub, fire-pit, or an outdoor kitchen. The possibilities really are endless.
Shop our range of metal pergolas today and transform your garden.