This Is Why You Should Have Porcelain Shower Walls
Porcelain is the best your bathroom can get. Discover why having porcelain shower walls in your bathroom renovation is the best choice for your home.
The qualities of Porcelain
There are several qualities that porcelain has that make it the perfect choice for bathrooms. Porcelain is virtually non-porous; this means it has an extremely low absorption rate. With an absorption rate of just 0.5%, porcelain is practically water-resistant. This low moisture absorption rate can improve the quality of the air inside the bathroom by preventing the absorption of unwanted particles in the air. This makes it the perfect option for shower walls that will experience a lot of moisture.
Porcelain tiles are also extremely easy to maintain, ideal for areas like bathrooms. Just give your shower a quick wash and wipe down to keep it looking its best. It is also exceptionally durable, resistant to scratches and scuffs, and therefore easily withstanding the common wear and tear that your tiles may experience. Hardwearing, porcelain can withstand high foot traffic, which is likely in key areas in the home like the shower, and our wall tiles can be matched with floor tiles to create a stylish bathroom design.
Now you know the top qualities that makes porcelain the perfect choice for your shower, let's look at how to style the tiles.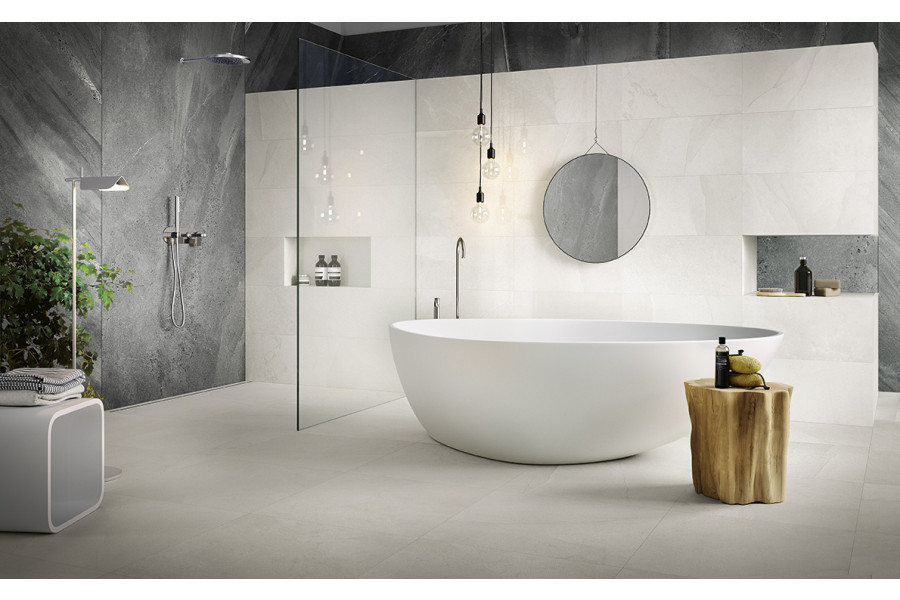 Imagine yourself relaxing in the bath, surrounded by our beautiful Comblanchien Porcelain Tiles.
Large Format
Using large format tiles in the bathroom is a great way to add some wow-factor! Perfect for smaller spaces, the tiles can give the area the illusion of being larger than it actually is. There are several choices when it comes to using large format porcelain tiles in the bathroom. Either use them on both the floor and walls, or pair with standard-size tiles. Each choice will produce an equally stunning result.
Reclaimed
Bringing a reclaimed feel to the bathroom will produce a beautiful vintage feel in your space. The effects are fantastic when combined with plenty of other textures and exciting visual patterns. Metallic tones, relaxed browns and a distressed feel are perfect for creating this effect. Our Ground porcelain tiles are a great choice for your shower when aiming for this style. Incorporate plenty of natural elements with your accessorising with plants and wooden touches, as well as some soft materials.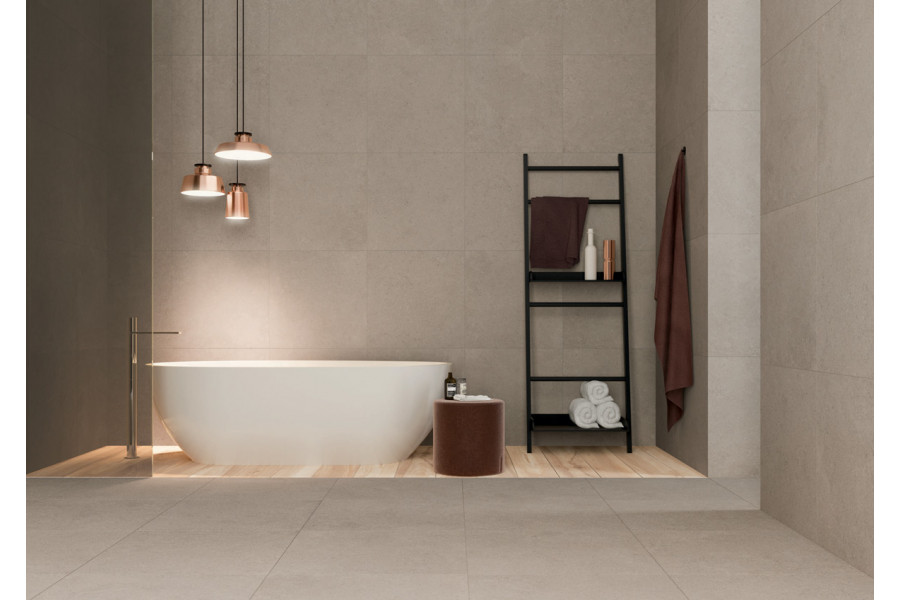 This calming space has been created using our Taupe Porcelain Tiles.
All White
An all-white bathroom is a classic choice that produces a clean, fresh feel. Use white tiles for both the shower walls and floors, and even extend this to the wider bathroom if you are tiling the whole space. Our Chalk Porcelain Tiles are a great choice for a white that has a textured feel to it, whilst our Comblanchien Porcelain is a firm favourite, and it is easy to see why. Either use the same tile throughout your project or combine differently shaped and sized tiles to add a little variation.
Neutral Grey
Grey is the colour of the moment. An extremely popular choice among designers, grey is a great choice for bathrooms due to its ability to create a calming environment. If you are looking for a soft, understated and traditional look for your bathroom, the pale grey of our Original Porcelain Tiles is the perfect shade. For sleek and stylish shower walls the darker tones of our Sidewalk Porcelain will make a luxurious addition. Grey complements a vast palette of other tones so you can pair it with other colours of your choice to add your own personal touch. Whether they're with bright white or flashes of colours like yellow, pink, or orange, grey tiles are the perfect match.

Create a statement in your bathroom, like this design has, using our Nero Atlante Lucidato Porcelain Tiles. 
Marble
Marble-effect bathrooms are the epitome of elegance. Try having a light marble tile like our Calacatta Oro Matt Porcelain Tiles on your shower walls, and a darker tone like the Nero Atlante Matt Porcelain Tiles on the floors. A classic bathroom choice, these marble-effect tiles will bring all the elegance of marble but with the more durable qualities of porcelain. Marble never goes out of style; this makes it a strong choice for a bathroom renovation. Keep the rest of the bathroom simple, with white porcelain sinks and minimal accessories to maintain that luxurious feel.
Wood Effect
More uncommon, a wood-effect bathroom is truly a unique choice, but one that will pay off. Wood is full of character and charm and these tiles will bring all that and more to your bathroom. Wood-effect porcelain tiles will bring the natural beauty of wood to your bathroom but with the more appropriate qualities of porcelain. Perfect for emphasising natural sunlight, our Autumn Olive Porcelain Tiles will make a beautiful addition to a bathroom. For a richer feel, our Autumn Natural Porcelain Tiles are perfect. For a more laid-back approach, the underlying grey tones of our Autumn Gris Porcelain Tiles are perfect. Using wood-effect tiles on both the walls and floor will produce a beautifully simple space. The wood will equally add a stunning accent when paired with other tones like white, black, or grey.
Explore our full range of porcelain tiles further to find inspiration for your bathroom renovation.