Metal Pergola Vs Gazebo Canopy - Pros And Cons
With the unpredictability of the English weather, it is great to have a structure in the garden that offers both shade and shelter. But which to choose? There are so many products on the market there is almost too much choice. We have done the hard work for you, comparing two of the most popular choices to help you make the right decision for you.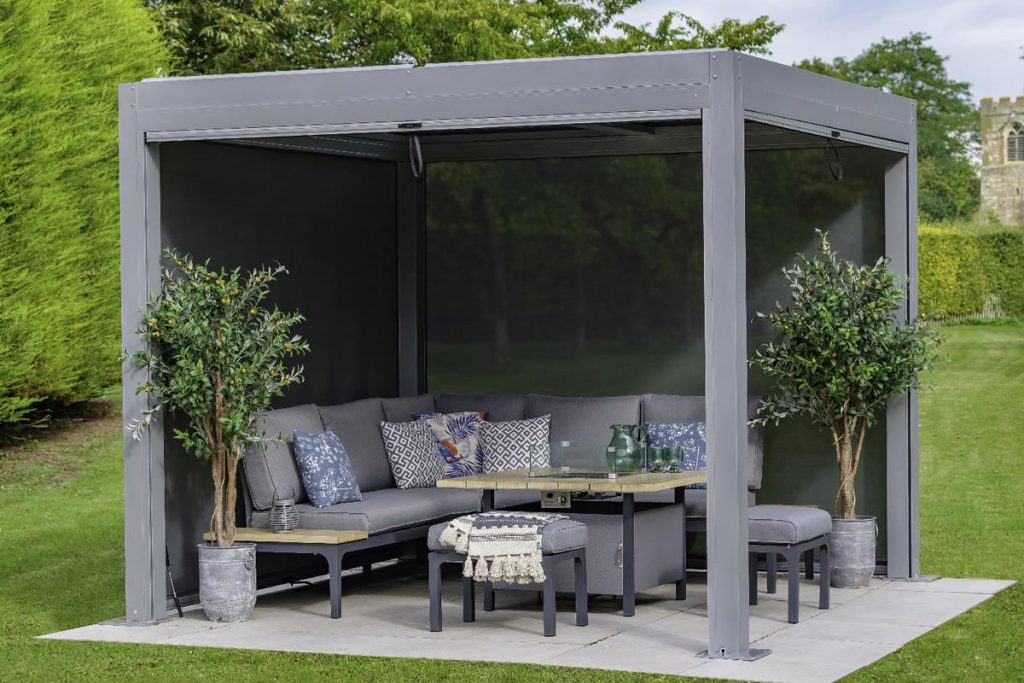 Picture the family sheltered and cosy enjoying the family meal or games night under our Light Grey Metal Pergola. 
Metal Pergola
A metal pergola is a sleek and stylish way to define a space. They are perfect for providing shade and shelter, and generally improving the aesthetics of your garden. Our extensive range provides you with so much choice. There's a choice of roofs and sides, and even small extras like lights.
Pergolas are perfect for creating a cosy spot in the garden. Position your garden furniture underneath and enjoy your garden whatever the weather. With some warming blankets, lights, cushions, and even a firepit you will have made the perfect space to relax. Let's take a closer look into pergolas:
Pros
• Our Metal Pergolas are easy to build and assemble yourself.
• Competitively priced.
• They provide visual structure and division of the garden.
• Pergolas can add value to your property.
• Provide shade and shelter when installed with a roof.
• Available in a range of colours, styles, and sizes to suit any garden.
• Offer more versatility in terms of design and aesthetic to the overall property.
• Pergolas offer a permanent structure to the garden that can be enjoyed year-round.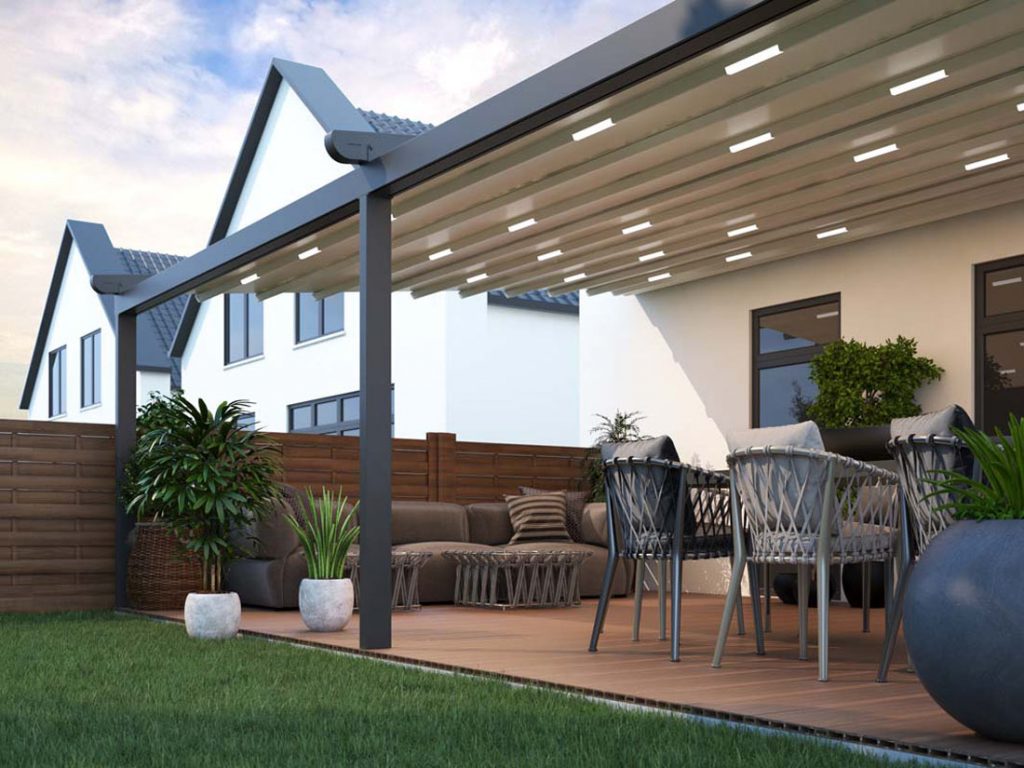 The perfect entertainment space. Use our Verdeca Folding Roof With Lights to create a space like this that is sure to impress your guests. 
Cons
• When compared to our canopy gazebos pergolas are more expensive.
• Pergolas are a permanent structure – yes this is both a pro and a con. For some having the ability to change your garden more freely is essential.
• If you have a smaller garden it may take more careful consideration and planning to fit one into the space.
Gazebo Canopy
A Gazebo canopy is a great choice for your garden. Their material roofs are designed to provide shade and shelter from the elements: perfect for popping up when the family is over for a BBQ. Our range of gazebos offer plenty of choice and are either available with or without sides. A gazebo can be the perfect spot to read a book, meditate, spend time with the family, or even take a snooze while taking in all that the outdoors has to offer.
Create an extension of your living space with a gazebo, furnishing it so that it can be used to lounge, entertain, or dine with guests. Come rain or shine you can enjoy your outdoor space. Here are the pros and cons:
Our Gazebo Sidewalls Cream is perfect for quick shelter and shade on the go. 
Pros
• Easy to erect - gazebos are a good option for those who just want something more temporary in their garden. Once the rain has passed, just take it back down again and store safely for the next time.
• Gazebos are also ideal for events. Host BBQs, birthday parties or even weddings; they are a firm favourite. You can even take them camping with you and have shelter away from your garden.
• Versatile and functional, a gazebo can serve a variety of purposes for your outdoor space: from a garden room to an outdoor kitchen, or an entertaining space.
• Available in a wide range of colours, with and without sides.
• Ideal for giving your family some protection from the weather. Creating shady spots or somewhere to escape the rain.
• Compared to metal pergolas our gazebos offer a more budget friendly choice.
Cons
• Gazebos do not offer the same sleek and stylish wow-factor as our pergolas.
• Keep an eye on the pieces if you are planning to dismantle and reassemble your gazebo frequently!
• Check before you assemble – same public spaces will not allow the use of gazebos.
Now that you have delved deeper into both these products, armed with all the facts take a look at our product ranges here.