Top 10 Reasons To Choose An Exterior Porcelain Tile
It is no secret that porcelain has taken-over the landscape market. This stylish product is being chosen over its natural stone counterpart time and time again. But why? We have put together ten reasons why you should also be choosing an exterior porcelain tile for your renovation.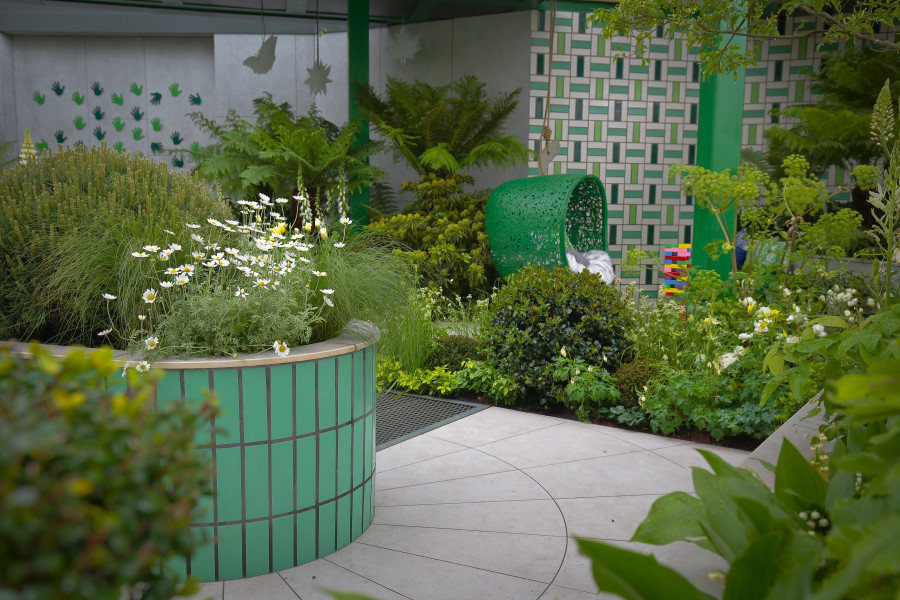 This beautiful space is an award winning garden from Kate Gould Gardens designed using our Florence Grey Porcelain Paving.
1. Its Beautiful Appearance
Firstly, we must talk about the incredible appearance of porcelain. With such advanced manufacturing techniques, porcelain materials are now almost indistinguishable from natural stone. Beautifully emulate the characteristics, down to the minutest details like colour shading, veining, and fossilisation but with none of the maintenance requirements.
From marble effects to deep tones and light creams, porcelain can be produced in the most impressive shades. With so much potential whatever style you are looking to create in your space, you can do this with porcelain.
2. Blend Indoor & Outdoor Living
Extend your living space into the garden and create a seamless look using porcelain. Porcelain is adaptable. Use it both internally and externally. Don't be afraid to use the same exterior porcelain tile colour both inside and outside to unify your space.
Wood effect porcelain is the perfect alternative to real wood. Garden designed by Karen McClure and built by Esse Landscapes using our Cinder Porcelain Paving.
3. Durable
One of the main advantages of porcelain tiles durability. It is manufactured from pure clays and minerals that are shaped by dry pressing and then firing at extremely high temperatures. The result is a fully vitrified tile with an extremely low level of water absorption. It is harder, stronger, and more durable than any natural stone – even granite. Its durability means that it is the perfect choice for highly trafficked areas.
4. Requires Minimal Maintenance
Porcelain tiles are non-porous and stain-proof. This makes them extremely easy to maintain and keep them looking their best. Pet-proof, child-proof, party-proof they are ideal for any home that is lived in! Porcelain will still mark, but it does not weather in the same way as natural stone.
5. Frostproof
An exterior porcelain tile is "impervious". This means that there is no opportunity to absorb water, freeze, expand, and then crack. Perfect for a increasingly extreme British winters.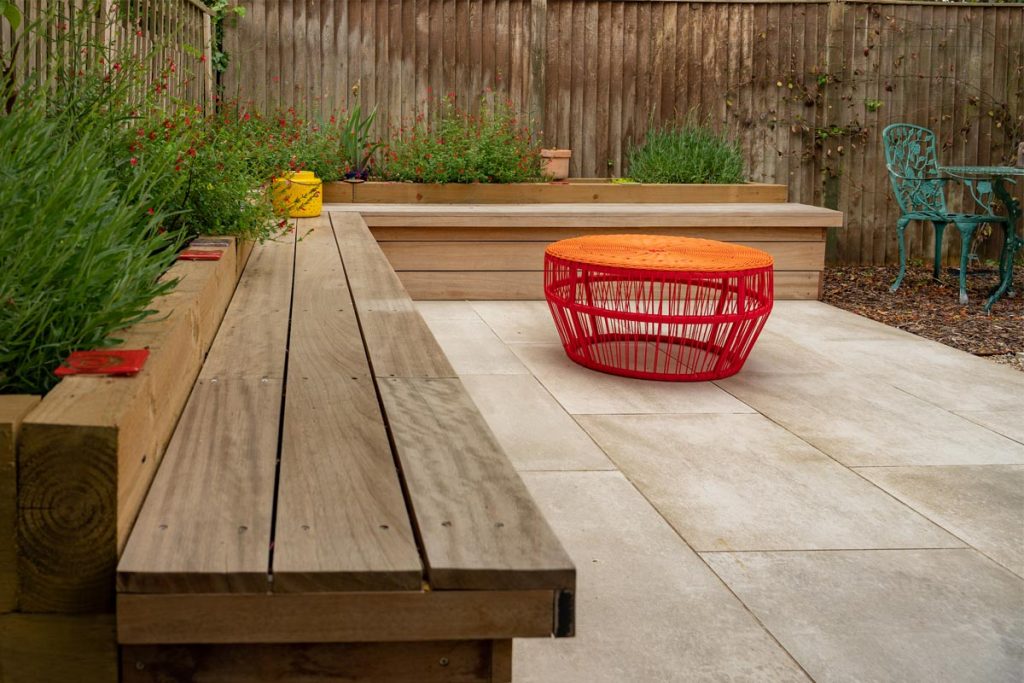 This beautiful design is from Hythe Garden Landscapes and features our Cream Porcelain Paving.
 6. Water resistant
Again, porcelain is virtually impermeable. Unlike natural stone, the tiles will not be damaged by water. This makes porcelain a great choice for any space that is likely to be covered in water. Some examples are around swimming pools, outdoor showers, or just to improve the longevity of your driveway from predictably wet conditions.
7. Stain Resistant
Because our porcelain paving is virtually non-porous, all spillages remain on the surface and do not soak into the product. All spillages can simply be mopped up, leaving no visible staining. Chemical cleaning may be required but restoring porcelain to its newly-laid state is achievable.
8. Fade Resistant
Our porcelain is resistant to colour fade caused by UV rays. The pigment of the tile is "locked" into the porcelain. Meaning that your choice of paving will remain unaffected by the sun's UV or normal weathering and the colour will resist fading.
Combine different porcelain paving to create impressive designs. This scheme is designed by Caroline Davy Studio and built by PC Landscapes using our Rovere Porcelain Paving.
9. Scratch Resistant
The hard, dense nature of our porcelain materials mean that they are resistant to abrasions. This means that whether it's pet claws or furniture scratches, marks can be brushed away with no visible scratching to the surface.
10. Non- Slip
Our porcelain tiles are extremely slip-resistant. All are at least R11 rated – the British Standard for slip resistance. Use the tiles in wet areas worry-free! Perfect for use around the pool or other damp areas. For even more grip, use a textured finish.
If you are not convinced on porcelain on these facts alone, look at our comprehensive range and be inspired by our products. There's something for everyone. Our extensive range will suit any design or style. Shop here.