Porcelain Paving Slabs 600x600 - New Product Alert - London Stone has introduced six new Italian porcelains. Learn more about this versatile material.
What is better than porcelain? More porcelain! As we have mentioned in our previous blogs porcelain is taking over. To keep things fresh on the market, this year we vastly expanding many of our porcelain ranges to give you more choice.
We have expanded our Luxury Porcelain paving range with the addition of 6 new products. Each of these products is available as porcelain paving slabs 600x600 as well as in a range of other sizes. These new products each bring their own unique beauty to our collection. With such a vast, ever growing, range there really is a product for every single garden design.
Aeras Porcelain shown here in as 600x600 tile
Aeras
Cool and contemporary, Aeras is bang on-trend. A beautiful blend of grey tones gives these porcelain paving slabs their attractive appearance. The perfect backdrop in any garden, these neutral tones make way for lush planting of interesting garden furniture to take centre stage.
Titanio
Curious, yet somehow also relaxed, Titanio has a unique feel to it. An interesting clash of tones create a sense of movement in the porcelain that will make a bold statement in any garden. Full of character, incorporating this porcelain into your scheme is a sure way to elevate it.
Titanio Porcelain, here shown in a 900x450x20mm dimension
Ancient
Calm and collected, Ancient is perfect for creating a completely zen outdoor space. Again, on trend with its chic grey tones, perfect for creating a neutral setting. Compared to Aeras, Ancient is much lighter in colour, which makes it a great choice for smaller spaces. Create your own private oasis, filled with lush planting and soft furnishing with this beautiful porcelain.
Island
Cream paving is a classic choice for a garden, but with the introduction of Island it has been given a modern twist. Beautiful light tones and delicate waves throughout the surface give this porcelain a wonderful farmhouse feel. Enjoy the beauty of this colour palette worry-free knowing that because your cream paving is porcelain any stains can easily cleaned away.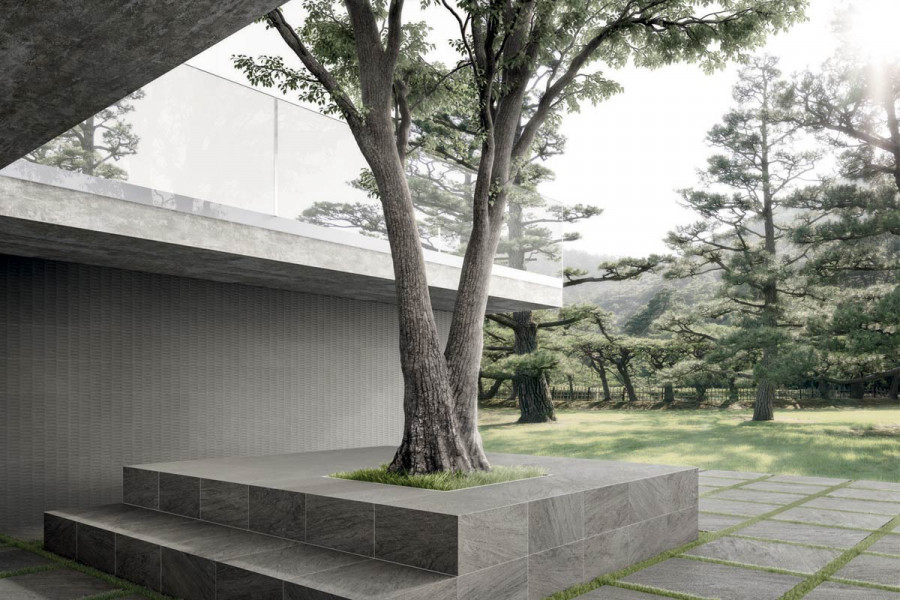 Tephra porcelain shown here in a modern, paired-down garden design
Tephra
Another grey, but this time with a more industrial feel. Tephra has a darker more consistent tone compared to our other newcomers. These tones are perfect for creating that much sought-after minimalist, industrial style in your garden. Pair this stone with metal furniture and scale back on ornaments to complete the look.
Versilia
Versilia brings a classically modern natural stone feel, but without the maintenance
Bring plenty of movement and character to the garden with our stunning Versilia. Blessed with a veining effect throughout its surface, this porcelain is sure to be a show-stopping feature in your garden. It has a natural, rustic feel, that is ideal for all manner of designs, which its hard-wearing features make it the perfect alternative to natural stone.
Now that you have been fully introduced to all our new porcelains you can start planning your garden renovation. Ideal for use as driveways, patios, pathways, and much more, porcelain is a truly versatile product. Hard-wearing, long-lasting, easy to maintain and of course, stunning. It is easy to see why porcelain is a firm favourite. Shop our full range here.