A Versatile Porcelain Format For All Budgets - read more about our 900x600mm range - suitable for all price ranges
There's no doubt that larger slabs, so long as they're not so large as to present difficulties in moving them off the pallets and into place, make life easier.
Florence Grey Porcelain - a clean and crisp product, used here by Gaby Pill of Butterworth Horticulture
There's also no doubt that they create a lovely contemporary look. Don't mistake us; we like the 600x600mm format too - in some schemes nothing else will do! And the 1200x600mm format offers a character completely its own. The 900x600mm format, however, manages to combine more relaxed lines with a dynamism created by the rectangular shape.
Conversely, although it's a recent addition to the range, the format also matches the sizes used for more traditional schemes, so although it brings a new paradigm to contemporary schemes, it also slots comfortably into a more timeless look.
The 900mm length is very practical, making it easier to cover a larger area in less time, while not joining the awkward squad in being difficult to manoeuvre. It also cuts down on site into a useful size for step treads; this is what Nick Smith of Dorking Paving & Landscapes did to great effect in his recent project involving Light Grey Porcelain, as you can see below.
Light grey Porcelain in a 900x600mm format has been utilised here by Dorking Paving & Landscapes and used as simple steps to boot
Because it's such a useful and contemporary alternative to other formats, we've ensured it's available for projects of every budget. Our Project Porcelain, in Light Grey, Steel Grey, Charcoal and Cream with a natural-effect surface and precision-sawn edges brings the hard-wearing, attractive properties of Porcelain within reach of cost-conscious projects in a range of colours that are as useful as they look good.
At the other end of the scale, our Luxury Italian Porcelain offers 900x600mm sizes in Basalt, which really tests the eyesight when you try to distinguish the difference from the real thing; Faro, a Porcelain that emulates Portuguese Limestone; Urban Grey - smooth and utterly contemporary; and the versatile Trendy Black. All enjoy a sandblasted surface texture which adds to the luxury feel of these top-of-the-range Porcelains.
Bridging the gap between the two ranges is the Premium Italian Porcelain, which offers our immensely popular Florence White, Grey and Beige. With a natural finish, these have the most popular colours covered, allowing your clients high-end Italian quality for a mid-range price.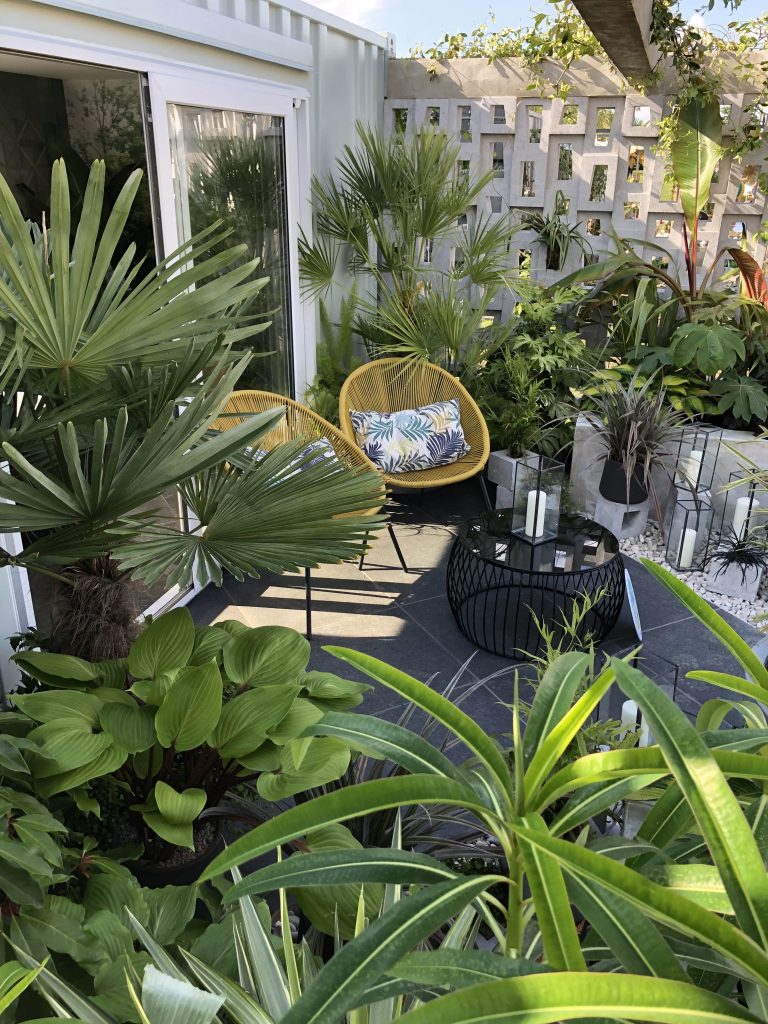 Black Basalt Porcelain - shown here in a 600x600mm format, is now available in a 900x600mm size. Image courtesy of No. 30 Design Studio
Only introduced this year, our 900x600mm Porcelain has already proven very popular as an attractive alternative to the more 'standard' 600x600mm format and featured in a few show gardens over the summer. For more information and a full range samples, contact us by clicking on Live Chat above, or via the email or phone number at the top of the page.