Porcelain Steps - Increasing Options Of Garden Design
It's really exciting to see how a product like porcelain can be used for steps," says our director Steve Walley. He's looking at this lovely project, by GRDN Design, which features Silver Contro Porcelain, finished with a bullnose leading edge.
Porcelain Steps - Increasing Options Of Garden Design
A bullnose is just one of the edge profiles available as standard across our range of twenty-eight colours and in all three porcelain ranges, from our Luxury Italian Range, the Premium Italian colours and the economical Project Porcelain.
Porcelain is proving increasingly versatile as landscapers and designers get to understand it. Clients love it for the crisp lines it brings to contemporary garden designs. And this, of course, is a quality that really shines when it comes to the linear opportunities afforded by steps.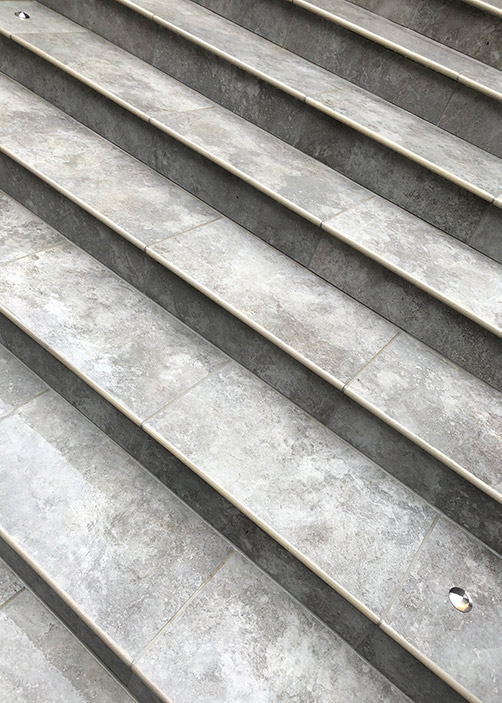 Silver Contro Porcelain gave the scheme an ultra-modern aesthetic
The hard-wearing, low-maintenance character of porcelain is a gift to garden steps, too, as porcelain's high slip-rating affords peace of mind.
New to the market, but here to stay
When Porcelain first appeared on the market, some landscapers voiced concerns about how versatile it could be. A project like GRDN's should help allay the fears of those who haven't tried it yet. London Stone have blazed a path in creating porcelain ranges that are really useful to landscapers and designers. That has meant ensuring that you have the full range of products you'd expect for a complete design - step treads and coping to match the paving choices.
"It's not quite as limiting as some thought it was going to be when it was introduced into the market. We're now starting to see some really incredible porcelain schemes featuring steps," adds Steve.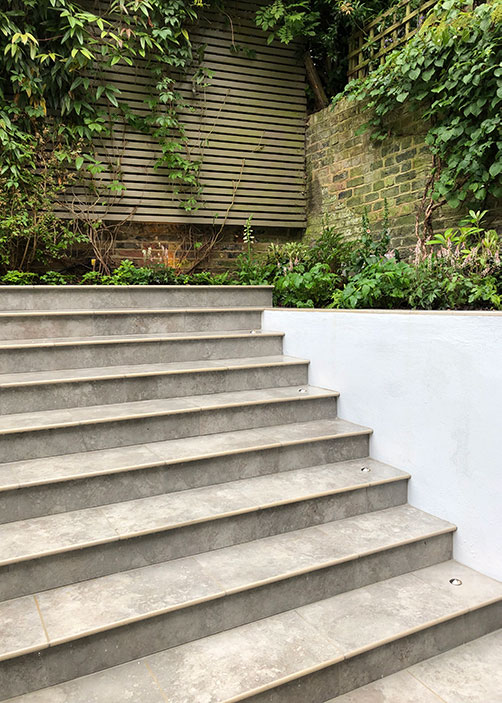 The team from GRDN added lighting to the steps which accentuated the subtly of the scheme
Edge profiles to suit any design
To create a choice of porcelain steps that will suit as wide a range of garden designs as possible, we've not only given a choice of edge profile on the basic 20mm slab, but also created the impression of 40mm step treads for designs where you need a weightier edge.
That means that you have a choice of a 5mm chamfered edge or 5mm pencil round profile on a 20mm slab as well as a 20mm bullnose, but can also go for a 40mm bullnose, or a chunky 40mm downstand. That's a choice of five different profiles across nearly thirty colours, including our wood effect porcelains, and including our designer-friendly 900 x 600 mm range.
Here, PC Landscapes and Caroline Davey used Faro Porcelain with a 40mm downstand to create a stunning step feature
This choice is unique on the market, and a result of the terrific masons in our Bespoke Stone Centre really getting to grips with the material. Don't forget that we can produce bespoke steps to your specification, and will work with you to solve design challenges, not to mention being happy to extend the choice of porcelain even further. Recent requests for porcelain setts have had us busy at the CNC machine.
For more information on incorporating porcelain steps into your design, please don't hesitate to contact us. We have a wealth of knowledge in porcelain paving that we believe to be unequalled and are more than happy to share it with you!