In the second instalment of our RHS Chelsea Flower Show 2022 review, we focus on six impressive trade stands. Discover what they've done with our products.
Gabriel Ash Trade Stand
As experts in greenhouses, Gabriel Ash have a variety in their display. Each greenhouse is full of exciting planting and tools to inspire visitors to get creative in their own gardens.
Using our Anthracite Porcelain to create a smart, neutral backdrop, the vibrant planting shines through. The charming feel of the display encourages you to spend more time in your own garden. Gardening, and enjoying your outdoor space, is a perfect way to relax and unwind in a stressful world.
The Trade Stand created for Gabriel Ash was built by Base Squared Design & Build and was awarded a well-deserved 5 stars by the judges.
Garden House Design
Once again Garden House Design have created an inspirational stand that demonstrates exactly how you can make the very most of your outdoor space and has garnered a 5-star award.
Using our Venetian Grey Porcelain Paving to add a modern feel, the display shows you the very best of outdoor living. Mirroring each other are two impressive pergolas, one black, the other white. Under the black pergola there is a bar set up, fully equipped with fridges, sink, and BBQ, ideal for hosting friends on a warm summer's evening. Under the second pergola there is a more relaxed setting; a corner sofa is perfect for relaxing after a long day.
This stand leaves you longing for warm summer evenings spent in the garden and inspires you to create something special in your own outdoor space.
Boodles Trade Stand
Next, we take you to the Boodles Trade Stand, awarded 4*. At this stand you find exactly what you expect: luxury. Built by Garden House Design using our Luna DesignBoard, Bullnosed & Fascia Boards, the stand is created on a sturdy deck.
Elegant glass displays of diamonds and jewellery line the perimeter of the stand, ideally positioned for visitors to peruse the statement pieces. Planters filled with beautiful pink roses are arranged throughout the display to complement the blush pink of Boodles logo.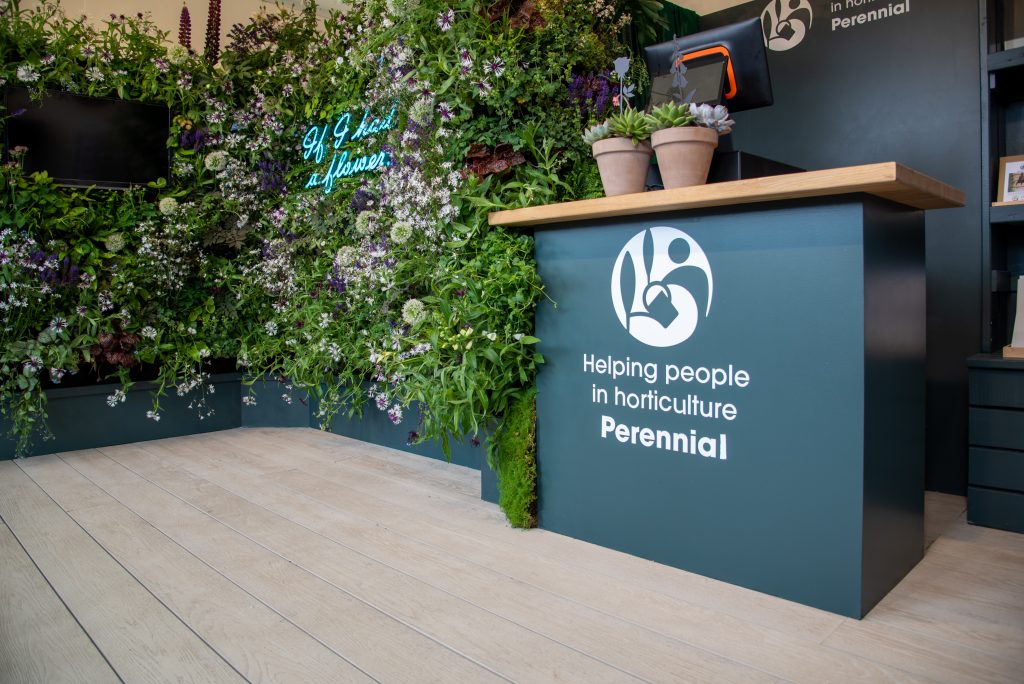 Perennial Trade Stand
Perennial's trade stand uses our Smoked Oak Millboard to create a natural, vintage feel. This is paired with a living wall and deep green counter to retain that organic feel.
Perennial support those in the horticultural industry in many ways. Their presence at RHS Chelsea is an important one, reminding us that no one needs suffer alone during these hard times.
Not only do they have a stand, where they can better explain the ways they help those in need, but they also have The Perennial Garden "With Love". Learn more about Perennial's show garden here.
Pots & Pithoi Trade Stand
Pots & Pithoi trade stand, built by The Outdoor Room, gives us a Mediterranean vibe, with the terracotta pots covering the display in an array of shapes and sizes, all randomly combined.
Large terracotta pots are filled with smaller pots, tall pots and, situated behind, pots are turned into water features; the remainder brim with planting. The creative collection certainly has you looking at the traditional feel of terracotta in a new way.
Our Dark Grey Granite Plank Paving creates a pathway snaking through the display of pots in an almost stepping-stone fashion. Between the planks there are matching grey pebbles. The contrast in the two distinct materials produces a stunning finish.
The classic charm of this display will have you rushing to the garden to plant up some terracotta, and earned Pots & Pithoi 5 stars from the judges.
Hartley Botanic Trade Stand
Last, but not least, with another 5* award, is the Hartley Botanic Trade Stand, an award-winning supplier of greenhouses and glasshouses. Designed by Llevelo Garden Design and built by Stewart Landscape Construction, this stand features a collection of our products. Cinder Porcelain, Travertine Dark Porcelain, Chestnut DesignBoard, and Lugano Clay Pavers can all be found here.
As you walk through the display the first glasshouse you will find uses our Travertine Dark Porcelain, with a border of Lugano Clay Pavers to create a beautiful space. A sofa sits in the corner with a tower of planting next to it. As you move through the display you come to a second green house. Cinder Porcelain is used as stepping stones to lead you to the greenhouse; once you reach it the porcelain then becomes paving. This greenhouse display has a more classic feel to it, set out in a way you would expect a more traditional greenhouse to look.
The final glasshouse again uses our Travertine Dark Porcelain, but with a pathway of Lugano Clay Pavers through the centre of it. This glasshouse shows how you can create an additional room in your garden, with a more living room feel, complete with sofa. Chestnut DesignBoard joins each of the different spaces as you move through the display.
This stand has been designed in a way that helps you envision how your home or garden could be enhanced by the additional space that either a greenhouse or glasshouse can provide you.
That concludes our review of RHS Chelsea Flower Show 2022. A special thanks to photographer Lynn Taylor Garden Photography for capturing the essence of this year's RHS Chelsea Flower Show to bring to you.