When it comes to Chelsea Flower Show, the trade stands put much time and effort into creating a spectacular display. Read on to find out about the trade stands we supported with our products this year.
Chesneys Trade Stand
Chesneys is a leading brand in luxury heating. Using our Yard Porcelain and Beige Sandstone Treads, Chesneys created a perfect example of an outdoor space ideal for relaxing and entertaining.
Our Beige Sandstone Step Treads framed the warmly coloured decked area, on which stood a variety of luxury outdoor heating options. Large-format Yard Porcelain was laid around the decked area. Yard's colour tones well with the Beige Sandstone, and the large square tiles gave an open, spacious feel.
A nice touch was the line of low planting at the base of the step. This introduced more foliage to the stand and highlighted the shape of the decked area by creating a contrast to the paving. Elsewhere, an impressive wood store was built into the wall, filled with all the fuel you could need. Completing the look, lush planting edged the display.
Although this was a trade stand, it gave plenty of inspiration for your own back garden. Not only did it demonstrate how much a cosy outdoor fireplace enhances a space, but also how a careful choice of rich materials brings a space together.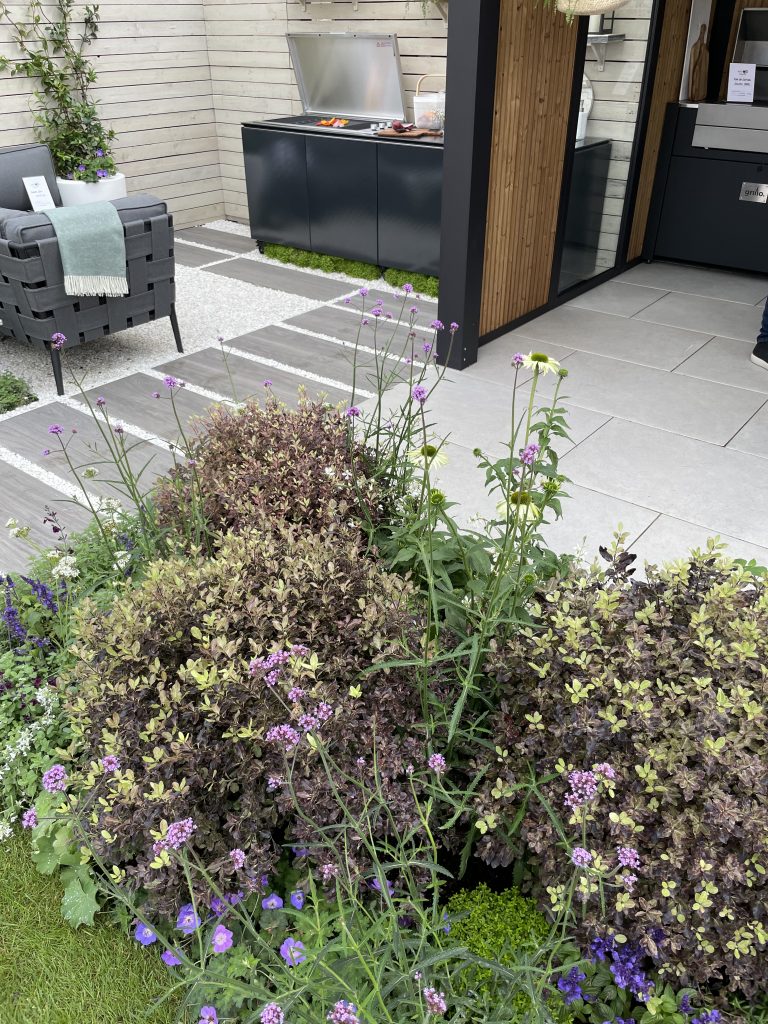 Garden House Design Trade Stand
#LiveOutdoors is a well-known saying of London Stone Partner Garden House Design and this was exactly the inspiration for their trade stand. They created the perfect example of an outdoor space designed specifically for entertaining.
Black, white and grey made up the colour scheme, with touches of natural wood adding warmth. Nuage Porcelain Planks on a contrasting bed of white pebbles made a pathway that led to the main entertaining area. To the left of the path, an outdoor kitchen and seating area were perfect for alfresco dining. To the right, our Florence Grey Porcelain paved a contemporary space, the natural stone effect combining well with the wooden elements of the design. A metal pergola covered an area for relaxing, making it available to use whatever the weather. A nice detail was how the edge of the pergola sat along a long joint in the paving; this maintained a neat linearity.
Gabriel Ash Trade Stand
Experts in greenhouses, Gabriel Ash exhibited four of their collection. They too plumped for our very popular Florence Grey Porcelain paving and, against this neutral backdrop, their sheds and greenhouses were enough to excite even the least green-fingered among us. They certainly provided plenty of inspiration for those looking to add convenient garden storage-with-style to their outdoor space.
In the picture above, you can see how the crisp lines of a stacked bond paving pattern create a sense of calm in a spacious greenhouse interior.
It's always worth a detailed look at trade stands, as companies have great ideas of how to combine their products with other materials. It's a way to gain clever tips on making the most of corners of your own garden.
So, once again, we're sorry to say goodbye to Chelsea for another year. But, as ever, we're excited to see what next year's Chelsea Flower Show has in store for trade stands.