This year we supported an extraordinary eleven gardens and trade stands in total! With so much to talk about we have split our RHS Chelsea Flower Show 2022 review into two parts. Here we uncover how show gardens made use of our products.
The Core Arts Front Garden Revolution
A Gold-medal winner, The Core Arts Front Garden Revolution was designed by Andy Smith-Williams and built by Conquest Creative Spaces. Sponsored by Core Arts, it's also one of 12 gardens being supported by Project Giving Back.
Core Arts, based in Hackney, London, promotes good mental health through horticulture, amongst other activities. It transforms underused land and manages a range of green spaces.
Removing boundaries
The concept of Front Garden Revolution is that two urban households have removed the boundary between their front gardens. This creates a more open space for communal gardening, socialising, wellbeing, and environmental gain.
It features minimal hardscaping, with the emphasis being on the plants and the benefit that gardening can bring, not only to the environment but to people's lives. However, the hard landscaping that is there, set as stepping stones into a more permeable surface for better environmental value, is our stunning Jura Beige Limestone. Precision-cut at our Bespoke Stone Centre, it features asymmetric shapes that give a dynamic feel to the pathway.
Brewin Dolphin Garden
The immersive, walk-through Brewin Dolphin Garden highlights how brownfield sites can be used to create stunning gardens. Built by Big Fish Landscapes, it was designed by Paul Hervey-Brookes, who said, "I want to illustrate that no matter the type of space we might inherit - even the most challenging of urban settings, where top soil is removed or contaminated by heavy irons - it is possible, through the selection of appropriate plants to rehabilitate any area, creating a garden of beauty and leave it thriving for future generations to enjoy.". It won Silver.
It also shows how the materials of a former 1900s industrial site could be recycled to establish a new more environmentally aware landscape. The use of our London Mixture Facing Bricks and Bergamo Clay Pavers in the scheme is the perfect example of how hard landscaping materials can be repurposed. London Mixture features the colouring that is so familiar about the city and, constructed into brick walls and doorway, gives structure that balances the choice of planting.
The planting is a mix of native pioneer species alongside endemic plants which rehabilitate polluted soils and clean the air through higher rate CO2 absorption. The planting requires minimal maintenance but provides a great habitat and nectar for bees and insects.
Sustainable paving
This garden is a great example of the techniques and choices we can make to create a more sustainable environment for future generations. It really helped to underline that clay is a fantastic choice of materials for the more environmentally conscious builder. The material itself can last for centuries – just look at the Netherlands, where clay-paved areas supplied some 150 years ago are still in use. Not only is it long-lasting, but it is also an ideal product to be re-sited and re-laid.
The St Mungo's Putting Down Roots Garden
The St Mungo's Putting Down Roots Garden celebrates 10 years of the collaboration between the charity and Cityscapes. The project itself, which helps people recover from homelessness, has been running since 2000. Winning a Silver medal, the urban pocket garden was designed by Cityscapes' Darryl Moore and Adolfo Harrison, built by Gardenlink, and is one of the gardens supported by Project Giving Back, with no cost to St Mungo's.
The St Mungo's Putting Down Roots programme provides vocational horticultural training to support people as they develop vital skills for employment, helping them to rebuild their lives through gardening. The garden embodies this ethos. Designed as an inclusive space that connects people and plants, it places emphasis on how green spaces can provide health and wellbeing to individuals and society, to transform lives, communities, and places.
Layered design
Vibrant colours encourage a positive outlook, whilst also creating a sense of tranquillity. The hardscaping mirrors the exciting colouring and features a unique layering made from offcuts of our Britannia Buff, Jura Beige, and Dark Grey Granite, demonstrating how waste materials can be reclaimed and recycled into something beautiful.
The planting layers green textural foliage with floral accents of colour. Large planters throughout the garden add a sense of height and help to create an enclosed, immersive and safe space for visitors. Seating under the pavilion structure offers a place to rest and experience a respite from the pressures of city life.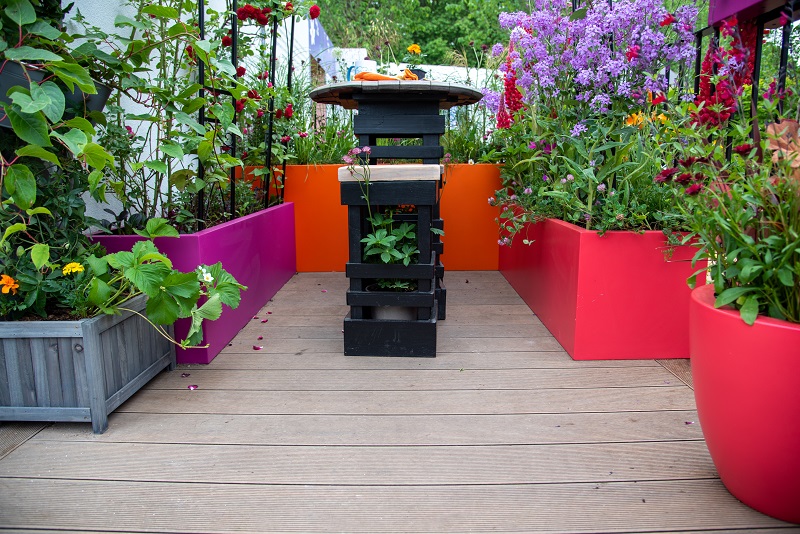 The Cirrus Garden
Some trivia knowledge for you - The Cirrus Garden is almost a like-for-like replica of the 18th-floor balcony garden of its designer Jason Williams, also known as the Cloud Gardener UK! Winning a Silver Gilt medal, this beautiful balcony garden was built by Big Fish Landscapes.
The garden focuses on how to increase the biodiversity of wildlife and create more real-life sustainable gardens in urban areas. With an abundance of wildflowers, perennials and herbs, there were too many bees to count enjoying the wealth of this garden when we visited!
Built on our Warm Teak Grooved Decking - which has a soft colour that supports the organic feel of the garden - the seating area, vegetable garden and fishpond create a tranquil setting that is ideal for aiding mental health in our busy lives. With visitors seeing how much Jason has packed onto his own balcony, known as "The Cloud Garden", the hope is for people to take home ideas to replicate on their own balconies.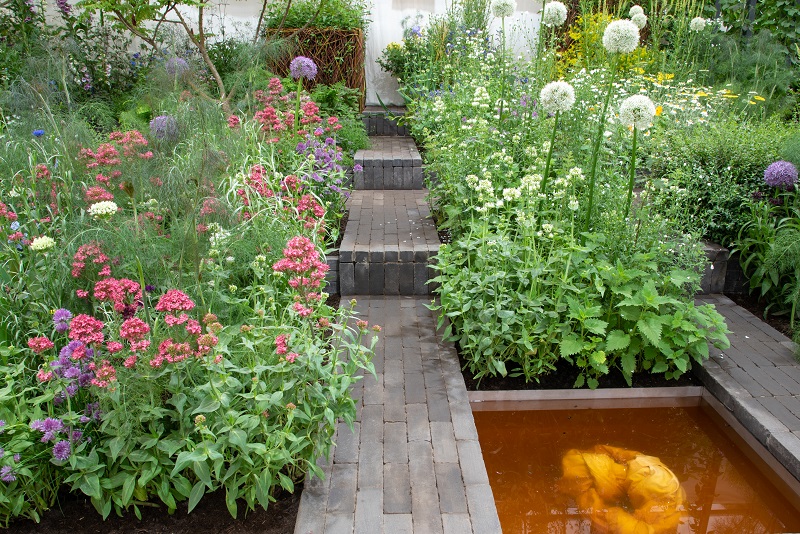 A Textile Garden for Fashion Revolution
Emphasising the key role that plants play in creating sustainable fashion, A Textile Garden for Fashion Revolution is a beautiful and reflective garden. Another Silver Gilt medal winner, designed by Lottie Delamain and built by Gardenlink, this is one of the gardens supported by Project Giving Back.
The garden encourages visitors to stop and reflect, and to rethink the link between fast fashion and what we wear. With the connection between clothing and the use of plants for dyes and fibres reduced in modern times, Fashion Revolution wants us to see the potential in the resources we have on our doorstep and explore how we can utilise them in more creative ways. To this end, the garden showcases native UK wildflowers and hopes to sow a seed of curiosity about the materials, dyes and chemicals in our clothes.
Colour contrast
The design of the garden looks to imitate textiles, with its neat sections of colour-block planting. With the ethos of the garden, clay pavers were a natural choice for the pathway. Lottie chose Charcoal Grey, which makes a great contrast with green foliage, as well as helping colours to 'pop'. Shallow pools, filled with colour dye and soaking fabrics, show how we can make a move back to natural dyeing.
The garden certainly leaves you inspired to look back at our history of producing clothing.
Read the second part of our RHS Chelsea Flower Show 2022 review all about the Trade Stands next.