London Stone Director Wins 30 Under 30 Award 2019 - Marius Catrinoi-Cornea was honoured to be included
The Pro Landscaper 30 Under 30 Awards are one of the few opportunities in the industry to sing the praises of, not only the rising stars in garden design and landscape construction, but those behind the scenes who are so valuable but rarely stand in the limelight.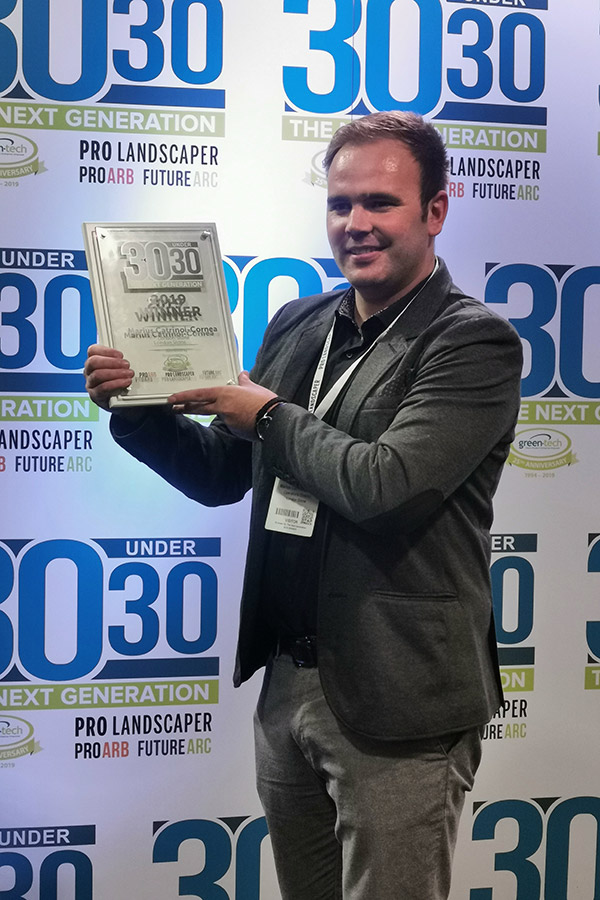 Marius Catrinoi-Cornea, Operations Director, with his 30 Under 30 Award
This is why the whole of London Stone was thrilled when our own Marius Catrinoi-Cornea was made one of the 30 recipients at the 2019 awards ceremony at Futurescape last month. In fact, Pro Landscaper saw more nominations come in than ever before, so being selected this year felt extra special.
Marius joined London Stone in 2013 as a landscape industry virgin, having held a sales agent position in Romania, in a totally unrelated area. Six years ago he was literally sweeping the yard and keeping it clean and tidy. Now he's on the board as Operations Director, overseeing the whole depot, transport and health and safety aspects of the business.
Marius conducting a tour of our depot for college students in 2018
It's taken a lot of hard work. "He's amazing," says Anthony Macson, Creative Marketing Manager. "No problem is ever too big. He will always find a way." Operations can be a frenetic environment, as you can imagine, with orders rolling out of the yard at a rate of knots on some mornings, so you need a steady hand on the tiller. "He's dedicated, hard-working, reliable," adds Anthony. "And very calm."
Marius is delighted to be one of the 30. "I could not be more honoured. To be in such great company is both humbling and flattering," he says. "Celebrating young people within our industry is so important, and I'm proud to be a part of that.'
Operations can be the department that's often overlooked. After all, the sale's been made; it just has to be delivered. Yet, for us and for Marius, it's every bit as important as the glossier aspects of providing a service - more so even. The important thing for you is getting your delivery on time, in the right place, and well-protected from accidental damage.
Marius has worked his way up from yard operative to operations director in six years
"I do anything that adds value to anything that the customer receives. I make sure everything goes right," says Marius. Staff conditions are also particularly important. "I take care of staff members as well, so they're working in a safe environment. That improves morale. I focus on the things that matter."
Although Marius has some kind words for us - " London Stone is a company that is known for supporting young people, helping them succeed and creating a culture of promoting from within" - we really can't take all the credit. Now our Operations Director has plans for more study and more hard work.
"I try to be better every day," says Marius.
Many congratulations, Marius, and thank you for helping London Stone to set a leading standard in customer service in the landscaping industry.