London Stone At Futurescape 2019
Futurescape enjoyed its biggest show ever last week and, with 3000 landscapers and designers coming through the doors, we were glad our stand offered plenty of room for visitors to spill out onto the aisle.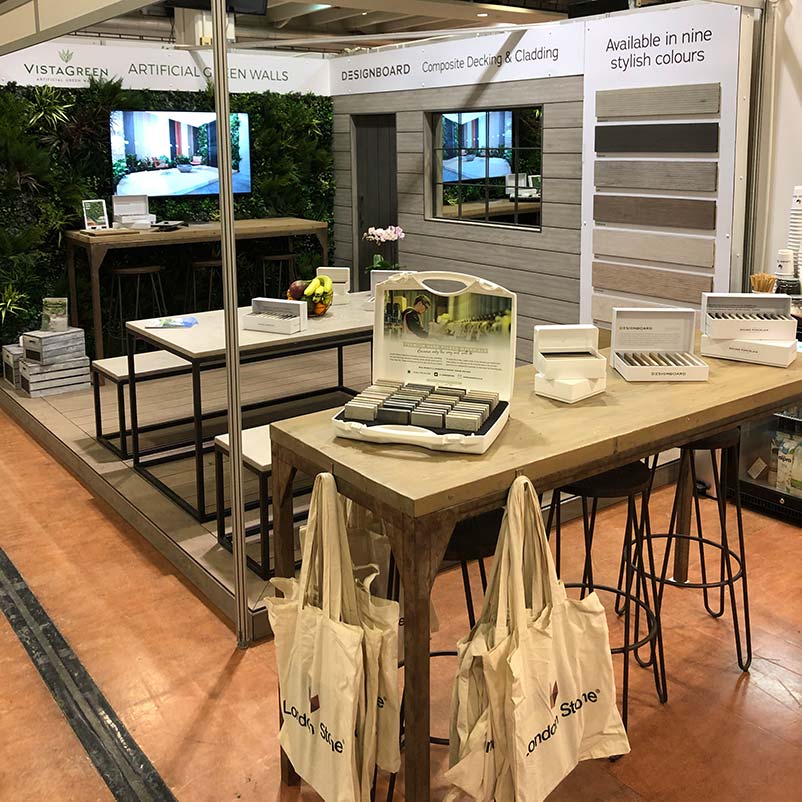 DesignBoard Composite Decking, Natural Stone furniture, and Sawn Stone and Porcelain - just some of the delights on show on our stand
Our stand drew in plenty of visitors from the get-go. "We were really busy," says Creative Marketing Manager Anthony Macson.
Catching up with old friends
Futurescape offers a great opportunity to see our products up close and to discuss them with people from across our company. All our Landscape Consultants were busy throughout the day, discussing options, catching up with old friends, introducing new ones to our range. You might have caught director Steve Walley, Anthony Macson and Diana Catrinoi-Cornea from the hard-working marketing department (hey, we write these posts!). We were also joined by DesignBoard General Manager Antony Pasquini, who was on-hand for all queries about our composite decking.
If you've seen our dedicated DesignBoard stand at shows like Grand Design Live this year, then the lifestyle layout, giving an idea of how to fit our contemporary decking into an outside space, will be familiar. This was the first time it's appeared at Futurescape, giving DesignBoard a starring role next to full displays of Porcelain, Natural Stone and Millboard. As you can see in the pictures, we also demonstrated how well the DesignBoard cladding goes with a vibrant Vistagreen wall.
London Stone At Futurescape 2019 - meeting old friends, and making plenty new!
Included on the stand for the first time were our stone table and benches. A simple design that is a perfect showcase for your choice of natural stone, here they featured Jura Grey. This popular stone is particularly well-suited to this furniture as the fossils and markings are brought nearer to eye and make an interesting surface pattern. The powder-coated steel supports can be given any RAL colour, so this is a simple, clean-lined design can fit into any colour scheme. Keep your eyes peeled for more about London Stone's stone furniture in 2020.
London Stone e-commerce is a hit
Futurescape gave us a chance to show off our new website, too. "People seem to really like it," says Anthony. "Lots of our existing customers are using it, which is the best endorsement for us." Of course, you already know the high quality of materials and service that we offer, so we like to think that's why our e-commerce website has been so well received. "As a well-established brand in the sector, we've built up trust and a reputation for quality," adds Anthony. "We're certainly not going to let that drop."
You can, of course, still rely on someone on the end of the phone or email, should you prefer to contact us that way. Adding our e-commerce site ensures we're au fait with the ways you've told us you want to interact.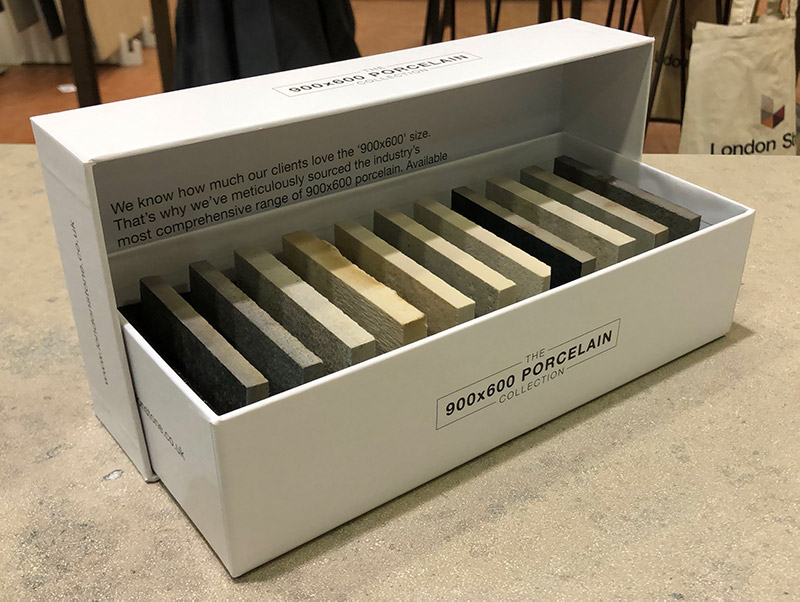 London Stone's '900x600' Porcelain Collection - always a hit with designers and landscapers alike
Futurescape is always an enjoyable event in our calendar. This year it was particularly special, as our Operations Director, Marius Catrinoi-Cornea was selected as one of Pro-Landscapers '30 under 30' for 2019. We'll have more about this in a later post, but it was great to see him receive his well-deserved award.
Next year, Futurescape is getting bigger, moving to ExCel in London and extending to two days. Our stand will have even more room to welcome visitors, alongside all the display opportunities that a bigger space affords, so don't forget to put 17-18th November 2020 in your diary.
We look forward to seeing you there!