Learn more about getting the best online experience with London Stone.
In 2019 we launched our new London Stone website, providing you with a user experience that was better than ever. We are consistently updating and reviewing the services and products we offer to ensure that we are the only location you need for all your garden services. Let's review all the amazing services we offer online.
Whether you are on your mobile, tablet or desktop you will have the best online experience with London Stone.
Comprehensive Range
We have taken much time and consideration to ensure that we stock all the best products in one place. Not only do we stock natural stone and porcelain paving, along with steps and copings, as well as everything you need to lay a patio, but our stock now includes an extensive range of other products.
With our acquisition of Chelmer Valley, clay pavers are available to order online at London Stone. We now stock internal tiles, in both porcelain and natural stone. Our range includes composite decking, including Millboard, Trex and DesignBoard decking. For a vertical solution we have fencing and screening options, as well as a variety of cladding and walling options, alongside artificial green walls and metal garden screens.
For those looking to create the perfect garden sanctuary, we have everything you need to transform your garden. Garden furniture, pergolas, BBQs, firepits, gazebos, lighting, and more, provide all you need to create your ideal garden. Having joined forces with Form Plants, we can now offer to you a variety of planting online. Planters can also be purchased, as well as a variety of other gardening supplies.
With everything you need in one place you simply have to make one purchase order with us and all these products will be delivered straight to your door. What more could you ask for from an online experience.
Online Trade Discount
For our trade customers we offer an online trade discount. Simply fill in a few details to register your trade account with us!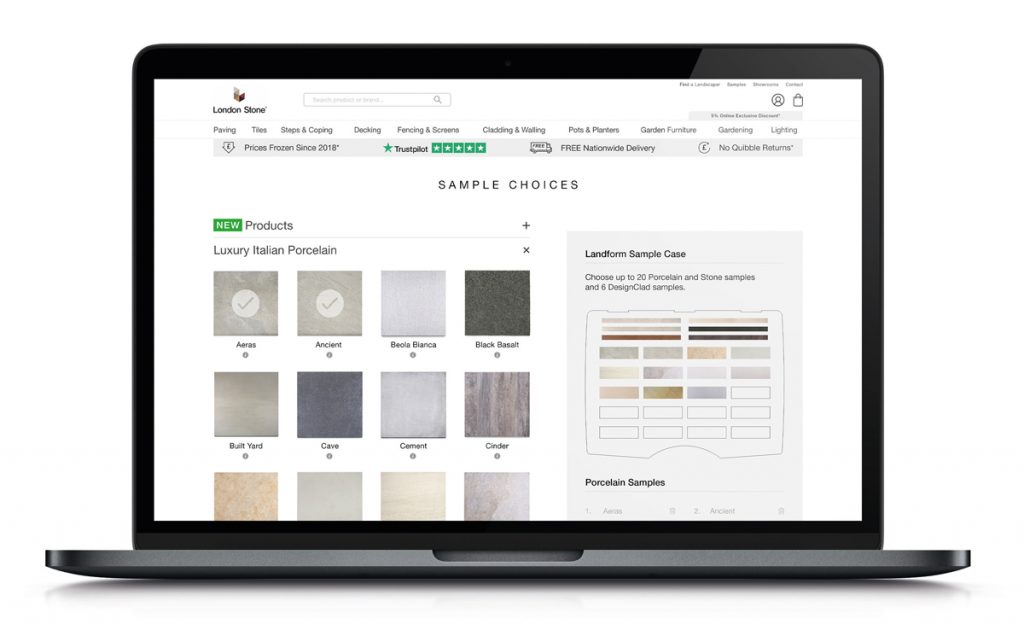 You spoke, we listened, our new sample box is a direct result of feedback from our customers. 
Samples & Sample Boxes
If you are on the fence about which product is perfect for your project, we offer samples across our ranges.
You can order up to three samples completely free of charge. If you do not have it
narrowed down to just three choices, then you can order a maximum of six samples for just £5. We will even dispatch your samples orders within 1-3 working days.
For our trade customers we offer a new and improved sample case. With the new sample boxes you can now choose up to 20 stone, porcelain, and decking samples, and 6 DesignClad samples. This allows you to take all your most popular products direct to customers. See "London Stone's New and Improved Samples Case" blog for a full breakdown.
Calculators
Our useful online calculators allow you to check what paving, decking, grout, and ancillary quantities you need for your project. Simply enter details of the area you are covering, and a few details of the project, and let our calculators do the hard work. This handy function reduces potential waste and is quick and easy for anyone to use.
WhatsApp Service
With our WhatsApp service, there is no need to wait on hold to speak to us. Connect directly with the department you need by WhatsApp message. Quickly ask your question or pass on simple instructions and we will get back to you, whilst you get on with the rest of your day. You can speak to our Sales, Transport, and Production departments via WhatsApp messenger.
Our fantastic team at the distribution centre work hard to get you what you need quickly and safely.
Free Next Day Delivery
We keep an extensive range of stock and materials at our Langley distribution centre, which means that we can offer you quick delivery. Across our ranges we offer free nationwide, next-day delivery (T&C's apply), whether you are a trade or retail client.
More For Less
You can get so much more when you order online. Aside from trade discount we also provide several other benefits to our customers.
On every interior tile order we are offering free grout and adhesive. No matter the size of the order, large or small, and whether you are buying natural stone or porcelain tiles.
Our porcelain comes with a 10-year guarantee, to give you peace of mind when purchasing.
With so many additional benefits, why wouldn't you order online!
Head over to our E-commerce site and discover the full potential of an online experience with London Stone.