Once again, we are proud to announce London Stone's price freeze! For the third consecutive year, London Stone has said goodbye to blanket price increases.
London Stone are committed to putting our customers first. We intend to do this by ensuring that money is put back into your pocket. We are dedicated to offering the best value for money across our core product ranges of Porcelain, Sawn Paving, DesignBoard Decking, DesignClad and Stone Cladding. For the third year running, and even in the current climate, we have managed to freeze the majority of our prices.
It's here, and it's not going anywhere. London Stone's Price Freeze continues
We achieved this price freeze through careful analysis of expenditure, rigorous cost control and continuous improvement in the efficiency of our working practices. By reducing our costs in this way, we have not needed to compromise on the quality of any of our products. By offering you with the best quality products with value for money we hope to be your go-to destination for paving products. You can therefore continue to rely on us delivering our usual high standard of materials.
This beautiful scheme from Landesigns and Rosemary Coldstream uses Steel Grey Porcelain
London Stone's Price Freeze Continues
Whether you are visiting us online or instore (when allowed!) we strive to provide you with the best experience. We believe that all our customers deserve to get the best possible value for money. So, our focus, as ever, is on offering the best products at the lowest possible prices. As a UK-leading supplier, we are consistently striving to be put your needs first and keeping your costs down is our top priority.
As a result of our cost-control, our Porcelain collection starts at just £30.00 + VAT per m2. Sawn Sandstone suits the most modest of budgets, with the lowest price a mere £32.00 + VAT per m2.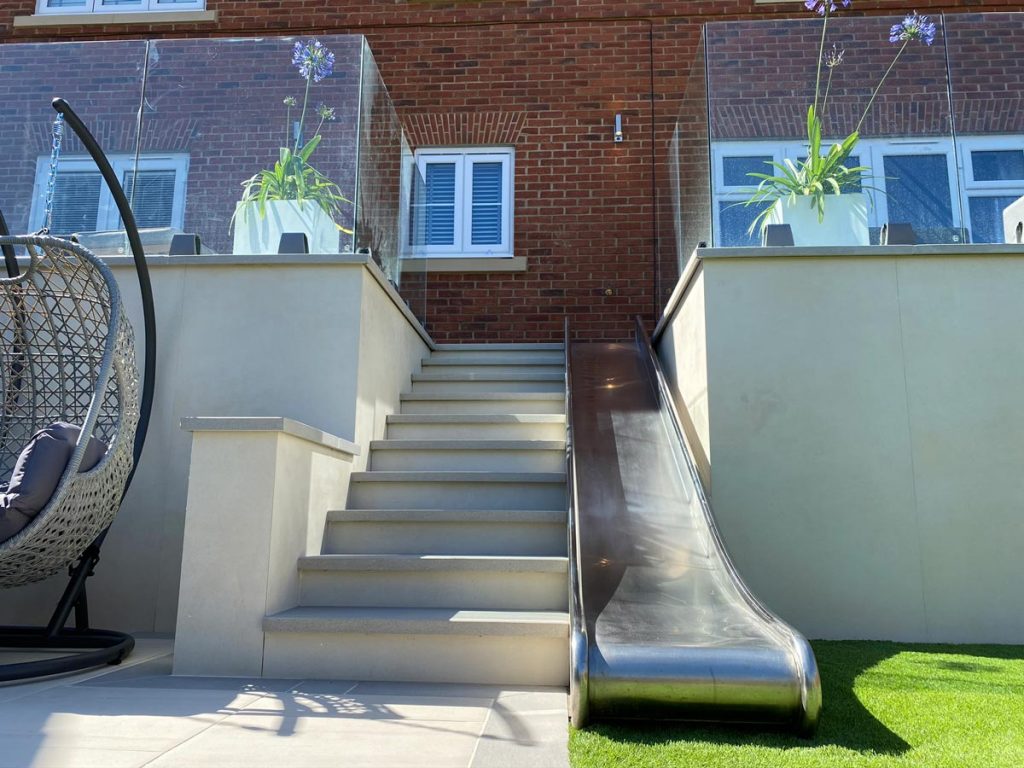 Limebok Landscaping made the most of our Desert Beige Premium DesignClad, which has not increased in price this year
Not Just Natural Stone and Porcelain
We are working hard to ensure your customer experience is as good as it can be! We introduced our WhatsApp service so you can get questions answered quick and easily. This service will direct you straight to the department you need to get you in touch with us quickly. We have also increased the capabilities of our online service to help you to place your orders at your convenience. Stay tuned for more information on how we're improving our customer experience. We know that saving you time is equally as important as saving you money.
April House Design created this stunning outdoor room using Amber DesignBoard - the same price today as it was in 2018
Our intention is to continue to provide you with top quality and service. This ethos of "quality and customer" will continue to be at the centre of our business. You can rely on us to help you complete you paving schemes to a high standard and reasonable cost. We want to continue to be your go to destination and will continue to review what we can do for you.
#ThisIsLondonStone