An Evening with London Stone – The Review! We take a look at the recent events hosted by the team around the UK
As we near the last of our Evenings with London Stone, we wanted to reflect on how the events have been received. With two evenings left to go, it's time to book your place and have a read of what to expect. Before we continue, we want to say a massive thank-you to everyone that has come along to our events this year, and to those who are planning on coming over the next few weeks. We really appreciate you taking the time to see us.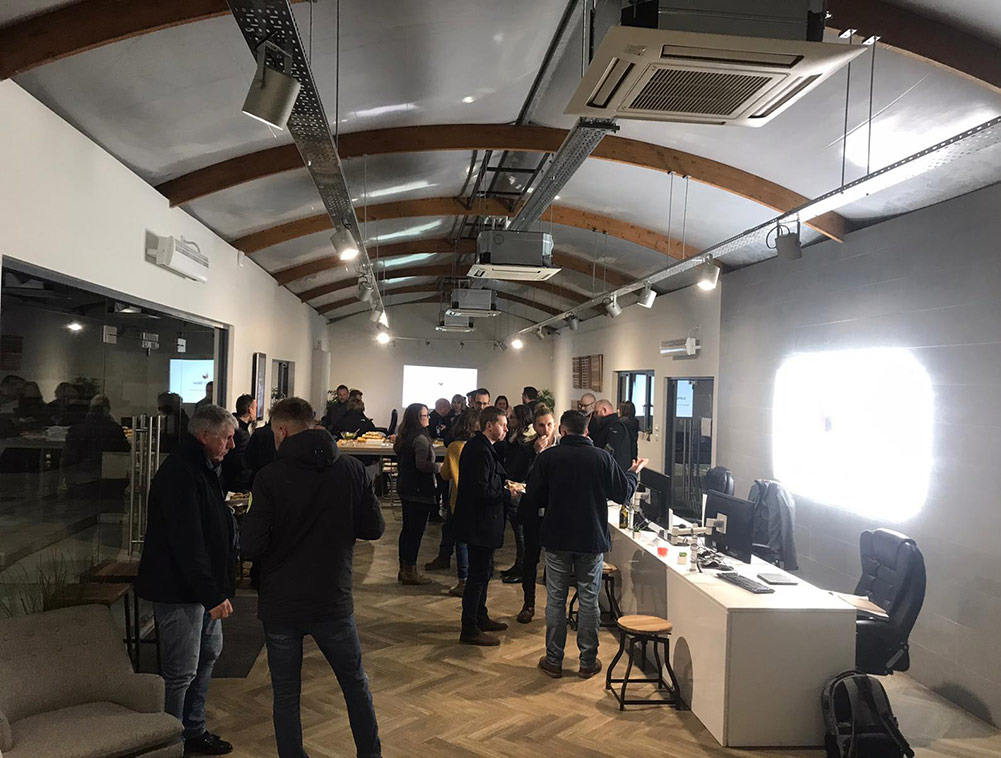 An Evening With London Stone at our Kent Showroom - plenty of room for discussion!
Evening Overview
We've found that the overall impression of the evenings has been overwhelmingly positive. Several subjects were covered during the evening. The themes that received the most interest include environmental pledge to go carbon neutral, and our new products for 2020 and beyond.
Not only do our evenings offer an educational aspect, but also a networking opportunity. For many in the industry it was a chance to meet each other for the first time and share ideas. For some of our customers it was the first time visiting our showrooms. Having our customers all in one place gave us the chance to put names to faces and answers questions. Events such as these are important to our ethos of promoting the concept of one industry united. At the very least, we hope that our guests enjoyed the delicious complimentary food and drink on offer!
Some of the new Porcelain range and Clay Pavers on show in Middlesex - lots to wet the appetite
Our Environmental Plan
This year we are placing a significant emphasis on the importance of the impact our business has on the environmental. We presented our environmental plan at the evenings with a phenomenal response. Our clients were nothing but encouraging. Our plan of action as to how to reduce our environmental impact has even inspired others. Customers are now telling us how they are looking into their own environmental impact and how they can reduce it. More on this, soon!
Presenting our environmental plan also lead to several insightful discussions. We always encourage customer feedback, and the landscapers at our events did not hold back. Feedback included debate about of the amount of packaging we use to pack our goods. Reducing our packaging was already part of our environmental plan, and is an ongoing goal. Reduced packaging would of course reduce our impact on the environment, but also means less for our customers to dispose of on site and reduces costs. We have begun reducing the amount of packaging we use already. However, the evenings with led to some interesting discussions on alternative packaging ideas which we are now looking in to – watch this space.
The positive feedback and praise is great for encouraging our efforts and spurring us on to do more to reduce our environmental impact. Read more about our pledges to help tackle climate change in our new brochure, here.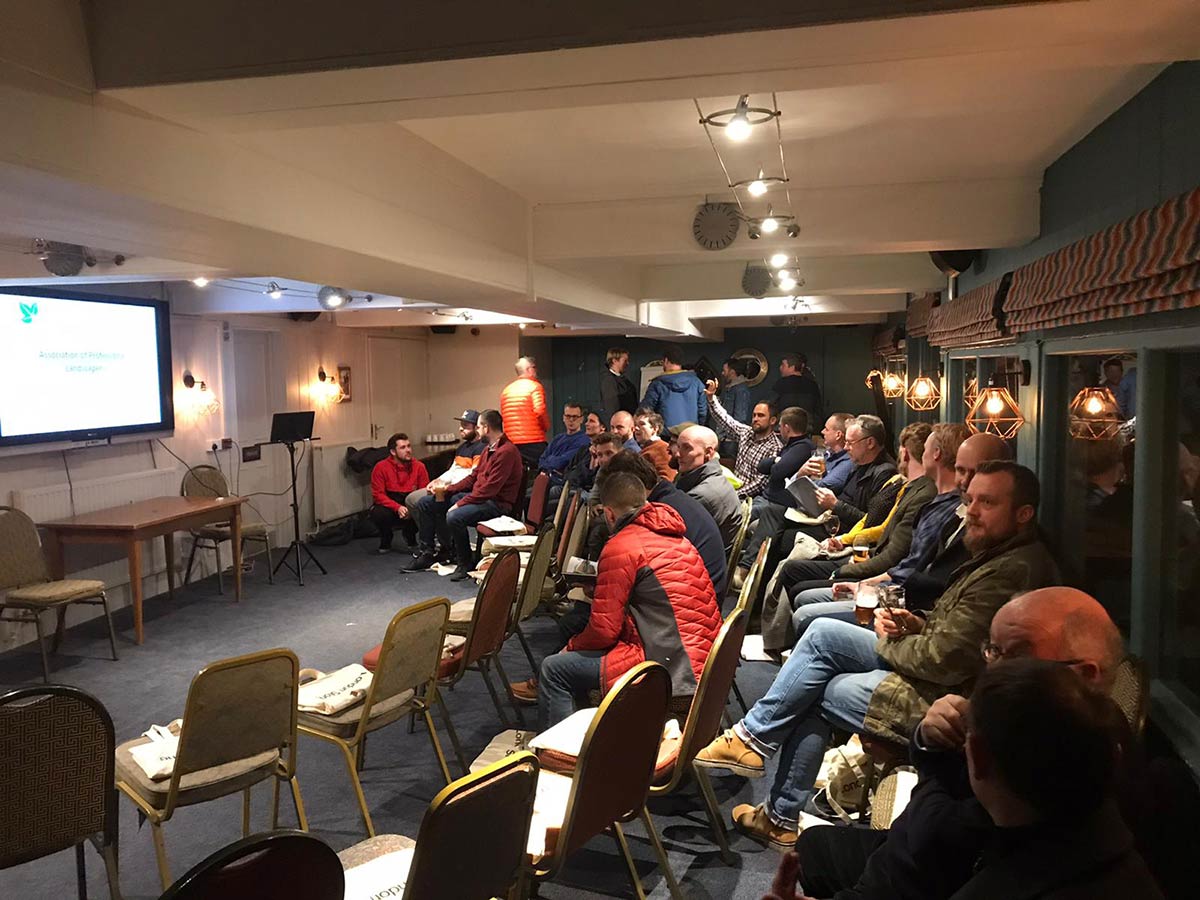 The Cornish crowd ready themselves for an evening of insight, inspiration, debate, and some decent tucker!
New Products And Offers
With so many discerning designers, landscapers and landscape architects at every event, presenting our new products for 2000 was met with excitement. There was particular interest in our Fencing and Clay Paver ranges. Having samples of the new products we are introducing available at the evenings was great in helping customers visualise our new collections. Our new ranges are mainly introduced following feedback from our customers, so it is great to know that we are on the right track.
For our existing products, we have frozen prices for a second consecutive year. The price of our porcelain made for an interesting topic of discussion. Our porcelain range is offering better value than ever across the industry. Also mentioned was how our new Premium DesignClad opens-up a wealth of opportunities as an attractive (and excellent value!) alternative option to rendered walls.
Our aim is to offer our customers the highest quality products at the lowest possible prices.
An Evening with London Stone – The Review! Some of the great and  the good of the landscaping world joined us at North London
Special Thanks And What's Next?
We would like to extend our thanks to our partner Lowarth Landscaping Supply Company Ltd. The event at this location was our biggest yet with an incredible 36 attendees! Thank you to Paul, Chris and Holly for assembling so many likeminded people together.
Also in attendance at our Truro event was Phil Tremayne, the General Manager for the Association of Professional Landscapers (APL). Phil spoke of the importance of strong industry relationships and collaborating with the APL. Phil's ideas mirror a culture of one industry united that we are eager to promote. Thank you, Phil, for your insightful presentation and ongoing support.
Finally, we would like to remind you that you can still attend an Evening with London Stone event this year. We have events scheduled in Cheshire on the 18th February 2020 (19:00 – 21:00) and West Sussex on the 25th February 2020 (19:00 – 21:00). Our Partners in Cheshire and West Sussex are looking like more well-attended events - but can they beat the numbers of our Cornwall event? Come along and see for yourself!
#ThisIsLondonStone