London Stone are excited to announce our new trade partner Contemporary Fencing.
Located in the Herne Bay area, the showroom combines the expertise of fencing and paving to give customers the ultimate garden experience.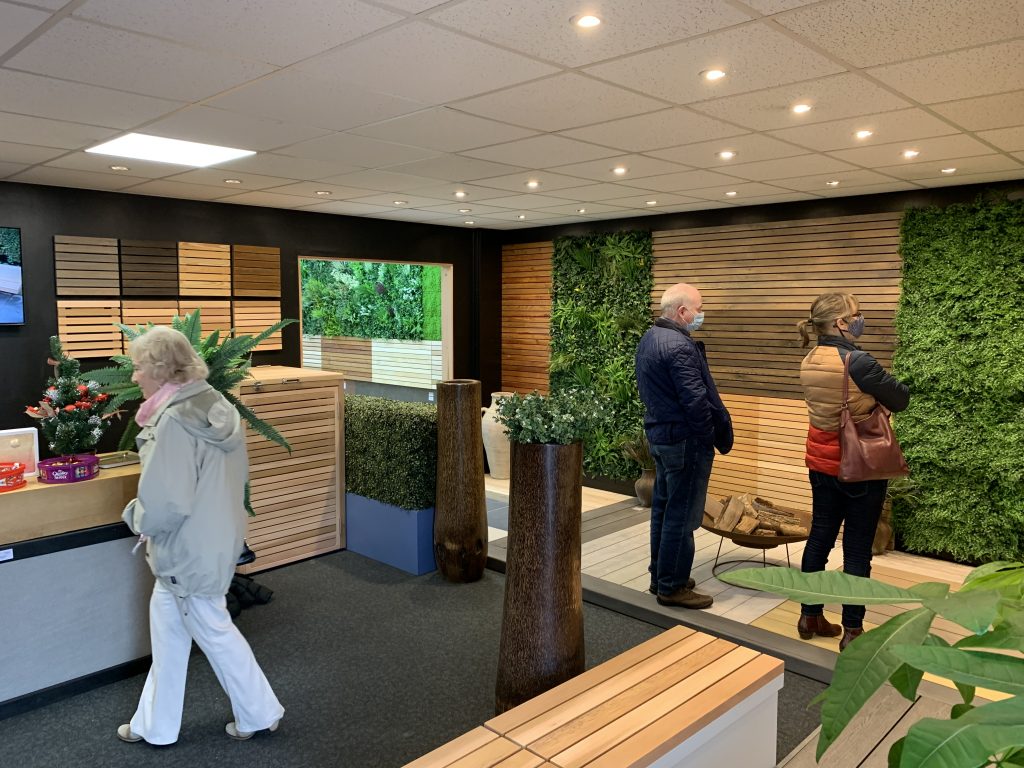 The Showroom
See how the showroom is ready to open its doors and welcome customers. Walking through the doors into the showroom, visitors are welcomed by a wall of fencing options to browse. The fencing is a mix of cedar fencing, accompanied by matching gates, and Siberian larch products. Pass the front desk and you'll find the various London Stone natural stone, porcelain, decking options and DesignClad wall cladding ranges displayed.
The showroom has been purposely designed to give as much of a 'real life' feel as possible. With green walls and planting dotted around, the intention is to allow customers to see the various combinations of products in a real-life setting. There are plenty of samples to let customers get a thorough feel for the products.
In terms of facilities, the showroom has plenty of onsite parking, free Wi-Fi available and plenty of teas and coffees available.
Not only is this showroom a great destination for those looking to see both London Stone and Contemporary Fencing products first-hand, but there is also an onsite workshop. This workshop is where Contemporary Fencing manufacture many of their products. Having their workshop so close means that orders taken can go straight through to the workshop.
Staff
With three dedicated members of staff on hand there is always someone to help. Collectively, the team have an expansive range of knowledge to share. Giving fencing advice on the different types of wood, price points and options that will work best for different projects, as well as helping customers navigate their way through the extensive ranges London Stone offer.
For those looking for a more help with their project, Dominic has over twenty years' experience in garden design and is more than capable of helping customers plan their perfect garden. Another member of the team, Lee, also has ten years of on-site experience. This makes him the ideal person to help with questions about fencing installation.
History
The history of Contemporary Fencing is an interesting one. Dominic was a garden designer for twenty years, together with his business partner, a joiner and carpenter, created a product to meet demand.
After receiving requests for a quality, yet accessible product, Contemporary Fencing developed a product that anyone could buy and install. This was then used in award winning gardens and the demand for this product increased. From here the team developed more products that met the needs of their customers.
Partnership with London Stone
This took Contemporary Fencing on to form a partnership with London Stone. As we've recommended them to our existing customers over the years, the partnership was a natural progression, to offer the end user a better experience.
Now, more customers get to see the products side by side and receive more assistance in creating their perfect space. This sharing of products and expertise within the industry ultimately creates an environment where customers receive better care. Check out some of the products that we recommend.
Future Plans
Even though Contemporary Fencing have just opened their new showroom, the team already have big plans for the future, thinking about ways they can go even further to improve their customers' experience.
Plans to lay more paving options in the future will enable customers to see even more London Stone products in situ.
There are also discussions about putting together palettes that will assist customers in pairing materials, aiding customers in seeing how different products will work with each other.
Finally, the team are looking into options to create a space for meetings with clients. This will enable clients to come in and plan their full project with the team in the perfect environment.