Incorporating a vertical element into your garden scheme should be a crucial consideration. Vertical garden designs are great for adding a space-saving wow factor. In this blog we will discuss two of our exciting vertical options: composite screening battens and composite cladding.
Benefits of a vertical element in the garden
London Stone's Composite Screening Battens And Cladding can enhance any design
If your garden does not have mature trees then using composite screening battens or composite cladding will make a big difference. They can hide a view, provide welcome shade or privacy, or offer an instant feature.
Nosey neighbours can easily be discouraged with the implementation of some extra height. Use battens or cladding to bring privacy to the garden or just to add sections to the garden. If your relaxation area in the garden is being overlooked, a vertical solution is a great way to prevent this. By just adding height to a small section of the garden the rest will retain an open feel.
Including a vertical element in your garden is particularly beneficial for smaller gardens. If the space, you are working with is smaller than using vertical space will make the most of the area you have. You can make bold features and focal points in the garden without taking away any precious ground space. So get creative and take your designs upwards.
Composite Battens can be used to not only enhance privacy, but also let light into a design
Transform unsightly or otherwise dull-looking walls, or create impressive feature walls and focal points. Unappealing views can easily be improved with the simple installation of battens or cladding. This is the perfect solution if you are unable remove an attractive element from your view. The effect helps to give you back your garden sanctuary, instantly.
Composite Screening Battens
Our composite screening battens have a brushed finished that will bring movement and interest to your garden. The slats give you the freedom to build the perfect height for your garden. The gaps between the screening are great for giving you a sense of privacy whilst still allowing light to pass through and fill your garden.
Maintenance-wise, the battens are easy to keep looking their best with minimal effort. They are rot-proof and warp resistant, so are long-lasting. These qualities make them a great alternative to natural wood if you are looking for a traditional element with more modern attributes.
Composite Cladding
Lightweight and sleek - the DesignBoard Cladding boards - shown here in Luna - are a great modern vertical design solution
With nine colours in the range there is sure to be one to complement your garden design. The cladding matches our DesignBoard Composite Decking Range. Pairing the composite cladding with the composite decking can create a completely seamless feel in your garden. The cladding will look equally as impressive used on its own in your garden, or even inside your home.
The planks are designed with subtle colour variations that resemble natural wood to bring an authentic feel. The cladding requires minimal maintenance and is long lasting – ideal for high traffic, or weathered areas. DesignBoard Cladding has an expected lifespan of 25-30 years, so value-for-money is certain. We are so sure of the quality of the product we even offer a 10-year guarantee against the structure and surface finish of the material.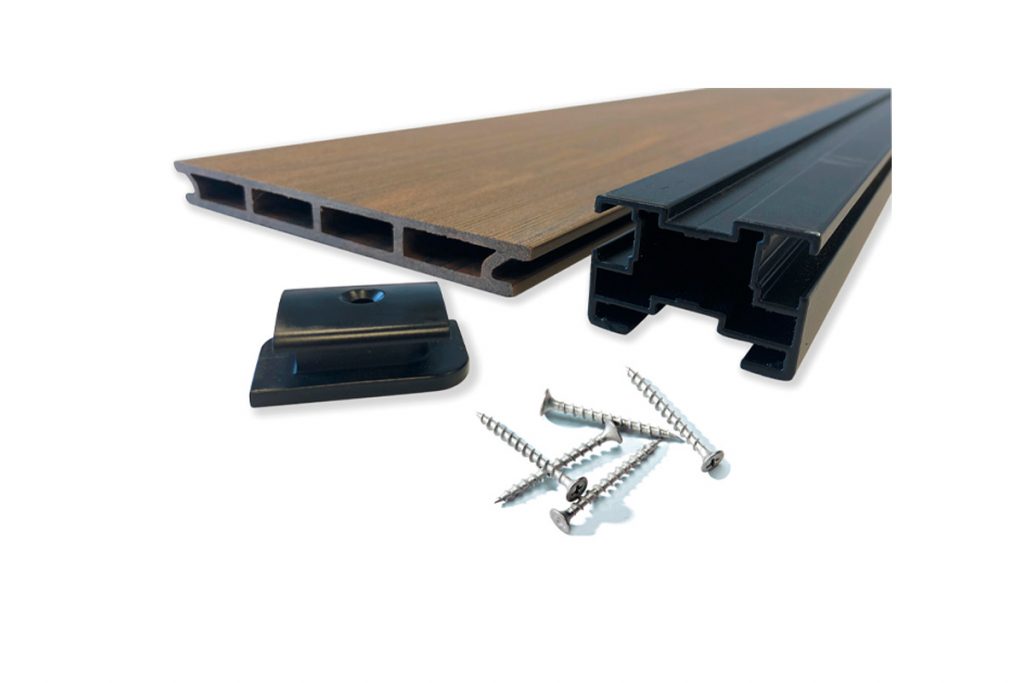 Easy installation of DesignBoard Composite Cladding is a feature that will assist on site when installing the product
Design Potential
Both of these outstanding materials alone will make a stunning feature in the garden. If the theme of your garden is centered around nature, encourage climbing plants such as clematis, ivy, or honeysuckle to grow up-and-around the cladding or battens.
Charcoal DesignBoard Cladding was used by Wilson Associates at BBC Gardener's World Live in 2018
The unique appearance of these products makes a beautiful contrast to stone paving that will not fail to impress. The design will add depth and interest to your design and will look stunning with almost any style of paving.
You can also create long-lasting and unique boundary demarcations. Or, divide the garden into different areas by creating a physical and visual barrier. This way you can create deliberate sections in the garden for different activities, from relaxing and dining, entertaining, or even section off a vegetable patch.
There is so much potential and opportunity for going vertical. For more inspiration take a look at these products on our website or speak to a member of the sales team.