London Stone's new and improved samples case is the ideal tool for garden designers and landscapers looking to present the best materials to their clients.
We know how important it is to see a sample of our quality stone before you embark on transforming your outdoor space. We have always been proud of the comprehensive and quality sample boxes we provide. However, there is always room for improvement. We have listened to what our customer had to say and are excited to introduce some changes we have made.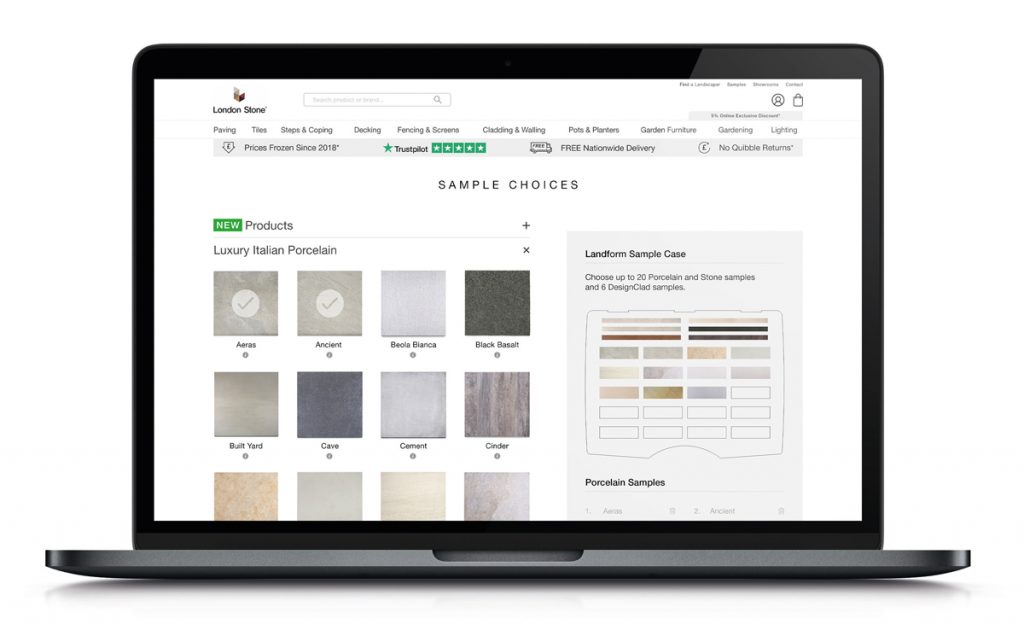 London Stone's New and Improved Samples Case - choose your own samples and fill the case
Previously
Previously our sample boxes contained our complete range of Stone and Porcelain. Although this provided customers with plenty of choice and options to look at, we found that some products are certainly more popular than others.
As part of our ongoing commitment to our customer we have carried out extensive customer research on the services we offer. We discover that many of the samples never left the box and that most people had a smaller number of 'go-to' samples that they regularly used. This meant there was a lot of waste and unnecessary cost with the sample box. The biggest cost being calibrating all the samples down to 10mm thickness so we could fit the complete range in the box.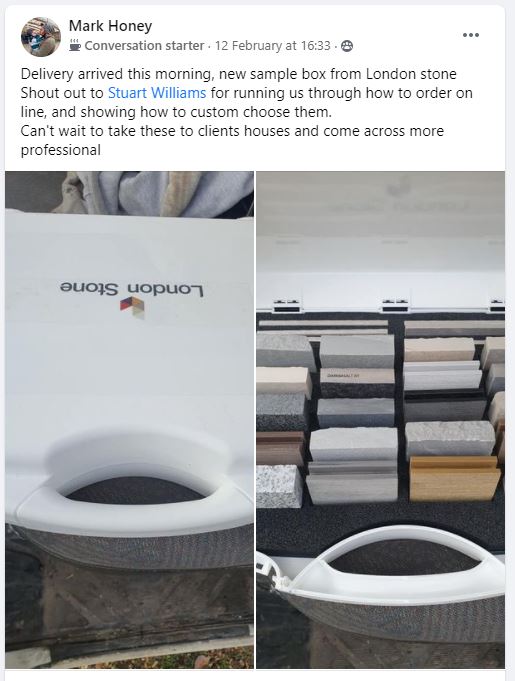 Mark Honey of Nectar Gardening & Landscaping was very pleased with his new and improved samples case
What we have changed?
Reducing waste is one of London Stone's top priorities because this is what helps us to keep our costs down. You can also add 6 DesignClad samples. By keeping our costs low, we can ensure that savings are passed on to our customers. So, having discovered that a sample box with so many samples being unused was very costly, we knew a change needed to happen.
The new sample box now contains 20 stone, porcelain and decking samples. This makes it significantly cheaper for us to provide. You can add As well as being less expensive, it is also better for our customers because our trade clients can now decide what goes in it. Having this decision in their own hands means that they can choose the products that they know their customers like. This provides a more customised set of choices to help you make the right choice for your garden.
Let the sample case guide your material choices - so important in any scheme
What impact does this have on you?
Samples allow end clients to have a visual representation of what the natural stone or porcelain will look like in its intended environment. Seeing how your chosen product will look in situ will help ensure you have made the right choice. It can also help you make other decisions, like what type of garden furniture to include, or what planting scheme to use.
By supplying a sample case to our trade customers this will allow them to visit customers fully equipped with options. Having our popular products on hand will help customers make the right decision for them when planning their garden renovation.
Choose from 48 porcelain options and over 40 natural stone options to fill your case with 
This sample box gives you choice of products that are known to be favourite choices among landscapers and designers alike. Choosing materials is therefore a more simple process. Of course, you can still order specific products samples online. Thus ensuring that you have access to all of our products so that you can make an informed decision.
Click here to order your new and improved sample box. Or to find a professional near you click here.