It's been a whirlwind seven months for us here at London Stone but our Birmingham showroom is now ready and open. We're already welcoming customers to visit us in person at our first Midlands showroom, but to give you some insight into the journey we've been on, we sat down for a chat with Fulfilment Director, Gavin Walley, to find out more.
How long has it taken to develop the Birmingham showroom?
We sorted the lease out back in April 2021, but in reality we didn't start work until September. There were a few planning permission issues to iron out, but once they were all sorted we were able to crack on. The showroom opened earlier this month, so overall we managed to get the actual work done in seven months.
What was your role in this process?
I head up the design and project management, so I had regular meetings to work closely with the design and build teams. That meant checking if the brief was right to begin with, and then making sure we stayed on the course of the brief and on-brand with how things looked. I was also marshalling different parts of the business to keep operation and production teams on track, making sure the build team had what they needed when they needed it so that they could get their jobs done.
As part of those discussions, we put a lot of consideration into the showroom layout and how it flowed, thinking about how the customer would walk around and navigate. That went right down to things like product groupings by styles of display and even the associated products that would be placed there. One crucial part of the journey was making sure we have sufficient natural lighting and daylight conditions for customers to view products in. And where we couldn't get that natural light, we have to recreate the conditions with bulbs and lighting temperatures so that customers can get a sense of things in situ.
Who were the unsung heroes who made it all happen?
To be honest, everyone involved is an unsung hero! Everyone had their part to play but with something like this, the hard work tends to happen out of view, then a showroom seems to magically appear before your eyes - which isn't the case, of course, but is testament to the hard work going on at every stage.
Special mentions go to the design team, Piotr and Mariana, the build team, Ryan and Adam, and the electricians, Ron and Dave. These teams were a constant from start to finish, while we have a variety of subcontractors to help with things like heating and ventilation, glazing and the mezzanine floor. We even had our very first customer elevator installed for this showroom.
And in support of all this throughout the project was the whole London Stone team who need mentioning. The factory produced hundreds of bespoke elements and all the display cabinets offsite, while the operations team made deliveries every week to Birmingham to make sure materials were on site at the point at which we needed them.
Were there any major challenges you had to overcome?
We probably had two main challenges. The first comes from the fact that we design, build and project manage everything in-house, and this was the first time we've taken on a site that is a brand new unit. We essentially got the shell stage building that was a metal shed and had to fit it out from scratch. That meant putting in all the utilities and plumbing, in addition to all the displays and furniture this time. It's been a leap forward for us because other showrooms have been occupied prior to us moving in — it added a layer of complexity to all the work.
The second hurdle to overcome was the sheer size of the building. At 850 square metres - not including the back office and storage spaces - every aspect of the build was multiplied in comparison to our smaller showrooms. To put this into context, this one is more than twice the size of our last showroom fit-out.
In addition to that, the increase in inflation throughout the project has meant that the cost of raw materials constantly changed. That's something that made keeping to our budget a real mission. Those things are slightly out of our hands, though, much like the delay for steel due to various shipping crises over the last six months which has slightly delayed our mezzanine floor.
And what about the elevator? Was that tricky, since it was your first one?
Surprisingly, the fitting of the elevator was quite straightforward! The guys who came in got it done swiftly and professionally.
Is the showroom for tradespeople, homeowners or both?
It caters to everyone. There are a lot of trade businesses of course, but consumers like to come down and select their products. A lot of the time, trade contractors might ask their clients to come and choose the stone that they want. We've got a great relationship with contractors because they trust us to help their clients make the right choice for the project, handling the consultation and material specifications to make their lives easier.
We want everyone who visits to get a premium experience from start to finish. We've always believed in demystifying the process of choosing and ordering materials. That's why we've got breakout spaces with coffee tables and sofas for customers to sit down, chat and physically open up their plans with us.
Until now, it's been seen as complex and hard work, I think, but we've put time and effort into making it easier, even for the more intricate or specialist pieces like coping. We want it to be an engaging and informative experience for people, but also an enjoyable and hassle-free one.
Why should customers come out and visit the showroom?
Because we've designed this showroom around the customer's experience and comfort. It's a relaxed, low-pressure environment where our sales team are available but won't be following you around unless you need them. You can choose products without assistance if you want to, because we've got all the information there at the point of sale, from prices to descriptions.
We're excited for customers to see everything they need to build the perfect garden, all under one roof — including things like pergolas, fencing, cladding and furniture. Plus, it's a high-end showroom, but it doesn't mean prices are unaffordable; whatever the budget, we can help. 
You also don't need an appointment; just walk in. We've got three full-time staff members to help us handle even the busiest periods.
Is there anything unique about this showroom?
This is actually the first time we've created dedicated furniture and outdoor living displays that customers can browse. I don't think anyone else is displaying landscaping products the way we have in the Midlands, so it's well worth the trip for customers in the region.
Can customers place orders directly at the showroom?
Yes, absolutely. A lot of our customers come with a lot of things they need so require a thorough discussion. We make sure things like accessories and associated products such as grout and adhesive are covered and then place the order on the spot.
Alternatively, lots of customers will come along to simply pick out their materials and go back to their contractor with the details to place an order later down the line, which is why we can provide free samples to take away.
How important is this new location for the growth of the business?
It's essential. We've got a vision to become a nationwide supplier and that means we need to reach as many people as possible. 
While there are a lot of people willing to make purchases online these days, there are still many people who want to see and feel products in person. With something like this where you're going to be looking at for years to come, you've got to make sure it's right — some people wouldn't dream of buying something without seeing it first and that's why we're doing this. We've even had customers come down and kick off their shoes to feel what it's like to walk barefoot on certain stones, and that makes sense when you think about it because it's what they'd be doing at home!
And for our trade customers, they like to know they can get to see a company rep in person if they want to, so having this showroom is important in that respect, too.
We've been growing steadily and seen a lot of growth in the last two to three years. The pandemic has played a part there but even now, we're coming out the other side and we're still growing — we're on track to deliver strong growth in 2022 and the expansion of our network is vital to that.
What our customers say: 'I am very impressed with the new showroom. The size and layout is perfect. It will be amazing to walk around with our clients when selecting products for their new gardens.' Marc Lane, Landscapia Ltd.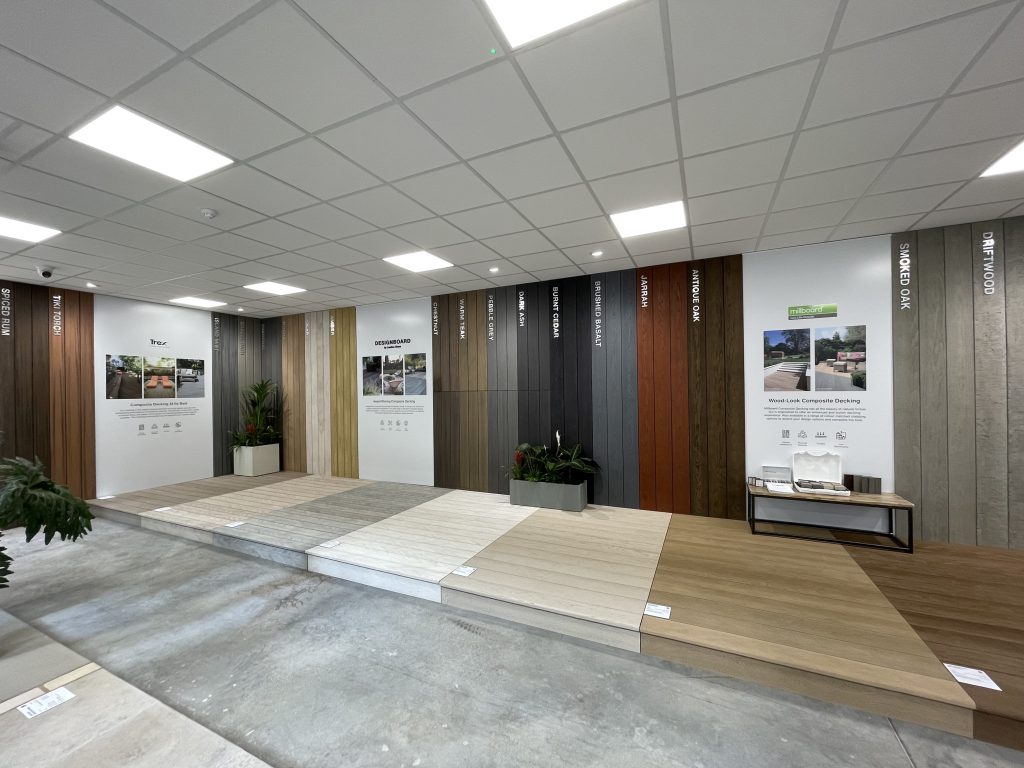 Can we look forward to any other new showrooms elsewhere in the country soon?
We've got a couple of locations close to being finalised but that's all we can reveal at this moment in time!
Is there anything else you wanted to say about the new showroom?
I guess the one thing that really brought this build to life was having real plants in the showroom. We created the contemporary, minimalist style we have in all our showrooms - along with some of the rustic and industrial touches - but everything just burst into life when the plants went in. It comes back to our core objective of making these beautiful, functional spaces, which wouldn't be complete without the plants. We know we'll never make a true garden because we're indoors, but getting as close to that feeling as possible is something we're actively trying to achieve.
And lastly, I want to mention the brand new sales team we've got in Birmingham. It's a new showroom on a scale we've not delivered before, in a new region with no representation, and the team has only been with us a short time, but Jessica, Chante and Sam have done a phenomenal job of getting up to speed so quickly — it's made things so much easier and we know customers will be in good hands with them.
What our MD says: 'Our latest branch opening underlines our commitment to growing our showroom portfolio nationwide. We are extremely excited to establish ourselves in the Midlands, and look forward to welcoming new customers to the showroom, as well as giving those clients who already use us a London Stone base closer to home!' Steve Walley, Managing Director At London Stone.