New Trend Alert - Indoor Outdoor Tiles
Indoor-outdoor tiles are a trend that is becoming increasingly popular among designers and it is easy to see why! Impressively styled gardens are a reflection of the home, and a unified tiling scheme is the perfect way to create a continuous design.
This scheme shows how beautiful a matching porcelain scheme can be. Garden designed by Caroline Davy Studio and built by PC Landscapes using our Rovere Porcelain Paving. 
Creating a cohesive look inside and outside the home will extend your home into the garden as well as producing a seamless feel. There are two distinct ways that you can use this trend to create a stunning design. Firstly, by using the same tiles both inside and out, and second by pairing tiles of a similar style or colour. This tiling trend has captivated designers with its ability to extend rooms beyond their walls, create uniform designs and allow homeowners to enjoy their transitional space year-round. Let us take a closer look at how you can use these porcelain tiles in your design.
Using the same tile in both areas
Extra space comes with a premium these days. Think you need planning permission to extend your home? Think again. Changing flooring creates a disjointed feel, but by using the same tiles indoors and outdoors it will visually lengthen and deepen a space. Unify internal and external spaces by using a single stunning tiling style. You can still get creative with the tiles and add interest. Try spacing out the tiles outside and filling the gaps with pebbles to break up the design a little.
Don't just stop at using the same porcelain tile. Match the look of the garden to your chosen interior decor and create a truly stunning seamless transition between your living spaces.
Giving your garden a more "interior" style will encourage more time relaxing outside in the warmer months and therefore make your garden more functional for the family. From the inside point of view, by having a unified design during winter months you can sit inside and still feel as though you are enjoying the great outdoors.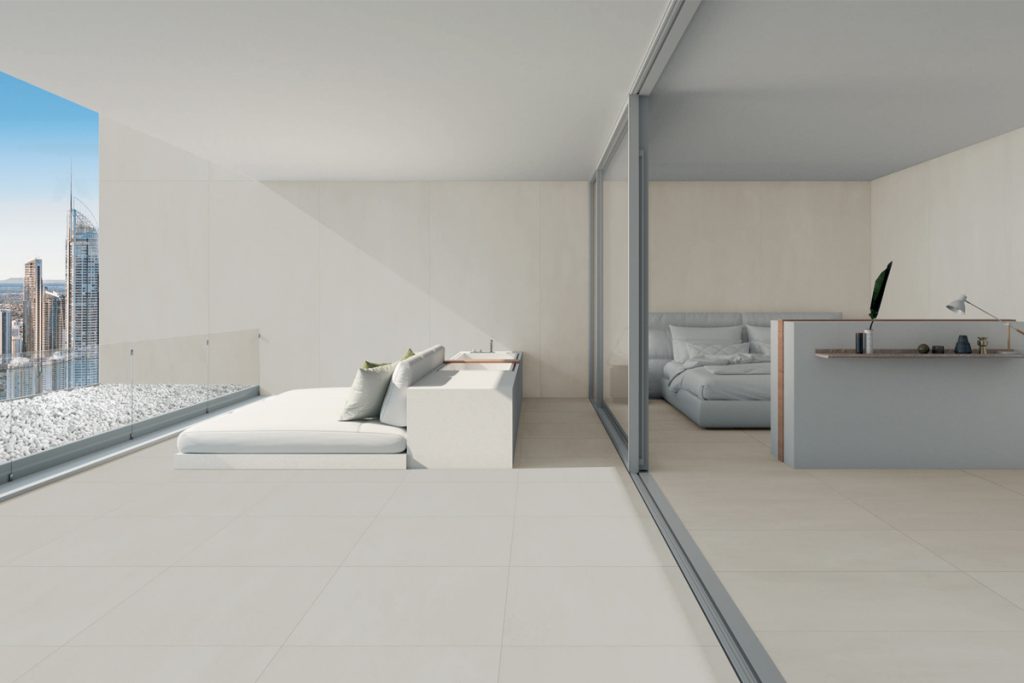 This all white scheme perfectly demonstrates how using the same indoor-outdoor tiles produces a stunning result, featuring our Yard Porcelain Tiles.
But which tile?
With so much choice how can you be expected to choose?
Greys are the colour of the moment and are perfect for creating a calm space. Our Sidewalk Porcelain Tiles are the perfect choice for a contemporary grey feel. Beige tones create the perfect back drop for bold accessories. If you are looking for the perfect neutral setting to complement bright colours our Faro or Comblanchien porcelain tiles are ideal. Go bold with deep rich tones and create a smooth luxurious feel with our Karbon or Street Porcelain Tiles. If you are going for a more organic feel our range of wood effect tiles are the perfect balance between a natural feel with more durable properties.
Matching similar tiles in each area
Using the same flooring both inside and out is a great way to trick the eye and make your interior space feel bigger. However, this doesn't offer much of a creative outlet. The second option to connect two spaces, whilst adding slight distinction, is to match the spaces. Use tiles with the same colours, tones or designs in both your interior and exterior space. Using the same colours and tones throughout your indoor and outdoor living spaces creates a consistent look that flows easily from inside to out. But by changing-up the tiles slightly you will still create distinction between the two areas.
Again, you can use the same colour scheme for furniture and decorating to continue the unified flow between the two areas. You should still consider giving your garden an "outdoor living room" feel as this is the best way to encourage more time relaxing in the garden.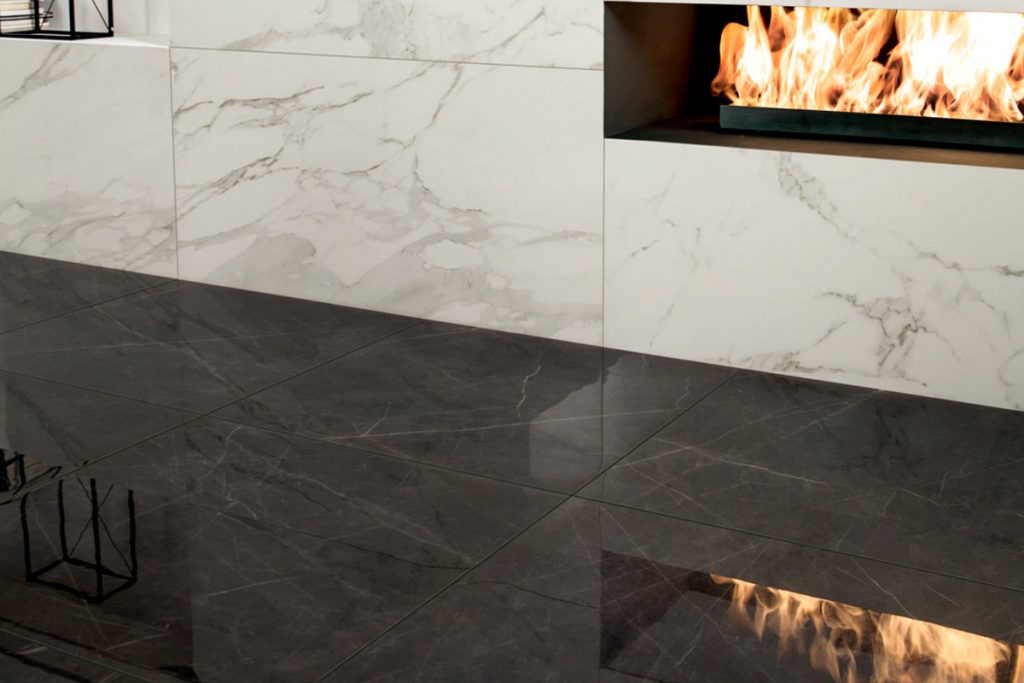 These tiles perfect complement each other to create a unified design. Using our Graphite Lucidato Porcelain Tiles.
Need some inspiration?
It can be difficult to know which tiles to pair together for the perfect effect, so see what you think of these pairings.
A grey toned wooden effect tile inside will work perfectly with grey stone-effect tiles outdoors. Pair our Marine Gris Porcelain Tiles with our Gesso Porcelain Tiles.
To match tiles with similar designs you can pair a dark marble effect tile inside the home with a light marble effect outside. For example, our Nero Atlante Matt Porcelain Tiles with our Marble Grey Porcelain Paving outside.
This beautiful scheme demonstrates how immaculate porcelain looks outside. Design by Karen McClure and built by Esse Landscapes featuring our Cinder Porcelain Paving.
Why should you be using porcelain inside and out?
Performance-wise, porcelain is an exceptionally high performer in almost any environment.
• All of our inside/outside tiles have a very low porosity level. Low porosity means that they don't absorb much water, minimising the risk of staining or water damage.
• Porcelain tiles are incredibly durable. This makes them perfect for high-traffic areas. The tiles are very resistant to scratches, scuffs and stains, so there is no need to worry about kids or pets.
• Porcelain is low maintenance. Most of the time there is no need for harsh chemicals to clean, just a good sweep and some clean water.
• In terms of safety, ceramic tiles provides multiple safety benefits that combat the potential hazards of both indoor and outdoor spaces. The slip resistant texture is perfect for areas that can get wet, like near sinks, in bathrooms or around pools. Ceramic is non-flammable so can also be used around fireplaces, fire pits, and grills.
• Weather can be a concern when it comes to choosing tiles for outdoor areas. Porcelain is weather resistant. Porcelain is resistant to moisture, so the tiles can withstand potentially damaging effects of freeze-thaw cycling. As well as moisture from snow, rain, or humidity. As much as we love sunshine it can cause the colour in some tiles to fade, however porcelain is fade resistant.
Now that you know how to style this trend in your home and the benefits of using porcelain tiles why not explore our range now and transform your space. Shop our range of porcelain tiles here.