It's good to have more than one solution up your sleeve when clients present a challenge, and that's what DesignBoard, the latest addition to our range of landscaping materials, offered when Garden House Design were asked to create an outdoor dining area over an existing patio.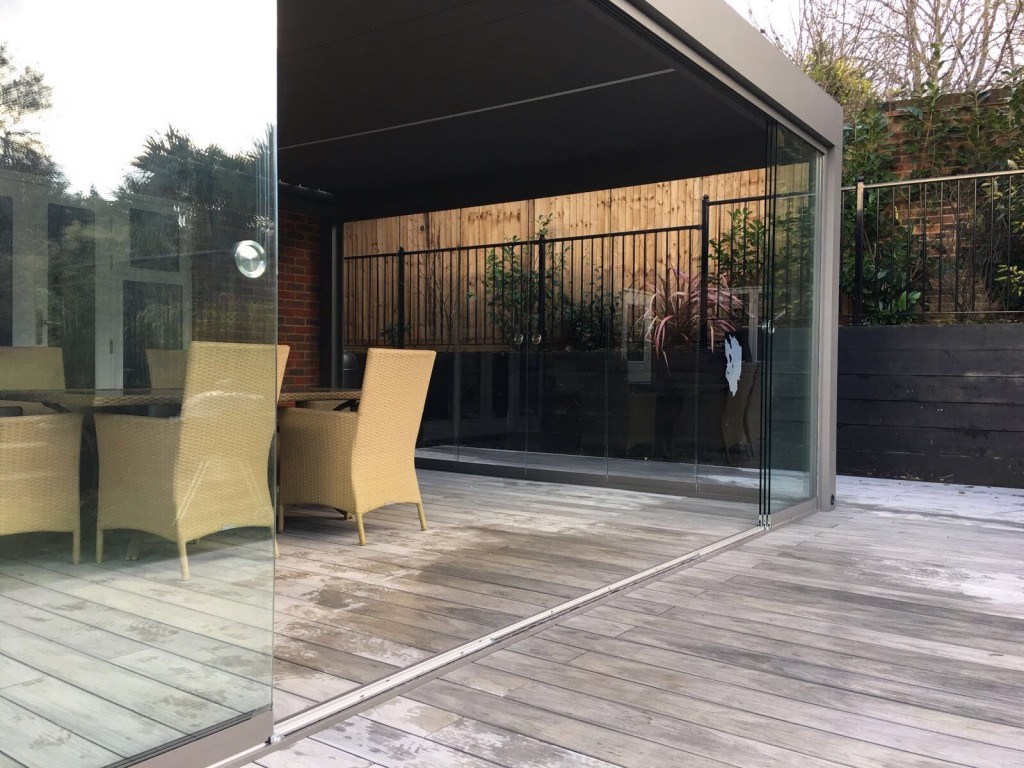 "We needed a flat, level surface, and a quick proposition," explains Creative Director, Debs Winrow. The project involved the installation of a Renson Camargue Louvred Roof Terrace cover. This stylish canopy helps to create a seamless indoor/outdoor space. "It needed something of a wow factor," she adds. The existing patio would have demanded a change of level from the house, had too much of a fall on it to accommodate the structure as it was, and really wouldn't have suited the new contemporary-look.
One option was to rip-up the slabs and lay a completely new patio. DesignBoard not only offered a much faster solution, but made it possible to create a decking that required no step out from the house and flowed from inside to outside the canopy, making a single, sleek floor.
 "It still needed the qualities of an outdoor product," points out Debs. "Weather-proof, looking good, low maintenance and easy to clean."
Garden House Design chose Luna of the nine colours available, as the pale, consistent grey tone created a light foil for the glass walls and a good contrast with the dark charcoal structure. "DesignBoard's colour range is extensive, and that makes it perfect to take to a generation of people who are into indoor/outdoor buildings.  And the DesignBoard toolbox was very helpful," says Debs. "The client had to make a very quick decision and it was great that we had the range and samples to show them."
DesignBoard is installed using its own unique clip system, which creates consistent gapping along the long edges. "It gives a very concise, clean look," says Debs.
From across the office, Rod Winrow chips in, "It's so easy even Craig at London Stone can install it!" (Now, steady on, Rod!)
Seriously, it offers a millimetre-perfect finish. "For this project it was the ideal choice. It's also easy to cut on site," says Debs. "You can see from the photos that paving slabs would have looked awful for the outdoor sitting area. DesignBoard is a great contemporary alternative."
Garden House Design have been so impressed with DesignBoard that they are now one of our DesignBoard partners, offering it to the trade and clients, and will be displaying it at shows and exhibitions around the country this year.
Both we and Garden House Design are very excited by the possibilities of this composite decking, as there is nothing else of its quality on the market so firmly aimed at offering solutions for indoor/outdoor spaces with a sleek contemporary design.
For more information, give us a ring or click on Live Chat at the top of the page.