Porcelain Is On Trend! New In – Porcelain Planks & Setts - learn more about the latest additions to London Stone's extensive range of exterior porcelain.
With the increasing popularity of porcelain, this year we have introduced two exciting new ranges! Thus, giving you the opportunity to be more creative with porcelain in the garden.
Incorporating our most popular colours, our exciting new ranges are porcelain plank paving and porcelain setts. In this blog, we will be taking a closer look at these ranges.
Porcelain Planks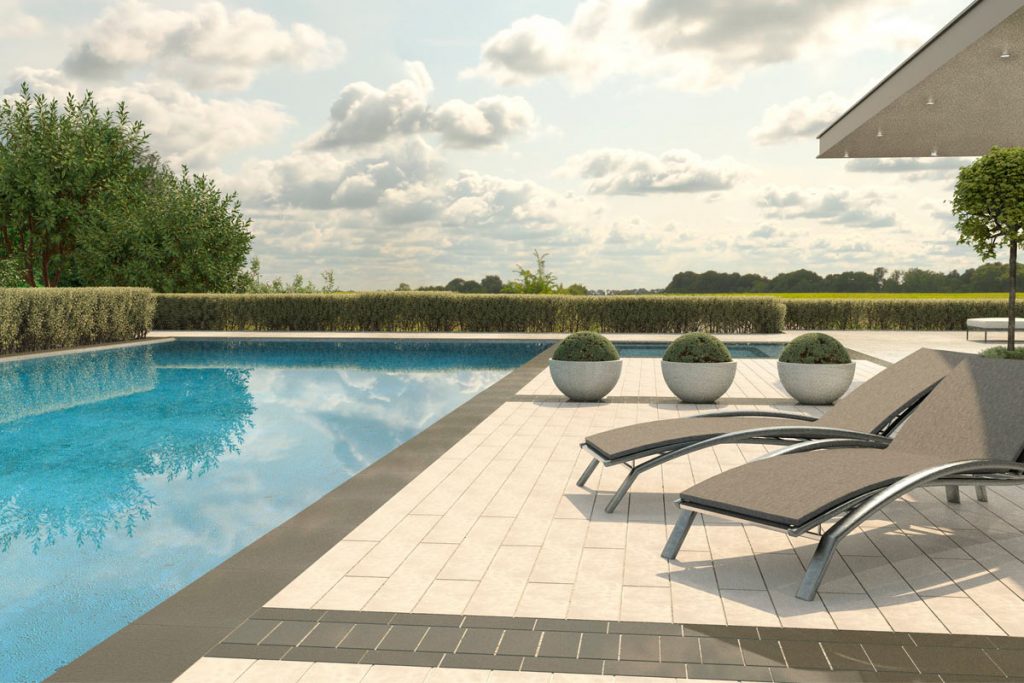 Light Grey Porcelain Planks, paired here with Charcoal Porcelain Setts - stylish and low maintenance
Porcelain planks will completely elevate your outdoor porcelain tile scheme!
The long, thin shape adds depth and elongates the garden to give the illusion of being larger than it is. Perfect for adding unique definition to your garden, planks can be used in several ways to create interesting paving deigns.
Lay the planks in a herringbone style to add visual interest and movement to the garden. This method of tile laying can also be used inside the home for a stylish touch of class.
Another interesting way to use these tiles is in a stepping-stone style. Leaving gaps in between the planks will create an interesting effect in the garden. Allow grass to grow up in between each of the planks or fill the gaps with pebbles for a stunning on-trend aesthetic.
Honey Porcelain Planks - shown here in a rustic, yet modern outdoor setting
Porcelain Setts
Porcelain Is On Trend! New In – Porcelain Planks & Setts from London Stone - stock items, with nationwide free delivery available
Porcelain setts are practically the opposite of our porcelain plank range. Small in size, setts are the perfect way to add that extra touch of definition.
When you use these porcelain tiles outside you can either use them on their own to create a complete scheme, or in combination with other paving slabs.
Using these setts on their own will bring a charming cobble feel to your garden. Create curved pathways or fan design paving, or even use them for driveways for a stunning classic style.
When you pair these setts with porcelain paving slabs you can create beautiful designs. Use contrasting colours to create borders or interesting square designs throughout the paving.
Finally, consider combining three complementary colours of the porcelain setts. Lay the colours side by side in straight lines or in an alternating style to create a truly unique design.
What else?
Ryan's CDM Ltd used Cream Porcelain on this scheme - Cream is now available in planks and project packs
Both Porcelain Planks and Setts can be used to create interesting edging or borders to your patio scheme.
They are an ideal way to change-up your paving scheme, moving away from the standard format of laying porcelain. The perfect way to create a unique design that suits your personality and space.
You can even try combining both porcelain planks and porcelain setts in the same scheme and completely mix up shapes and sizes, creating a bold design.
Porcelain is an 'en vogue' trend in landscape design, and it is easy to see why. Porcelain not only offers a durable and hard-wearing material, but it is also extremely low maintenance. These qualities make it the ideal choice for gardens that experience a lot of traffic. With so many colours, finishes and sizes to choose from, it is easy to create your perfect porcelain scheme.
View our extensive range of porcelain today and start your garden transformation.