A modern metal pergola is just what your garden needs this summer and here is why.
Metal pergolas are a great way to improve the quality of your outdoor experience, to have you enjoying more time in the garden.
Shelter
The first benefit of a modern metal pergola is clear; it provides shelter for your garden, whatever the weather. The shelter still allows you to enjoy the fresh air of your garden throughout all weather conditions. Come rain or shine, with a pergola you can enjoy time in the garden all year round. During the summer months it's ideal for giving you a safe place to be shielded from the sun, protecting you and your family from harmful UV rays. When the seasons change, and the showers become more frequent, it's a great place to sit and enjoy the soothing sounds of the rain. During the colder months it allows you to enjoy your garden; with a cosy blanket and a carefully positioned heater you can create a cosy spot.
Aesthetic
Our modern metal pergolas improve the aesthetic of your garden. There are plenty of ways that a pergola can change the appearance of your garden. On their own, the contemporary, stylish finish of the pergolas will bring an elegant modern touch. You then have the choice of accessorising your metal pergola to add your own personal touch to it. Use garden lighting to create a relaxing ambience. Either wind string lights around the legs of the pergola to create a twinkling effect or place spike lights at the feet of the pergola to light up the base with a spotlight effect. You can also use climbing vines like ivy, clematis, wisteria and grapevines, or flowers and other plants of your choice, to add their own charm to the pergola.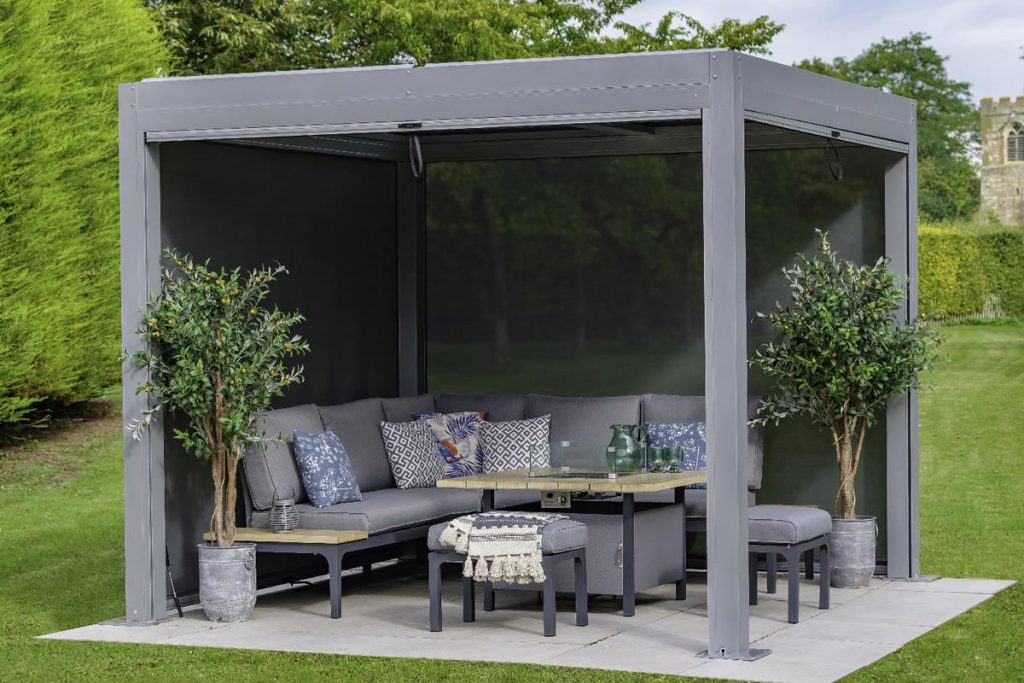 Seating area
A pergola is the perfect place to set up your garden furniture. Due to the shelter provided, they are ideal for covering your furniture. With shelter you can sit in the garden and relax without a worry.
Qualities
All our modern metal pergolas are hard-wearing and durable, perfect for bringing long-lasting luxury to the garden. Made from aluminium, the pergolas can be left outside all year round. We are so sure of the quality of our pergolas, they all come with a warranty.
Explore our extensive range of pergolas and discover which is the right choice for your next project.