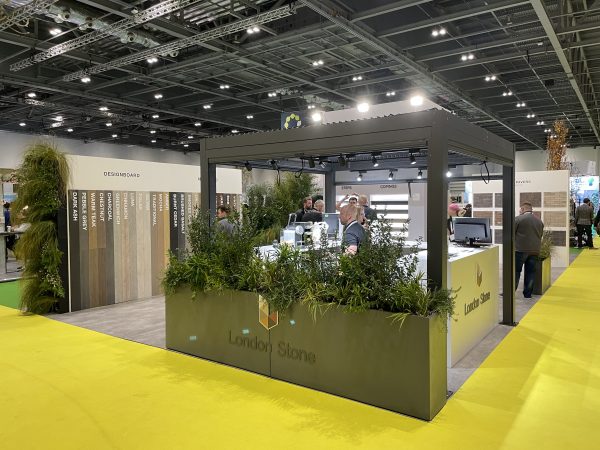 FutureScape is one of the must-attend landscaping events of the year! With it held at the ExCel London for the first time this year, London Stone had their best stand yet.
About FutureScape
FutureScape 2021 is a trade-only event that offers a great opportunity for making industry connections. This two-day event is the UK's largest landscape expo and trade event, packed with seminars, live debates, and a fantastic variety of exhibitors. With 185 exhibitors and 5000 visitors, it's perfect for connecting trade customers with suppliers and more.
The informative seminars and debates had over 100 speakers, with many topics important to the industry under discussion. Our very own Anthony Macson spoke on the future of marketing and social media in our industry and the role that this plays.
Other important topics discussed over the two days included the climate; how we can be greener and more sustainable as an industry; and the importance of green spaces. New to discussions were what the future of our industry might look like post Covid-19, the issues we are facing and how these will be tackled.
Congratulations to our Marketing Manager
Since 2015, a major event during Futurescape has been Pro Landscaper's 30 under 30: The Next Generation Initiative. This recognises landscaping's most impressive young people for their hard work and contribution to the industry. We are so proud that our very talented Marketing Manager Diana Catrinoi-Cornea took the podium.
Our stand
It is safe to say that this year we had our most impressive stand yet. Our team worked extremely hard to create a stand that showcased all of our best products and did them justice. The result? Essentially, a mini showroom.
When entering the stand, customers were greeted by a wall that displayed both our DesignBoard and Millboard ranges of composite decking. On the other side of this wall were our timber and composite battens. At the front of the display a metal pergola stood over our desk. Here customers could sit and chat with members of our sales team over a nice cup of coffee or refreshing beer. Moving through the display, the next stop took in the various edge profiles of our steps and copings, set into the wall. This allowed customers to get a real feel for the appearance of the profiles and the finish of them.
Our different porcelains and natural stones could be looked at by pulling out roller panels. The team did a great job laying the paving samples in an in-situ style so that they could be seen in a realistic way. Moving further on, our clay paving options from Chelmer Valley were also on display. Form Plants had their own section too, while their plants also filled our various planters around the display. Finally, sitting right at the back, our new range of 800x800 porcelain ended the tour with a bang. Take a video tour of the stand here.
Thank you to everyone who visited us at Futurescape 2021. It's always great to catch up with customers, and to get to know new ones. We look forward to seeing you next year!