London Stone's Landscape Consultants - get to know the team that can help add value to our services if you're a designer or landscaper
Did you know that London Stone has an amazing team of landscape consultants? Get to know the Fab Four in this blog, the services they offer, and what they can do for you.
Jamie Norris
Coming to London Stone in April 2019 from fellow supplier, Marshalls, Jamie offers his customers an abundance of technical and product knowledge. He can also provide friendly problem-solving advice.
Jamie shows-off a scheme that he worked on with Mark S Nelson Landscapes
Jamie describes himself as a "free add on to your business". Readily available to provide whatever support his customers need by phone or email, and quick to adapt as the situation needs, what better service for your business?
Typically working with designers and landscapers, as well as developers and covering south of the Thames and the South West, Jamie gets to meet a lot of people in his job. Offering this personal service to customers means that lasting relationship develop, and you will always have a point of contact to go to directly within London Stone.
If you have an upcoming project Jamie is the perfect person to bounce ideas off. His skills mean that he can suggest ideal products for your scheme. Whether customers are frequent buyers of London Stone or new to the brand, there is always something Jamie can talk you through. As a brand, London Stone are constantly evolving. With new products, offers, and services being introduced all the time, Jamie can keep you up to date with everything London Stone.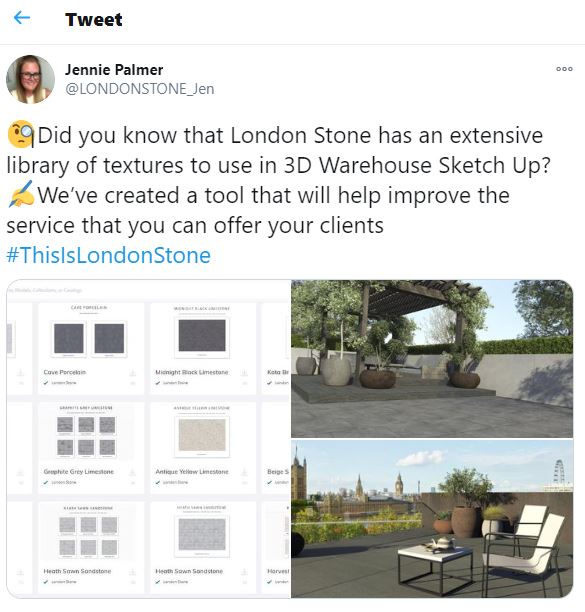 Jennie is keen to let garden designers know about all of the services we can help them with - Sketch Up Textures being just one
Jennie Palmer
The newest member of the team, but no reflection on the knowledge and experience she brings, Jennie came to us from CED. Over the last twenty years, she honed her skills and gained a wealth of expertise in both the domestic and commercial market.
Working with top garden designers and expanding the London Stone name across Essex and the South East, Jennie does a fantastic job at getting the world of London Stone out there. A typical day for Jennie includes visiting new and existing customers or speaking to them on the phone. Often, she will personally be dropping off samples and talking through everything we offer as a company.
If you are a new customer Jennie will introduce herself, as well as introduce you to London stone. Keen to answer any questions you have and deal with queries quickly, or to walk you through our extensive website and products Jennie is a great direct contact to have.
If you are starting out on a project, Jennie can talk you through appropriate products, materials we offer and what can do with each of these products. For example, if you are looking for a bespoke touch, Jennie can discuss with you which products are best used to achieve this.
Jennie loves providing the friendly, personal service she does and being at the end of the phone for her customers. A keen gardener herself, Jennie really enjoys being part of domestic garden design, helping to bring to life the customers dream garden, guiding them through the process of achieving their desired look, and of course the impressive before and after shots.
The end product of a porcelain scheme that Mandy assisted with, designed by Lucy Bravington, and built by The Greatest Scapes
Mandy Steed
Mandy is our Business Development Manager and has been part of this team for over 3 years. Prior to coming to London Stone Mandy worked at Marshalls. With over twenty years' experience in the construction industry, Mandy is an invaluable member of the team.
When speaking to Mandy, she describes herself as an "extension to her customer's business". Working to assist her customers in any way that she can, delivering samples, sourcing products, helping with specifications. Mandy also readily attends meetings for or with her customers and offers whatever support is required. There is a saying amongst Mandy's clients that if it fits in her Mini, she will deliver it to them at short notice. These are the lengths that she will go to, to offer the best possible service; above and beyond. Mainly working with landscape specialists, Mandy can be found travelling anywhere from North London up to Nottingham to pay her customers a visit.
Proud to be part of the team, Mandy mentions how they have evolved quickly. The team aim to offer the best possible service, collectively.
Stuart Williams
Stuart joined the team in April this year. Also previously from Marshalls, Stuart has thirteen years of experience in both commercial and domestic environments. Stuart has been assigned with bringing the London Stone ethos to the North of the country. He works predominantly with contractors and garden designers.
SGD member Joanne Willcocks shared her praise for Stuart's virtual website walkthrough
No day is the same for Stuart, as with all our landscape consultants. His time is spent speaking to customers about our products, and providing the outstanding London Stone customer service that we are known for. In this environment, customers feel the benefit of the personal service offered by Stuart. Stuart makes himself easily available to you. Whether being contacted by social media, email of phone, Stuart will always be quick to provide a response.
The extra mile that Stuart goes for customers is not about sales, but finding the right product for your project. Stuart provided us with some examples of where he has gone 'above and beyond' for his clients. These included picking up and delivering products when customers are in urgent need. He has also been known to lend a helping hand on site unloading when customers have been short staffed! Customers know that they can contact Stuart with a problem and know that it will be sorted promptly. It is all about service, service, service for Stuart.
London Stone's Landscape Consultants - part of our industry
If you need help with pricing, or tours of the website, Stuart is also on hand. Stuart recently conducted an SGD Zoom tour to twenty designers, showing-off our website features so is more than capable of helping you with this!
Stuart loves to be part of your incredible projects and watch them progress from concept to completion. He is passionate about his job and has developed great working relationships with many of his customers over the years.
When speaking to members of The Fab Four, they each spoke of what a great team it was to be a part of. They love being part of a thriving industry, and regularly attend APL cluster meetings and other industry events. So why not get yourself involved with this vastly experienced and welcoming team and contact them for you next project?