It's A Wrap! London Stone 2019 - we take a look back over an exciting and rewarding year.
It seems only a moment ago that we were receiving last December BALI's Affiliate Exceptional Service Principal Award - something director Steve Walley described as "the stand-out highlight of my whole career in landscaping and stone."
The question is, have we lived up to it over the last twelve months? Get yourself a glass of something mulled and settle down to look at the packed year that has been 2019.
Tom Simpson & Rosebank's stunning Jura Green garden, Hampton Court, 2019. Image courtesy of Botany Press
Customer Service Top Of The List
We certainly didn't want to let standards slip after winning the BALI Award so, we focused even more intently on providing outstanding customer service. First, was our new Service Offering, kicking off 2019 with free nationwide delivery on all full packs/orders of £1,000 + VAT and over.
We also managed to pass on efficiency savings made in the company to you in the form of price reductions on many stone and porcelain products. This put money back into your pocket – a theme that is most certainly going nowhere in 2020.
And then there was…
But hold on, let's look at a few of the people who have made this, our tenth year in business, so special.
It's A Wrap! London Stone 2019 - Gaby Pill kicked-off the show season is style at RHS Malvern Spring, May 2019
The Year In Shows
As ever, the first half of the year was a festival of flower shows. RHS Malvern, RHS Chelsea, Gardeners' World Live, RHS Chatsworth, RHS Hampton Court Palace Garden Festival, RHS Tatton Park. London Stone supported gardens across all of these shows!
At Malvern, first-time show garden designer Gaby Pill won a Silver-Gilt with Mediterranean Terrace, featuring one of our new Premium Porcelains, Florence Grey. This also featured in the Kate Gould's Greenfingers Charity Garden at RHS Chelsea. Perhaps this is one of the reasons it's turned out to be one of our most popular Porcelain colours this year.
Kate Gould's incredible Greenfingers Charity Garden, RHS Chelsea 2019
Also at RHS Chelsea, classical inspiration put the Jura Limestones in the spotlight with Jo Thompson's Wedgwood Garden featuring Jura Beige, and the modern classical take of the Perennial Garden using the cooler Grey version. Miki Sato and Kazuto Kashiwakura emulated the light feel of snow while maintaining warmth of colour in the Kampo Na Niwa Garden with the careful choice of Golden Sawn Sandstone.
Butterworth Horticulture and Keyscape combine for a historic RHS quadruple at RHA Chatsworth, June 2019
At RHS Chatsworth, Richard Rogers won Silver-Gilt with a design that used DesignClad to help create a monolithic feel in his Thrive Reflective Mind Garden. It showed how a modern material can work so well with more traditional materials. Also in the Mindfulness Garden category, was Rae Wilkinson's Space Within, which showcased DesignBoard and won Gold, Best Garden in the category and People's Choice. Quite the (deserved) haul!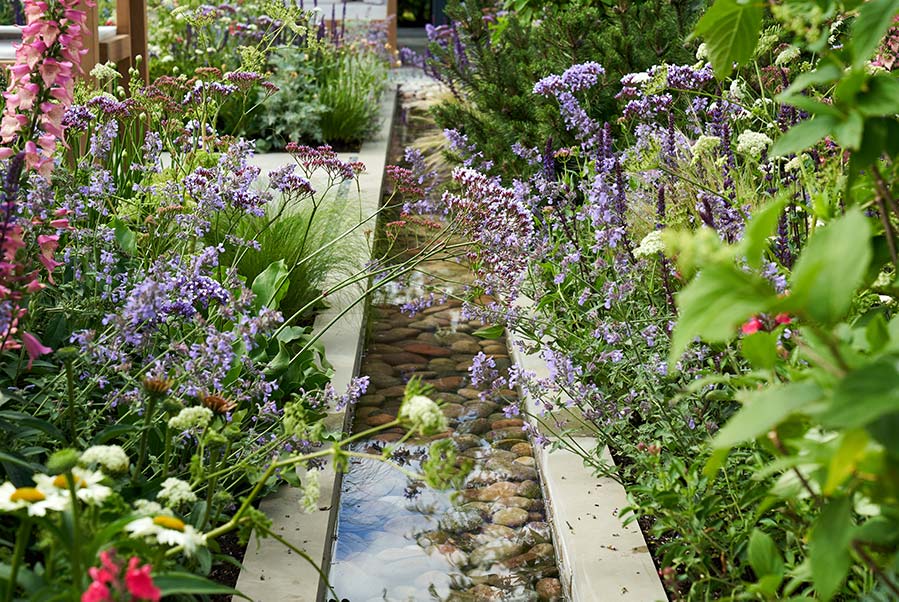 Will Williams and Ed Burnham combine to create a stunning garden for Viking Cruises at RHS Hampton Court, July 2019
Show Season Continues
In the same month, at BBC Gardeners' World Live, Alexandra Hollingsworth's delightful Subterranean Sanctuary drew light into a dark space with another of our popular Premium Porcelain colours, Florence White.
In July, at RHS Hampton Court Palace Garden Festival, London Stone products featured in three very different gardens. Heath Sawn Sandstone, Silver Grey Granite, Black Granite, Jura Grey, and Jura Green Limestone starred both vertically and horizontally, in paving, steps, coping and setts, and in some precision curves that helped to win Tom Simpson (The Cancer Research Pledge Pathway to Success), Will Williams (The Viking Cruises Lagom Garden) and Aleksandra Bartczak (The Crest Nicholson LIVEWELL Garden) Gold, Gold and Silver respectively.
There was something else very special, but…back to the office!
New Products And Services
Away from the heady excitement of show gardens, this year we've kept our Porcelain range on its toes to meet growing demand. A new paving format of 900 x 600 mm makes the most of our most popular, design-covetable colours. Our new Premium Porcelain and Project Porcelain ranges meanwhile, offer price points to accommodate the wider range of design budgets you told us you needed. Also proving popular is our new and unique offering of off-the-shelf Yorkstone. No more long lead times for this, the most revered of natural stones.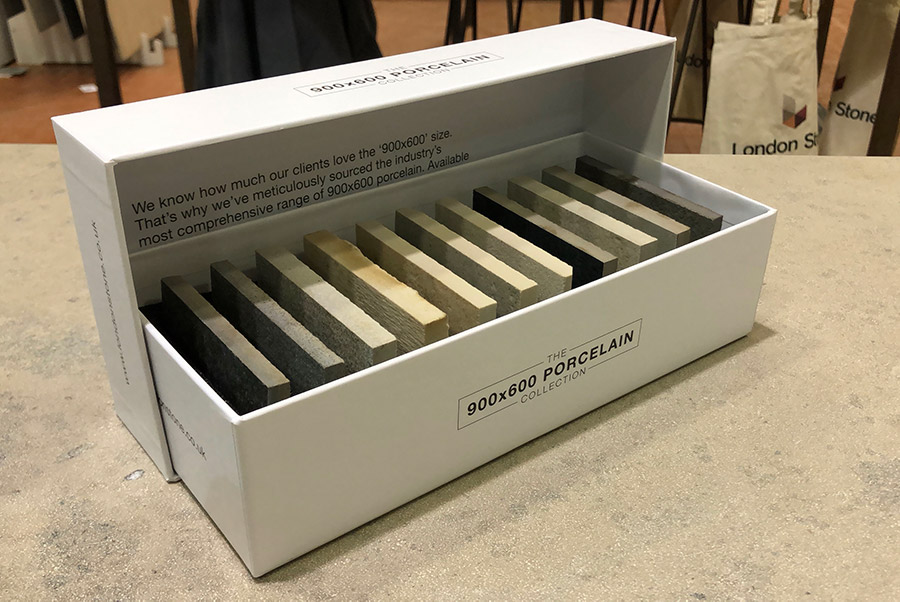 London Stone's stylish '900x600' porcelain sample box
We've not just brought in more products, though. Our drive to support you better included the appointment of more Landscape Consultants. Ryan Burge and Jamie Norris are here to help you to project manage your designs and builds, while the introduction of Delivery Reminders lets you know exactly when your materials will arrive. And, just making it under the wire of 2019, after many months in development, is our new E-Commerce site, giving you the option to check live stock levels and order online at any hour.
It seems that we're doing something right as 2019 saw our Landscape Specialist Scheme top 1000 members. Don't forget that in pursuit of our "Better Together" initiative, we've opened the membership up to professional gardeners, highlighting the importance of garden maintenance. If you haven't joined yet, then why not give yourself an early Christmas present and do it now?
And The Award Goes To…
Then, there were other awards. In September, up against some inspiringly innovative products, DesignClad won Best in Show at the Landscape Show, Battersea, and last month, we were thrilled when our Operations Director Marius Catrinoi-Cornea became one of this year's Pro-Landscaper's 30 Under 30. The award recognises young people in the industry who are shining lights in their respective roles.
Kristian Reay and Arit Anderson embrace on Kris' Phytosanctuary Garden, RHS Tatton Park, July 2019
Many of you will know our involvement in No Child Left Behind, which is working to improve labour conditions in the stone industry in India. We can't claim responsibility for gaining the grant, but it certainly feels like a prize that the project recently received five more years' funding. We'll continue to keep you updated on progress.
Perhaps the awards that have personally meant the most to us, though, haven't come to us at all. At RHS Chatsworth, Jamie Butterworth's Wedgwood Garden not only wowed the judges into awarding Gold, Best In Category and People's Choice, for a garden that included some very tricky bespoke cutting to house the metal grille bridge, but also won him the Best Construction Award.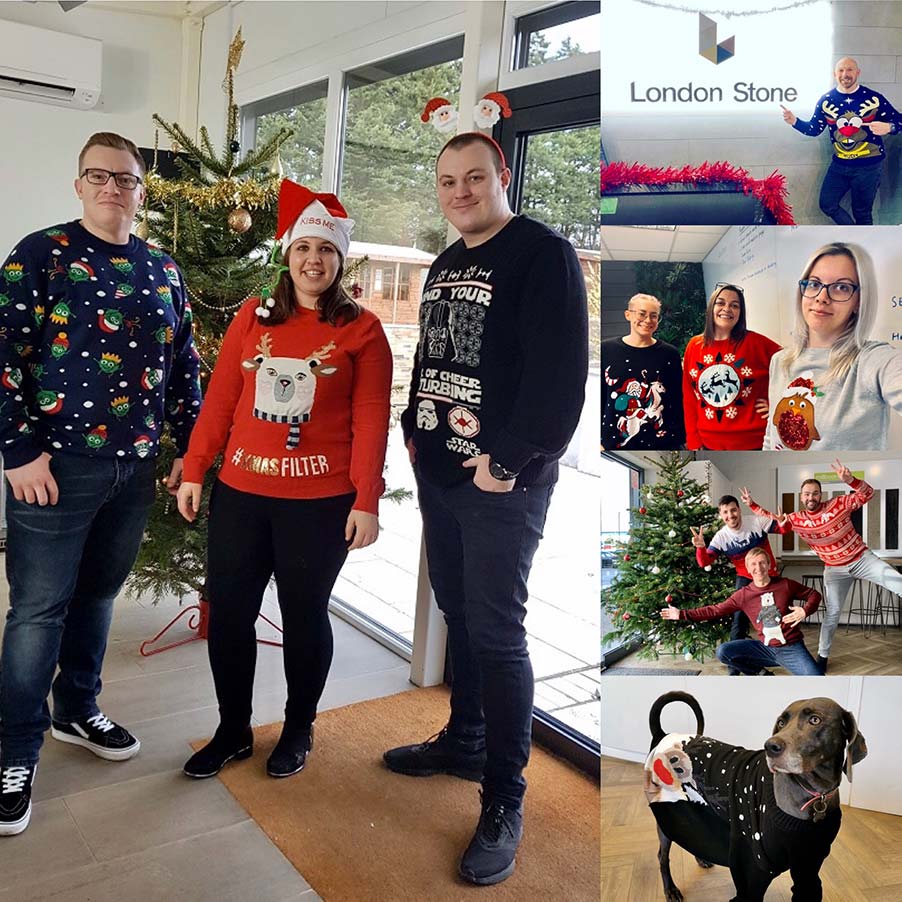 London Stone wish you a Merry Christmas 2019!
At RHS Hampton Court, Rosebank Landscaping won Best Construction Award for The Cancer Research Pledge Pathway to Success, and at Gardeners' World Live Lucy Bravington's Platinum-winning Design It garden also won Best Construction Award.
Nor can we forget Kristian Reay's Phytosanctuary Garden at RHS Tatton Park. It won him the coveted Young Designer of the Year award. We were thrilled when he told BBC TV's Gardeners' World, "Things seem to just arrive on site and slot into position."
In fact, put that together with the three Best Construction awards and we think you'll spot a pattern. There can be no doubt that precise bespoke cutting, providing exactly the dimensions required, in quality materials, helps landscapers produce their best work and we're proud to have contributed to such superb craftsmanship. Congratulations to every landscaping contractor involved in the building of these incredible gardens (too many to mention here by name!).
That's Almost It!
So, that's 2019 in a (large) nutshell. We very much hope you think we've lived up to BALI's Exceptional Service Principal Award.
Finally, thank you for your support, suggestions, feedback and friendship over the past year. We wish you all a very Happy Christmas and every good wish for a prosperous, peaceful, and healthy 2020.
See you next year!