Small Details, Big Impact At RHS Hampton Court Palace Garden Festival 2019 - learn more about this year's show and the stunning show gardens that grace it.
Currently basking in sunshine, the newly rechristened RHS Hampton Court Palace Garden Festival offers plenty of thought-provoking detail in its gardens this year.
Tom Simpson's stunning The Cancer Research Pledge Pathway To Success, RHS Hampton Court Palace Garden Festival 2019
The Cancer Research Pledge Pathway To Success
Central to the design of The Cancer Research Pledge Pathway to Success, for example, is the spiralling effect that leads visitors to the round pond, down circular steps that smoothly transition into a bench in a sunken seating area. "The circular design makes it as immersive as possible. It draws you in and then you're surrounded by planting," explains designer Tom Simpson.
The steps, which look so simple, are actually quite a complicated design, as the width flares out along their length. From a depth of 300mm, they widen to 400mm. "The stone is what sets the whole design off." says Tom. "Everything had been precision drawn and engineered." Tom provided Piotr with accurate drawing in CAD, which Piotr then cut with a pencil round profile "to millimetre accuracy", adds Tom.
In another interesting design detail, rather than limestone risers, Tom used rendered blockwork in a darker colour. This not only matches the steel that encloses the raised bed and tones with the granite paddlestones that line the pond, but throws the step treads into relief and, points out Tom, "gives a sense that they're floating."  Joints of 5mm were filled with a dark grout to match.
Tom chose Jura Green, slightly less well known than very popular Jura Beige and Jura Grey. "I love all the Juras," says Tom. "I wanted Jura Green because it looks really good with the colour of the planting. There's a touch of teal to it - that little bit of colour sets the planting off."
He also has an interesting practical angle on the choice of stone. "I think the limestone holds the heat nicely. At the end of a sunny afternoon, the warmth of the stone makes it's really lovely to sit on."
It's certainly a tempting place to linger, a calm space that indeed encourages reflection. The garden has not only won Tom a Gold medal, but Rosebank Landscaping the award for Best Construction.
Bespoke-cut Jura Green Limestone gives the garden sage tones and impressive detailing
The Crest Nicholson LIVEWELL Garden
A striking feature of the Silver-award winning Crest Nicholson LIVEWELL Garden, designed by Aleksandra Bartczak, of David Jarvis Associates,
is the movable cubes in Tonka wood, which run along steel tracks, allowing them to be rearranged to suit what's happening in the garden - perhaps ranged in front of the small auditorium where books can be read to children or discussions held, pushed to a sunny spot, or moved the boardgames in the contemplation area.
The majority of the hard landscaping is permeable, resin-bound gravel as it makes a clear, seamless material that emphasises the curves of the rails and beds. This is also practical as, being a public space, it's important to reduce trip hazards. Edging the beds and, in places, laid close enough to the rails for the cubes to run over them, are Sawn Silver Grey Granite Setts.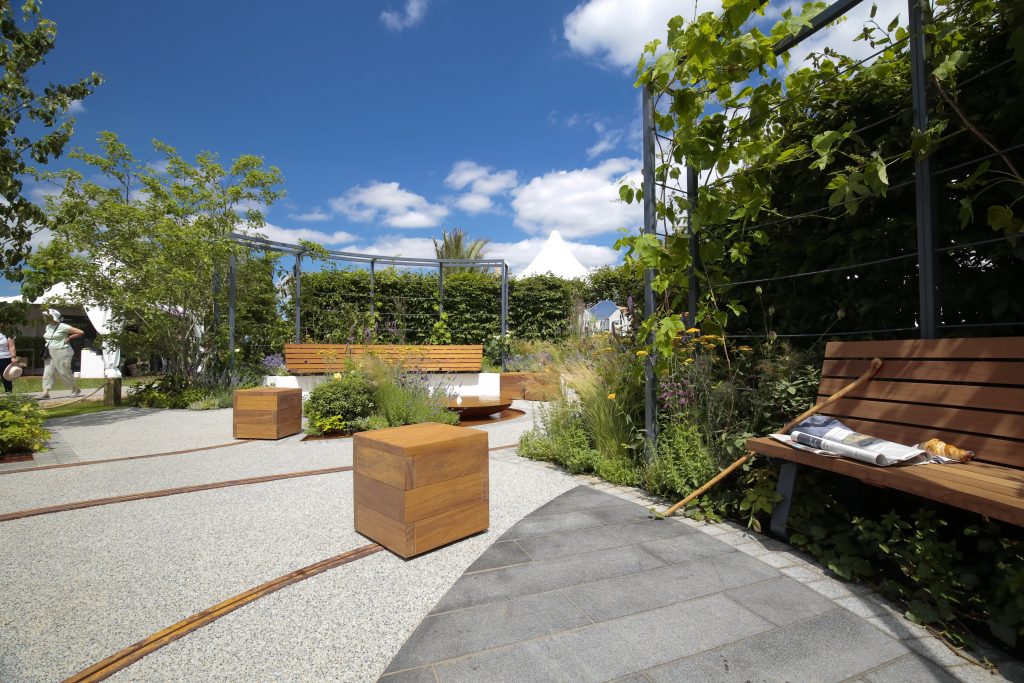 Black Granite Planks provide contrasting shapes and colours to the Crest Nicholson Livewell Garden, RHS Hampton Court Palace Garden Festival 2019
Tim Lidgard of Bespoke Outdoor Spaces carried out the build, explains, "They're machine cut to make everything smoother, less of a trip hazard, and they're easy to lay. There's a 50mm depth, on screed. London Stone advised on, and provided the resin-bound pointing. It's apply-able in all weathers." Which is just as well, as there was heavy rain for the first five days of the build.
In a small detail, the sawn surface also echoes the smooth surface of the wooden cubes, and conveniently results in a smooth surface for the castors to run over.  In the final build it's likely that, where practical, some setts be left un-grouted to allow herbs and plants to grow between them.
Silver Grey Granite Setts - with a sawn finish - are the perfect partner to this corten steel water feature
In contrast, the area of the auditorium is delineated in Black Granite Planks. Aleksandra had rejected the idea of wooden decking as adding in too much brown in conjunction with the benches and the cubes. "The linearity of the planks in the stage lines up with the entrance to the garden," she explains, "and yes, I was thinking originally of timber and that suggested the plank paving."
It's great to know that The Crest Nicholson LIVEWELL garden, which was inspired by Essex County Council and Chelmsford City Council's promotion of healthy living and design in new housing estates, will be reborn in the new Charter Park development in Chelmsford.
Will William's The Viking Cruises Lagom Garden, RHS Hampton Court Palace Garden Festival 2019
The Viking Cruises Lagom Garden
Like Tom Simpson, Will Williams has also chosen Jura Limestone, this time in grey, for The Viking Cruises Lagom Garden. Lagom means "not too much, not too little", which Will has applied to the garden as meaning not too much for us, not too little for nature. "It's a balance between wildlife and us," says Will. "People want a cool stylish garden that you can live with."
Large Jura Grey panels bring an interesting visual feature to the boundary beech hedging. "They're not only there for our pleasure," says Will. Drilled into the panels are holes for insects such as masonry bees and, in the top corner of one, the entry to a bird box set within its depth. Five panels have been used to create each Jura square, animating the surface in a way that four equally sized panels would not.
Jura Grey was also used to pave the seating area. "I wanted to use Jura because it's such a natural stone," says Will. "The shells and fossils make a dark contrast and I really like the imperfections."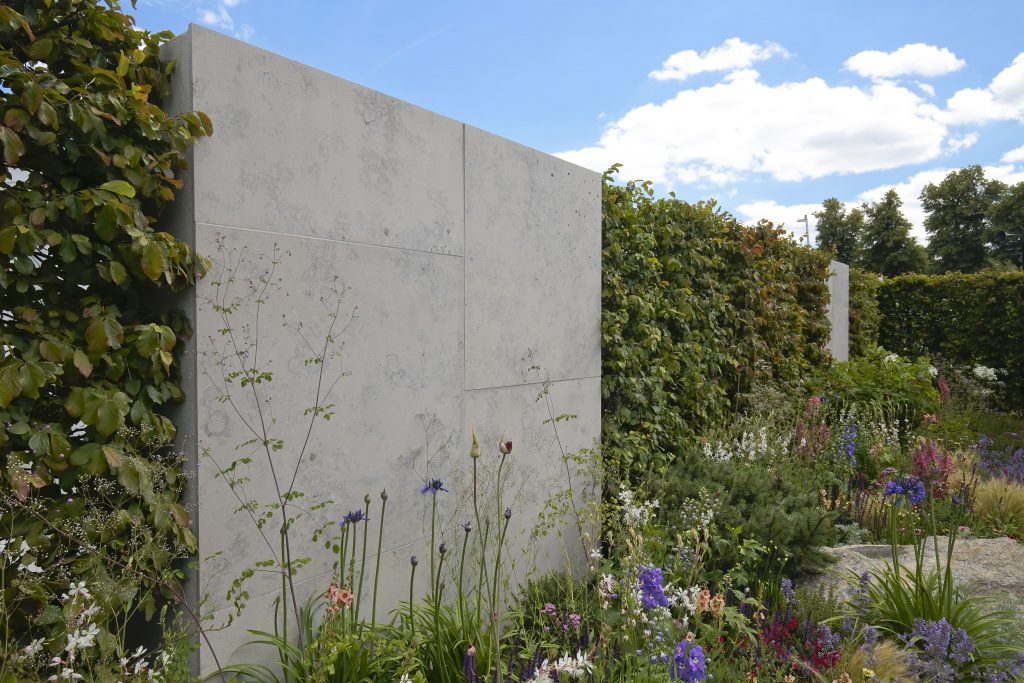 Jura Grey Limestone feature walls - nailing the 'Lagom' brief, by providing a haven for insects whilst portraying clean lines and modern design aesthetics
Jura Grey also lines the rill - an unexpected addition. "It was going to be a hedge," says Will. "But on site, once we'd got the edging down, I realised it made too much of a barrier. I asked London Stone to kindly cut more Jura for the insert and they sent it within two days, which was pretty fabulous." The Jura Grey lines the rill, which contains pebbles that allow insects and small animals to get to the water and out again.
Burnham Landscaping built the garden. "We've been doing show gardens for some time," says Ed Burnham. "You need very, very good planning and we make sure we hit our targets for each day. For that reason we have time to consider design changes." Ed, who also had a team on another garden, finished in excellent time. "We were just cleaning all of yesterday," he said on the opening day.
Heath Sandstone - here used a an edging to a water feature give the perfect background to show off Will's beautiful planting palette
As ever it's the detail that makes a garden, and seemingly small elements combine to make a big contribution. In places, boulders jut out of the beds and here Ed scribed around the rock to fit the Heath Sawn Sandstone edging around it so that the rock seems to break through it.
The Heath Sawn Sandstone, which blends beautifully with the Jura Grey, was cut in bespoke lengths of 100 mm x 900 mm. Along the rill, the edges are arris cut for a really crisp finish. The garden was awarded a richly-deserved Gold medal.
It's details like these that really arrest the attention in a garden and make Hampton Court so enjoyable this year, providing lots of small elements that combine to provide plenty of food for thought. We're, as ever, very proud to be involved in such talented designs. Many thanks and many congratulations to all the designers and contractors involved on such excellent results.