It Takes Two - Landscape Artisan Becomes Our 1000th Landscape Specialist - London Stone's Landscape Specialist Scheme recently celebrated it's 1,000th member
London Stone's Landscape Specialist Scheme has just hit the grand age of two and a half, but there are no toddler tantrums involved. Far from it, as we welcome Landscape Artisan as our 1000th member.
Landscape Artisan and London Stone celebrate 1000 Landscape Specialist Members, June 2019
Joss and Rebecca Durham have an admirable number of years of landscaping experience between them. "It was my fault," says Joss. "I worked for a landscaper many years ago and really enjoyed it, so I embarked on a part-time course at Merrist Wood."
With his increasing workload, Rebecca suggested making Joss Durham Landscapes a "proper business" run by the two of them, jettisoned her corporate job as a buyer for BA and went to Merrist Wood herself to study garden design.
In 2008 they teamed up with design and build company Landart and, when their partners' retirement brought that to a close, formed Landscape Artisan. "We chose the name because it speaks of quality and craftsmanship. Every job has its own unique design based on the owner's unique brief," says Rebecca. "And it gives a smaller feel. We didn't want it to sound as if we're an enormous concern."
The desire to retain an intimate feel feeds into having just two teams of landscapers. "We like to keep to two," says Joss, "because that means we retain a lot of control on jobs, remain hands-on, and can give clients the time they need." While Joss and Rebecca manage their own projects, being a small outfit means they're aware of what each other's doing. "There's a nice cross-over," he adds.
"We've both got two strings to our bow," says Rebecca. "We can both design gardens, and design gardens that can be built, as we both know about the unglamorous side, the drains, the foundations."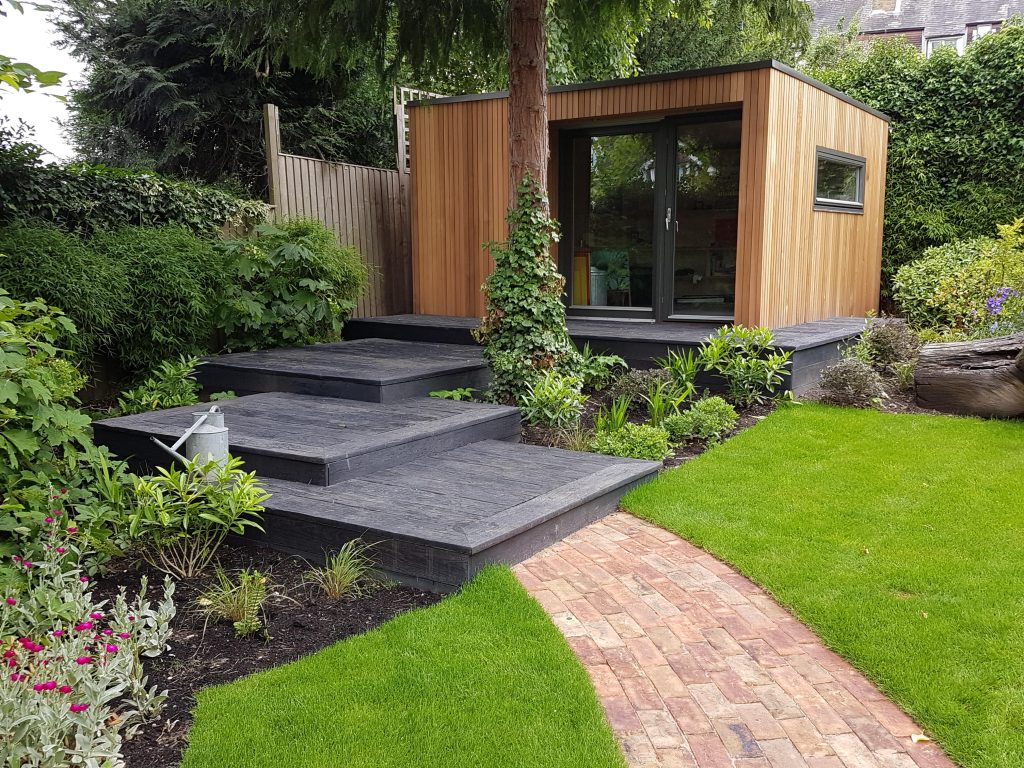 A typically innovative scheme from Landscape Artisan, here featuring Embered Millboard
Based in Hampton, Surrey, and concentrating on projects within an area bounded by Wimbledon, Weybridge, Cobham and Richmond, Joss describes their projects as mainly involving large suburban gardens. "We're working on smaller courtyard gardens as well," protests Rebecca.
But what's the first thing they tend to see when they visit? "Mess!" says Joss. "Often the 'forever' home has been created by the end client. There's been a huge amount of building work, the drive's been used as a dumping yard. Owners are often asking for the finishing touch to a big project."
Increasingly, these projects involve porcelain. "We're using more and more," says Rebecca. They've just completed a large porcelain terrace combined with granite strips for contrast. "It's still relatively new to clients and their first question is always 'Isn't it really slippery?'.  It's definitely on the up - significantly so. We love laying it and it's easy to sell to clients because it doesn't change colour and is easy to keep clean when compared with sawn natural stone."
Here at London Stone, we've lost count of the times we've supplied Joss and Rebecca with coping stones, steps and edging, not to mention bespoke items. "We love being associated with London Stone," says Rebecca. "We consider them the John Lewis of suppliers. Not only is the product fabulous but the service is amazing. We'd always go to them first. We're thrilled to be the 'one thousandth' Landscape Specialist Scheme members - we love that the scheme is free-to-join and that you get a business profile on their website."
Golden Sawn Sandstone provides a modern, stylish, yet practical London front garden, designed and built by Landscape Artisan
Sustainability and ethics are also important issues. "Lots of landscaping is environmentally unfriendly - cement, for example," says Rebecca. "We try to be as environmentally-aware as we can be. We try to influence clients to go down more environmentally friendly routes. For example, I would never voluntarily say go for hardwood decking; deforestation is more and more prevalent."
A benefit of this is saving money for the client, as Joss and Rebecca aim to reuse as much as they're able to on site and recycle materials to use elsewhere, which saves outlay on skips going to landfill.
"And having the right values is one of the reasons we love London Stone," says Rebecca, who's familiar with the work we do in India on maintaining an ethical supply chain. "We can buy with confidence, knowing the stone's been sourced in an appropriate way."
An inviting Landscape Artisan scheme featuring Graphite Grey Limestone
As every designer and landscaper has discovered, one of the trickiest parts of the job can be getting to the root of what the client wants. "We talk a lot about how they want to use it; we look at their house, too, and often base a design on what they've done to the house. Sometimes the trickiest times are where the clients think they know what they want but it doesn't marry with what they need."
After delving into how clients want to use their garden, the second question is always about budget. "The worst thing is coming to a client with a design that's the bee's knees but they can't afford." Experience has taught that a client will never be satisfied with a second, more economical design.
Coming up with the unexpected perfect solution is, of course, one of the most enjoyable aspects of work. "Clients sometimes fixate on working round an existing feature in the garden. We can turn things on their head, say, 'This is what you can do,' and they'd never have thought of it. That's when clients are most delighted."
It's this delight that gives Joss and Rebecca enormous pleasure. "We get lovely feedback from clients," adds Rebecca. "We listen to people and translate their words and desires into what they want."
You can't say much better than that.
Don't forget that for every new member of our Landscape Specialist Scheme we donate £10 between our charity partners Perennial and Greenfingers. Sign up for free benefits and set us on the road to the next 1000 members!