Frost proof planters are an essential for our gardens during the winter months. During these cold months plants are vulnerable to the elements and need some extra protection. Read on to compare the qualities of frost-proof planters in different materials.
Qualities of Fibreglass Planters
Most fibreglass planters are frost resistant. This is because fibreglass is a material that doesn't hold moisture that could freeze during colder periods. This means they are long-lasting and will endure the cold weather.
Not only this, but they are also lightweight, so you can manoeuvre them more easily. During colder months it is better to move your plant pots to a warmer spot, less exposed to frost.
They are also an extremely low-maintenance product. When the summer comes back round, simply give the planters a brush down to remove debris, and a quick wash with water, and they will be looking good as new again, ready for the new growing season.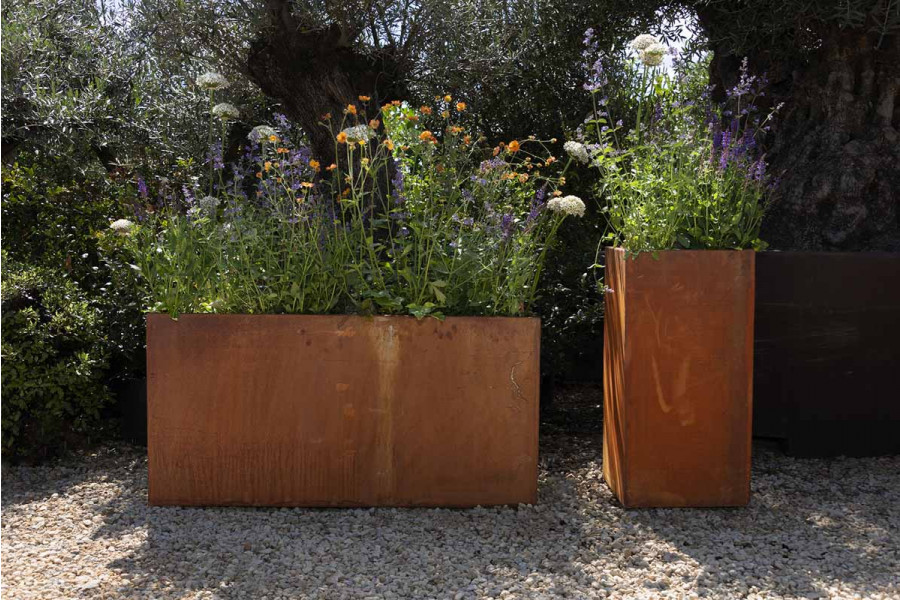 Qualities of Metal Plant Pots
Metal planters are another great choice as they are durable and sturdy. These are frost proof planters that can be left outside without worry, year-round. However, with this material, in comparison to the fibreglass planters, there are more precautions to take.
Metal can conduct the cold more than fibreglass. The simple way to safeguard against this is to protect any plants by wrapping them up or positioning the planter in a warmer spot. However, this highlights another consideration when choosing this type of planter.
Extremely attractive, metal planters are, nevertheless, significantly heavier than fibreglass, making them more difficult to move. Simply take this into consideration when positioning and planting them in the warmer months. Finally, be careful not to position directly on paving or decking, as the natural weathering process of the planters may cause staining.
Qualities of Wooden Planters
Wooden planters are a beautiful addition to any garden, but how do they fare in winter?
All our wooden planters are highly durable and can be left outside year-round. The planters are made from treated Redwood (softwood) and have a plastic liner. The treatment of the wood is what makes them so durable, whilst the plastic liner adds an extra layer of protection for the roots during the colder months.
Although not as light as fibreglass planters, they are also not as heavy as metal plant pots and, depending on size, may be moved during the colder months with the help of a second pair of hands.
Being a natural material, the wood does make the garden planters a little more susceptible to the elements, in comparison to the fibreglass and metal alternatives. However, the wood can easily be cleaned and treated to keep it looking its best.
Other tips to protect your plants during winter months
Make an effort to move any plants that are more susceptible to the cold to a frost-free location. A porch, conservatory or greenhouse is ideal but, for those without these options, placing the plants against a wall of the house will keep them warmer.
Next, try to avoid the compost becoming waterlogged. Wet compost will freeze, causing it to expand and, potentially, crack the pots. Use pot feet to lift the pots off the ground and allow water to flow out from the bottom.
You can wrap plants to help keep them warm. A few layers of bubble wrap are a great insulator; just be sure not to cover the compost so you can still water them as needed.
You can find more tips on protecting your plants in the winter on the RHS website.
Now that you are equipped with all the information you need, you can make the decision as to which frost proof planters are the right choice for your garden. Shop the full range of planters online.