Larger Format Porcelain for Greater Design Impact – we explore the newest additions to London Stone's porcelain collection, including the new '900×600' range.
London Stone has a market-leading range of porcelain products, and as part of our brand-new service offer for 2019, we're extending that range even further.
Wilkinson Landscapes utilised Faro on this external scheme – one of our most popular materials – and now available in a 900x600mm dimension
It's not just that we have a wide range of colours, styles and textures and know exactly how to work with Porcelain to provide you with step treads and coping that award a really good finish to your project. Now we've expanded our range to include 900x600x20mm format Porcelain Paving.
We've chosen eleven Porcelain colours from across our three price points. That includes all the colours – Light Grey, Steel Grey, Cream and Charcoal -from our budget-friendly Project Porcelain, the Florence Beige, Grey and White colours from our Italian Premium range, and six very popular colours from our Luxury range.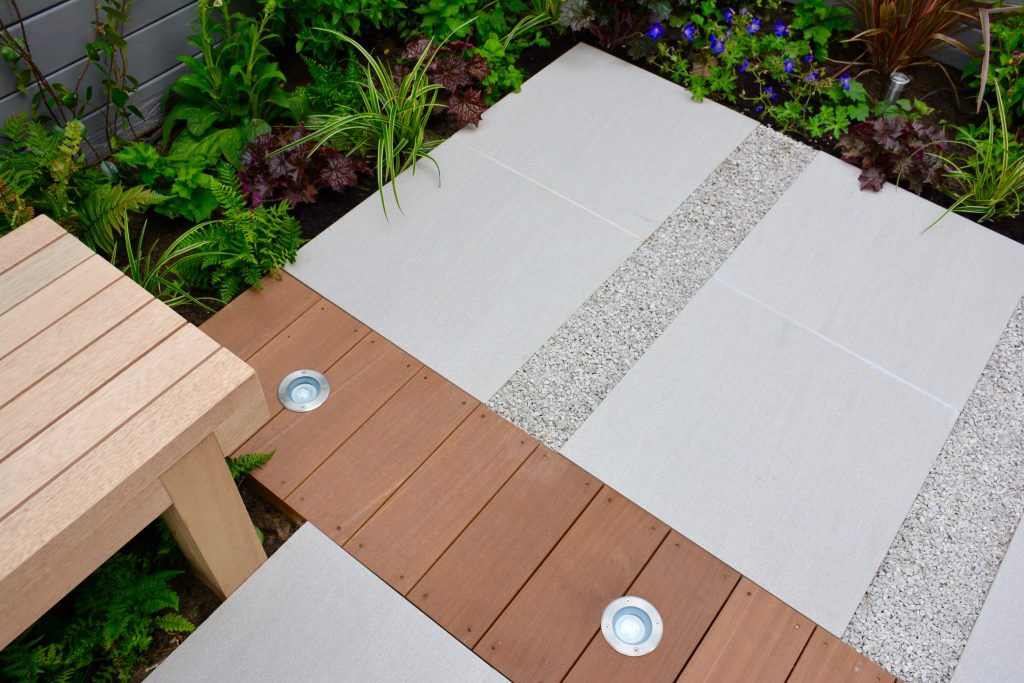 Urban Grey 600x600mm – as seen here in a Tom Howard Scheme, is now supplied in the classic 900x600mm size
Alongside Urban Grey, Trendy Black and the subtle warmth of Faro, we've included our newest addition, Black Basalt, which is indistinguishable from the real thing, has full ethical credentials (quarried basalt is so rare now as to near impossible to source) and looks absolutely stunning.
Of course, all our Porcelain Paving is still available in the 600x600x20mm sizing, but it's given a whole different character in this new format, which of course offers you the chance to play with laying patterns, adding detail to designs that stand out from those using the standard sizes on the market.
Landscaping Solutions used 1200x600mm pieces of Trendy Black porcelain on this modern scheme from 2018. The material is now supplied in a 900x600mm size
On top of the extended choice, and as part of our continuing commitment to customer service, we're offering complimentary grout and priming slurry on all orders over £1000 + vat, and a free 125mm Porcelain Diamond Blade on orders over £2000 + vat. That's pretty much everything you need to get going with Porcelain.
Our special '900×600' Porcelain range comes in its own dedicated sample box. It makes a usefully quick reference for which colours are available and is a handy size to show clients. Email info@londonstone.co.uk to pre-order yours now, for when stock touches-down, in Spring.