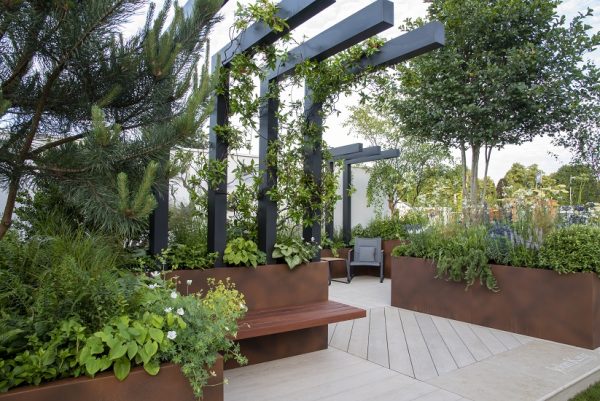 RHS Hampton Court 2022 is enjoying blazing sunshine. We look at the star performances of a selection of gardens.
The MacMillan Legacy Garden
This show garden, designed by Sean A Pritchard and built by London-based, family-run Agents Green, is replete with generously filled borders, where perennials and summer woodland planting balance a formal, symmetrical design.
The garden's straight lines echo the sense of structure and stability that MacMillan offers cancer sufferers. Added to this, the subtle appearance of "threes" alludes to the fact that bequests account for a third of the income MacMillan raises through fund-raising. Not only is the garden on three different levels, with "threes" referenced in pergola construction, shrubs and benches, but it is also seen in the paving patterns.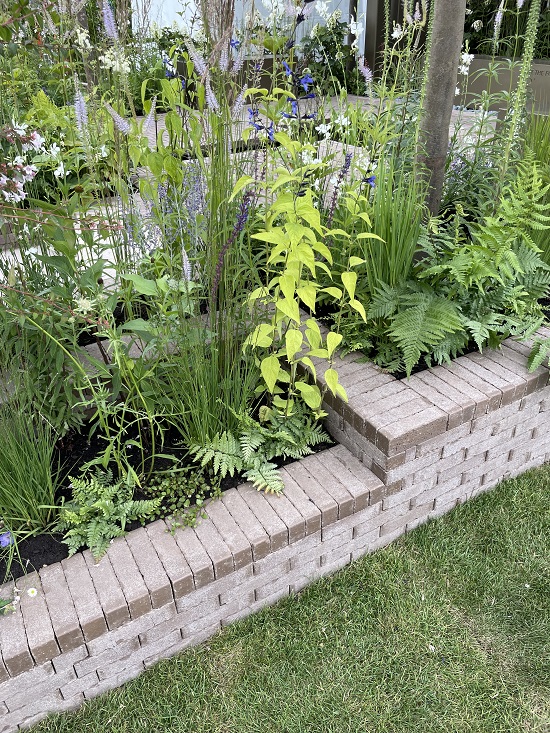 Clay pavers give lots of options for creating a different feel to designs through laying patterns. Here stack bond, soldier courses and running bond support the straight lines of the beds and pond.
Despite the formal lines, the garden has a relaxed ambiance, thanks to the airy planting and multiple plant textures. Step treads are of natural stone with a hand-cut edge profile, and the earthy colours of the Aldridge Clay Pavers, also used in step riser and walls, contributed to the organic feel.
John King Brain Tumour Foundation Garden
Designed as a rooftop garden, this shows how the John King Tumour Foundation is transforming parts of the Atkinson Morley Wing at St George's Hospital, Tooting, into a sanctuary for patients and wildlife.
Raised planters filled with scent and colour create semi-enclosed areas for people to sit. Slender birch trees provide dappled shade and wooden beams support climbers in a minimalist creation of pergolas.
Underpinning the garden is the hard landscaping. The garden is entered over a Jura Beige Limestone step, engraved at our Bespoke Stone Centre. Engraving is a wonderful way to add lasting detail without it being intrusive, and Jura offers crisp lines that enhance the wording.
The rest of the garden uses Limed Oak Millboard. Composite decking works well with rooftops. Much lighter than paving, easily installed on a subframe, it reduces load on the structure of the building. Stylistically, it adds a natural feel to an area that started off as barren concrete, but, being wood-free, is easier to maintain and much longer-lasting.
We've supported Rhiannon's designs a number of times. "Some of the most successful gardens are ones that people can relate to," she told us, after winning People's Choice for her Urban Rain Garden at Hampton Court in 2017. Her Silver-award winning garden has brought her a well-deserved People's Choice Award this year too.
Sunburst
Designed by Charlie Bloom and Simon Webster, this has the hallmark characteristics of Charlie's love of colour and fun, which we saw in her Brilliance in Bloom in 2018, as well as being a celebration of teamwork and craftsmanship.
The flowers range from electric blue to bright red and the Dark Grey Granite paving provides a neutral background that really helps the colours to pop. It also complements the geometric dark blocks of pond and seating while making them a feature.
The Vitamin G Garden
First seen at RHS Malvern, and making its second appearance of the year, this non-judged garden promotes the health benefits of gardening as demonstrated by scientific research. Designed by Alan Williams and Jo Whiley, it uses London Mixture Clay Pavers from our Cottage Garden collection to add texture to the paved circle while making a more practical standing for the dining set than the surrounding gravel.
Also starring was our DesignBoard Charcoal. This helps zone the garden with a different texture, and balances the natural materials with a modern touch of composite decking.
The garden will make its third and final appearance at RHS Tatton Park, later this month.
Turfed Out
It's small touches that create the overall feel of a garden, so although only a few slabs of Silver Grey Granite feature here, they have impact. One of the Get Started category, Silver-award winning Turfed Out was designed by Hamzah-Adam Desai as the garden of a new-build house for an owner who is a complete beginner gardener. It needs minimal watering and is a cost-effective design.
The Silver Grey Granite makes a smooth textural contrast to the gravel, easing the approach to the seating. This echoes the smooth boards of the bench and is a small detail that helps tie the design together. The granite matches the gravel, however, so the small space is not made to feel smaller with contrasting blocks of colour.
Lunch Break Garden
Here we highlight materials supplied by London Stone partner Contemporary Fencing.
The Lunch Break Garden, designed by Inspired Earth Studio and built by Frogheath Landscapes, is another in the Get Started category. Its brief is somewhere to retreat to in the middle of the day. It offers strongly coloured planting in a restricted number of AGM plants, which the RHS has recognised as intrinsically strong and tolerant.
Permeable gravel paths are punctuated by clay pavers, providing textural contrast as well as points to pause and contemplate the planting. All is backed by Larch Slatted Fence Panels. Slatted fencing is perennially popular with its modern linear look. Here the narrow slats echo the narrow format of the clay paving—once again, attention to detail draws a design together.
Larch is a great choice for a beginner's garden - a cost-effective alternative to cedar, it ages over 2-3 years to the same silver-grey colour and requires no regular treatment with wood preservative because it contains naturally occurring oils.
Hampton Court Trade Stand Displays
Finally, we can't cover a show garden without mentioning the trade stands. These contribute strongly to the enjoyment of the show - unsurprising when you think of how much effort companies put into them. We're delighted that both Hartley Botanic and Gabriel Ash gained 5*.
Gabriel Ash used Anthracite Porcelain throughout. This large format paving gave a spacious feel to the stand and greenhouse interiors, while creating an evenly coloured backdrop that allowed the planting to shine.
Hartley Botanic chose a completely different format with the plank effect of Cinder Porcelain. This gives you the feel of charred wood with the convenience of low-maintenance porcelain and is a useful choice when you want a wood grain in grey. The grey tones blended softly with the different coloured frame options.