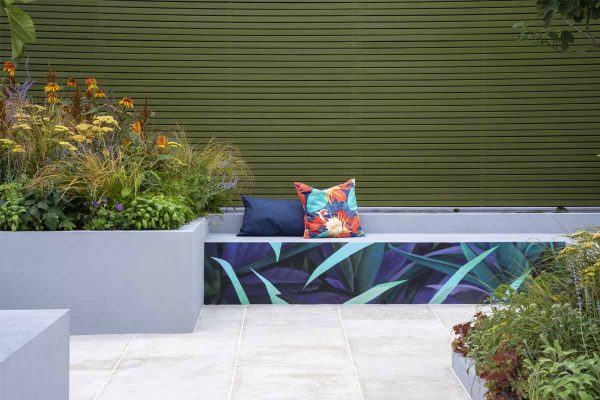 Major awards won at RHS Tatton Park this year. We show you how clever designers used some of our most popular products.
The Greener Front Garden
The Greener Front Garden category returned this year, full of useful ideas for making the small spot in front of the house into something uplifting and sustainable. And what a success Lynn Cordall and Mustard Seed Gardens made of their entry!
The Cotton Traders Greener Future Garden
Designed by Lynn Cordall
Built by Mustard Seed Gardens
Awarded Gold, Best Garden, Best Construction Award
This is a city centre garden designed for a couple who are retiring and enjoy the countryside. There's room for their car, as well as relaxing and pottering. Wild plants provide food for insects, while all the surfaces are permeable to help with water run-off. A rain chain directs water into a small pond that can overflow, if necessary, into nearby beds.
Lynn won Gold at Gardeners' World Live in 2021 for her first show garden The Power of Plants is Everything. She's roared to greater success by scooping not only Gold, but Tatton's Best Garden. Mustard Seed, her contractor, garnered Best Construction award.
Here, Stone Grey Clay Pavers add texture to the small patio, creating a bridge between the gravel, which gives a permeable, no-mow surface to the main space, and the Jura Grey Limestone step. The pavers reappear as a deep apron to the gravel area, which is a practical way to prevent small stones from migrating onto the pavement.
The fencing is constructed from our Dark Ash composite battens, constructed as open slats, which allows air and light through, and also allows a view down the road—important when you're driving from your frontage onto the street.
Young Designer of the Year
The Young Designer of the Year category always draws crowds. These gardens are built by the five finalists in the competition, all aged 28 or under, in the battle for the award. This year we were delighted to support Alex Pettit and newcomer Emma Tipping.
Come Lime With Me
Design: Emma Tamsin Tipping
Awarded: Silver
Liming, in Guyana, is the "art of doing nothing while sharing food, drink, conversation and laughter". This garden (it's name is a play on the title of the popular TV series Come Dine with Me) offers plenty of scope to do just that, with shady seating by cool water.
Emma works as part of the gardens team at The Grove, a hotel and spa in Hertfordshire. As she's the only non-professional garden designer in the final, it's particularly exciting that her design was chosen. She's included a tropical feel to reflect her Guyanian heritage and edible plants through the influence of the vegetable garden at the hotel, which she describes in this video interview.
The garden subtly incorporates a message about rising sea levels. Troughs are filled to different levels with water, while the colourful seating area represents Guyana's 280-mile long sea wall, where locals go to lime at the weekend.
The paving is 900 x 600mm Egyptian Beige Limestone. This is a cost-effective and worthy alternative to Jura Beige Limestone, with the natural markings you expect of this popular sedimentary rock.
Here the beige tone adds warmth where a grey paving would have been too monotone with the walls of the raised beds. The running bond pattern was laid so that the direction of the slabs drew the visitor deeper into the garden, echoing the direction of the rectangular raised pond. The paving also provides a neutral backdrop to the bright pops of orange and yellow in flowers and cushions.
Slow Down, Breathe Deep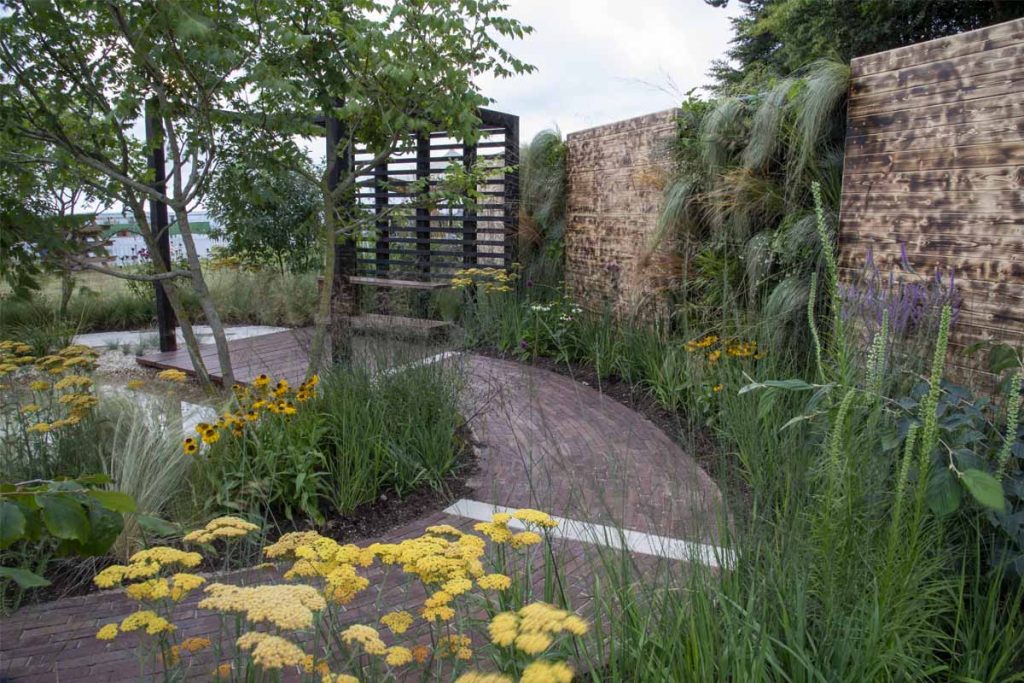 Designed by Alex Pettit
Built by Topoforma Landscape
Awarded: Silver
Alex Pettit, MD of Topoforma Landscape which focuses on environmentally conscious design, is no stranger to Tatton Park, as he designed It's OK Not to Be OK in 2021. This year, he's created Slow Down, Breathe Deep as a relaxing space for staff at a specialist hospital, inspired by his mother's work within the NHS. There's dappled shade, soft grassy planting and splashes of colour alongside a reflecting pool and green wall.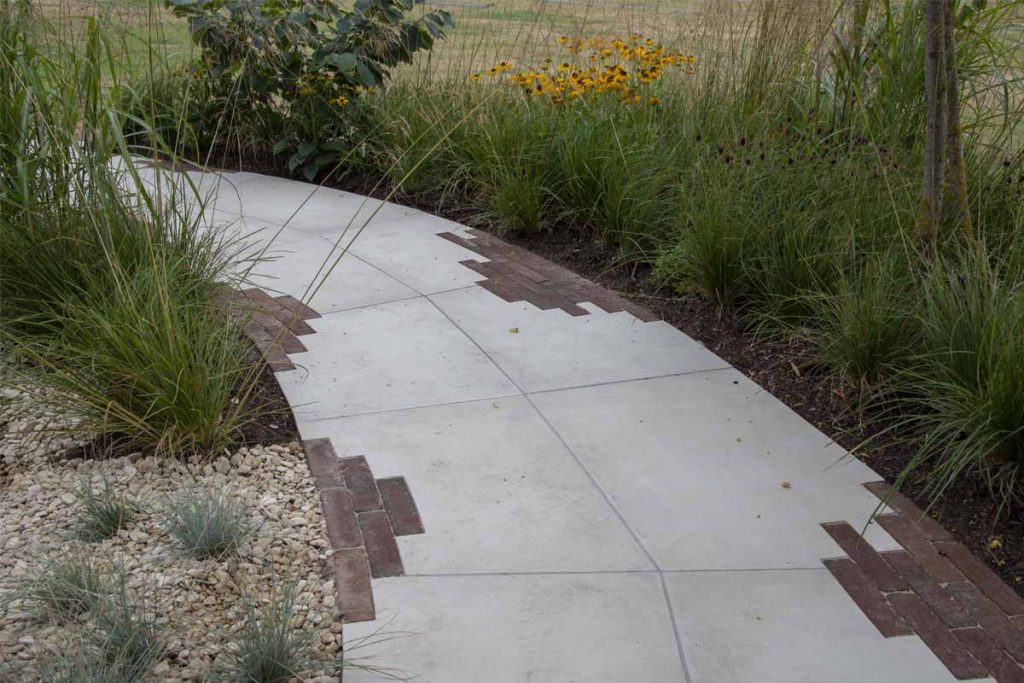 Alex used Bexhill Clay Pavers and Venetian Beige Porcelain as practical, long-lasting, low-maintenance materials for a well-used space. The shape of the pavers works well with the open wooden slatted screen behind the bench, toning in colour with the plank walls. The budget Italian porcelain paving, with its even colouring and finish, acts as a foil to the many different textures in materials and planting.
Other products
RHS Tatton Park also featured Hartley Botanic's trade stand which used a range of materials, including Cinder Porcelain and Lucca Clay Pavers. It was also the last port of call for this year's non-judged Vitamin G garden, featuring London Mixture Clay Pavers and DesignBoard Charcoal. You can read more about both in our RHS Hampton Court coverage.
.