Our doors - and classrooms are open! Read more about how London Stone Offers The Ideal Venue For Industry Events
Do you have an event you'd like to host? And are you looking for a venue with relevance to the industry, within easy reach of London and the home counties? That's what we have to offer in our showrooms in Surrey, North London and around the M25.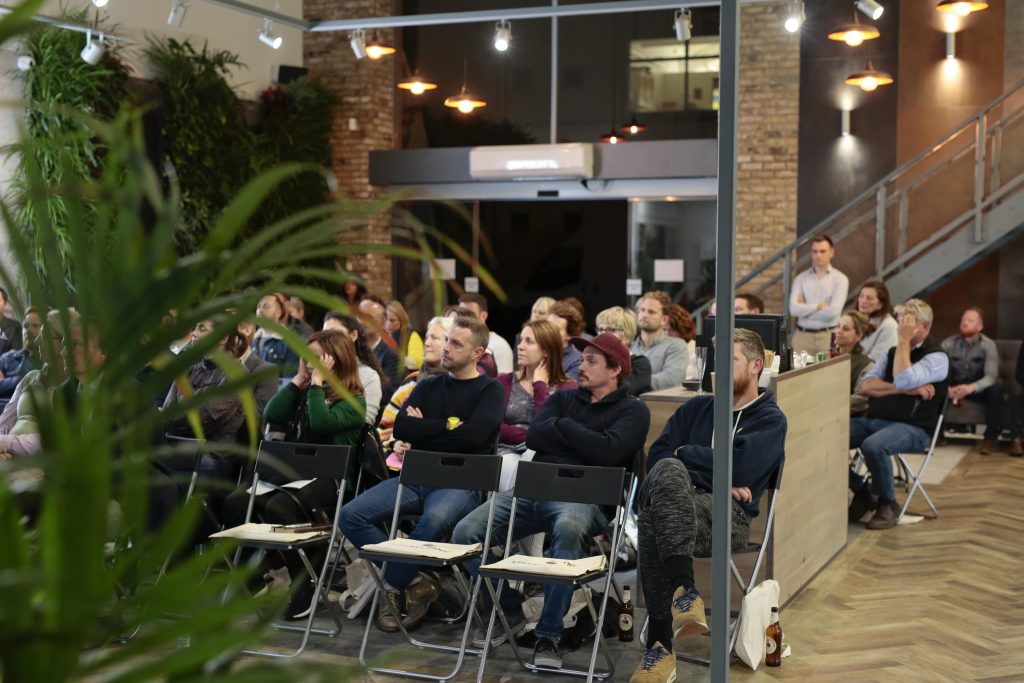 Our North London Showroom plays host to An Evening Of Innovation & Integration in Autumn 2018
Our Surrey and North London showrooms can comfortably host around 25 people for a day course. We have two classrooms at Farnham which are separate from the main showroom, and the mezzanine floor at Bounds Green offers similar privacy. They've not lain idle in recent months, as you'll read below.
Alternatively, both these and our showrooms in Knockholt, Kent, Stanwell Moor, Middlesex, and Brentwood, Essex, are available for evening events, where you're able to welcome up to around fifty guests; more, depending on the choice of showroom.
Mi casa es su casa! Our showrooms provide inspirational, relaxed environments for your event
As you'd expect of London Stone, we operate very much on a 'mi casa es su casa' basis. Equipment-wise, projectors are available at both Farnham and North London and we can source a laptop for you, if required. Tea, bean-to-cup-coffee and other refreshments are on tap and you're very welcome to arrange your own catering/nibbles. We've found M&S platters extremely useful, offering vegan, vegetarian and gluten-free options with a quick turn-around on the order. We're very informal, so you can absolutely make the event as you want it.
Plenty of space for all - a LCGD event, held at our Surrey Showroom earlier this year
Recent comments posted on Facebook include one from designer and friend of London Stone, Gillian Goodson, who ran a course on Getting to Grips with Photoshop featuring Alexandra Nobel and Dave Green at our Farnham Showroom back in March:
"Fantastic venue and wonderful team at London Stone. Highly recommend."
Renée Canter came on a group visit earlier this year. "They were a great host to the Surrey Garden Design Group when we visited their Farnham Showroom. Thanks, guys!"
Already sold out is LCGD's Introduction to Construction Design for Designers which will be presented by Andrew Wilson on 4th October. It looks at how to explore requirements for a garden design in terms of construction detailing and sold out also when held earlier this year. Keep an eye on their website for further courses.
Alan Sergeant, the well-known Garden Management Consultant with a vast expertise in the horticultural trade, has just presented a workshop for garden designers and contractors on Contracts, Terms and Conditions. We're looking forward to welcoming him back.
Customer Experience Director, Chris Durnford, speaks to the Surrey Garden Design Group earlier this year
And coming up at our Surrey Showroom on November 8th, Jonathan Ward of Ginger Horticulture will be presenting Smartphone Photography for Landscapers and Garden Designers. In a two-hour introduction to smartphone abilities, he teaches the fundamentals of taking a good photograph, as well as the phone's native editing facilities and explores photo apps.
The huge benefit of choosing our showrooms is that you have a double advantage: easily accessible facilities that accommodate reasonable numbers, and venues that are directly relevant to your market, offering an  added attraction for attendees who'll enjoy a browse in our showrooms after hours.
For more information and to enquire about facilities and dates available for your forthcoming event, contact Anthony Macson in our Marketing Department (Anthonym@londonstone.co.uk).