London Stone's Surrey Showroom; From Concept To Completion - Founding Director Gavin Walley talks us through the concept and design of the Surrey Showroom; the newest asset in the London Stone showroom portfolio.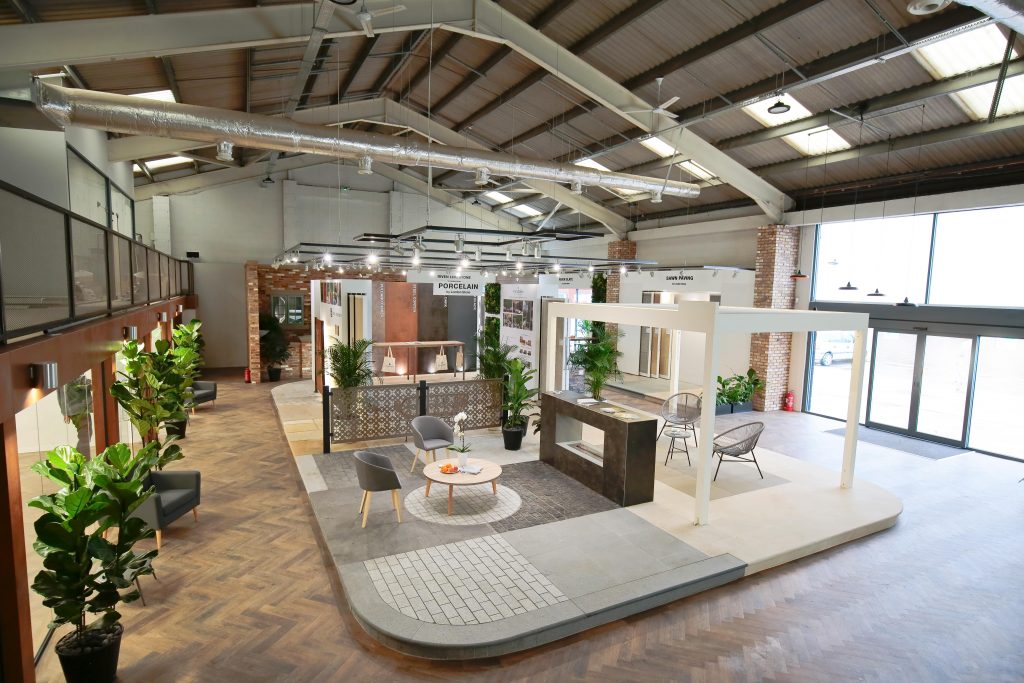 The Surrey Showroom in all it's glory - a space for inspiration, contemplation, and a little relaxation
A showroom, like a website is a view into a business. What you see on the outside is usually a reflection of what's inside.  Our showrooms are the face of our business and for many people the only contact they will ever have with the company. They are an opportunity for us to showcase not only our products and services but also our people and the personality of the business.
London Stone have a strong history of innovation in every area of our business and the way we display our products is no exception. Since we built our first high-spec showroom in Middlesex back in 2010, we've placed a huge emphasis on continually improving the customer experience for anybody who visits our showrooms, and in doing so have helped drive-up standards and expectations across the industry. The days of traipsing through a dusty stone yard to inspect the wares and current stocks are long gone, choosing materials to build your dream garden today is a slightly more refined affair, akin to shopping for a high-end kitchen or bathroom, and so it should be. With more people aware of the positive benefits of time spent in the garden and the realization that a well-designed garden can function as an extra room in compact city living arrangements consumers are more engaged and willing to invest time and money in their outdoor spaces than ever before.
Creating spaces you can imagine in your own home and garden is key to the London Stone ethos of customer experience
Our new showroom in Surrey is the latest incarnation of the London Stone display format. It's not only our largest showroom but also the first to feature our entire display internally. Any visitor will immediately be taken aback by the scale of the showroom, which has a cavernous almost outdoor feel, yet look closely and you will discover a number of intimate inter-connected spaces allowing you to not only browse our range but also obtain a real understanding of how materials and spaces work together. Many of the displays have been selectively dressed to bring them to life and show customers how landscaping products and outdoor furniture can be used together to create different styles. The outdoor feel is further enhanced by thoughtfully designed planting which breathe life and colour into the scheme and soften the lines and surfaces of our stone and porcelain displays. The layout of the showroom invites visitors to journey around the display with various informal seating and meeting spaces in which to discuss plans, consider samples or simply switch off for a few moments.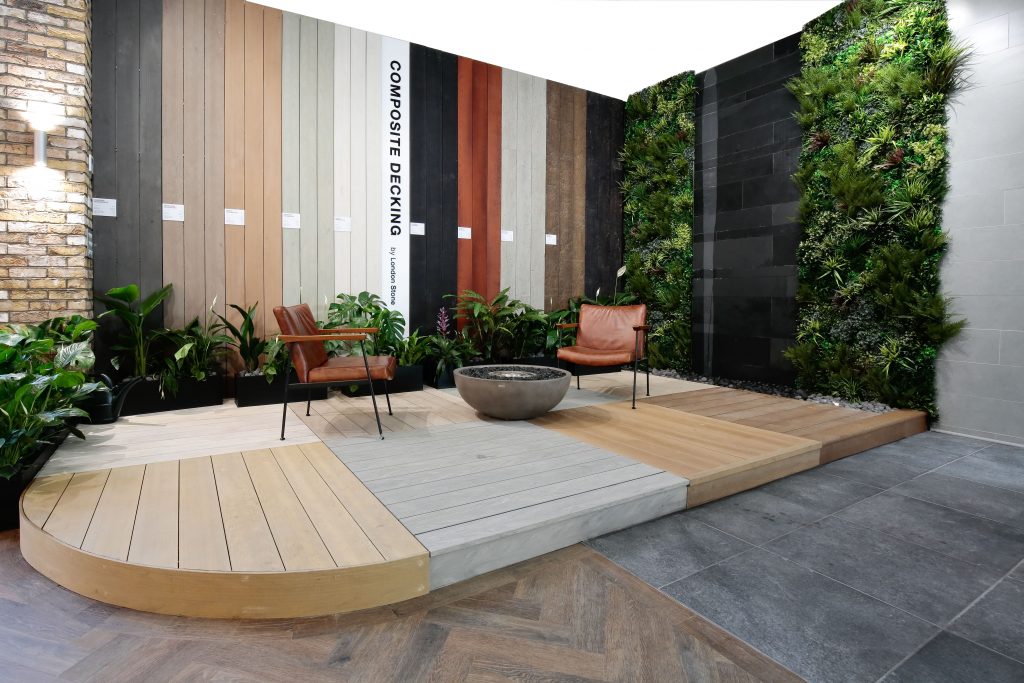 Much more than just stone. Composite Decking takes centre stage at the new Surrey showroom
Taking pride of place at the front of the showroom and within view from almost any corner of the display is our sales counter.  Here you'll find our team, always on hand to give advice when needed but happy to allow customers to browse at their leisure. Next to the counter we have a dedicated customer seating area where bean-to-cup coffee and all manner of teas and refreshments are served on request.
London Stone has always enjoyed close and co-operative relationships with the many professional companies and industry organisations with whom we've worked over the years. It is this willingness to engage and co-operate that has helped the business to grow. Our Surrey showroom is the first to feature purpose built space to facilitate the industry events and programs we'll be hosting and supporting in the future and includes a conference room for professional industry organization meetings, a classroom for presentations and theory training and a dedicated demonstration area for physical product and installation training.
By using different material combinations together, designers, landscapers and homeowners can be wowed with endless possibilities
In addition to offering many events aimed at the wider industry, our latest crop of showrooms will have a real focus on building ties with local landscape professionals, helping them to build their business, networks and skills base and get the most out of their local London Stone showroom.
London Stone showrooms are more than just a showroom; they're a hub of all things landscape. A space to meet, work, learn and collaborate. We're here to help you build amazing gardens and we hope to see you at our new Surrey showroom very soon.