The Surrey Garden Design Group Discover More At Our Surrey Showroom - learn more about a recent event at our newest showroom.
Are you looking for a space in which you're comfortable meeting clients? Somewhere there are plenty of materials to look at and handle, with expert advice on hand if you need it?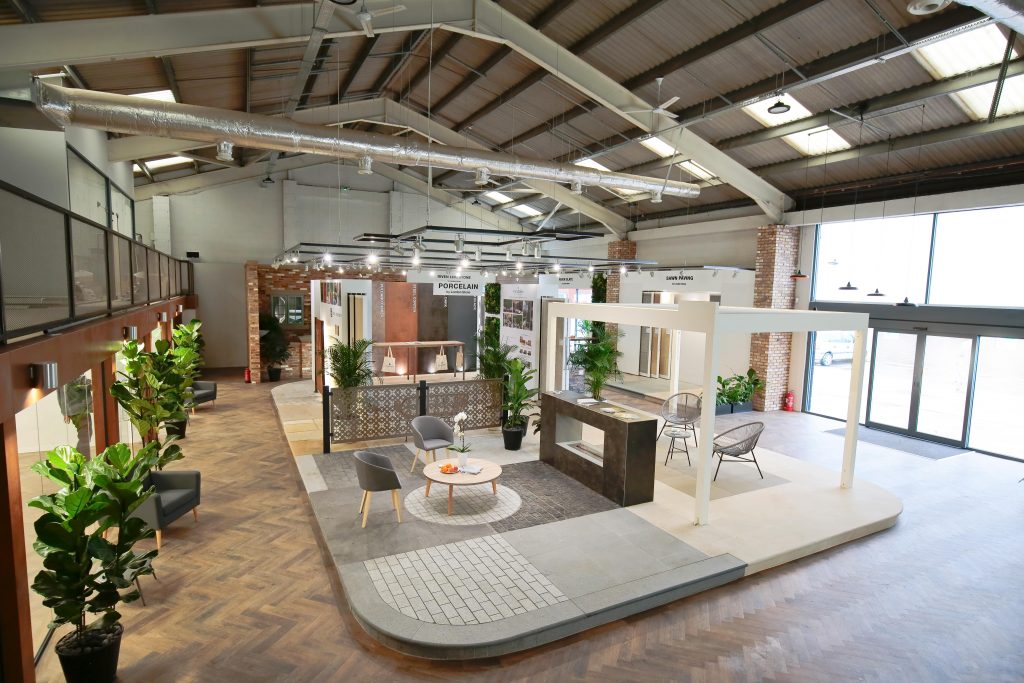 The jewel in the London Stone crown - The Surrey Showroom
That's what the Surrey Garden Design Group discovered last week when they visited our new Surrey Showroom at Farnham. The Surrey Garden Design Group is a well-established society that's been active over twenty-five years. It's open to everyone who's interested in garden design but garners most of its membership from professional garden designers and contractors. They offer very interesting talks and visits to their members and we were honoured to welcome them earlier this month on their first outing to see us.
Karen Holley, who organises the group's trips, says, "Everyone who came was a garden designer, bar a couple, and most of us already knew about London Stone. I hadn't been to that showroom and it's a really good showcase of all the things that they do. I wasn't aware that they had so many things there."
Customer Experience Director, Chris Durnford, speaking with the group about all things London Stone
Customer Experience Director Chris Durnford gave a forty-minute presentation. "I explained that Craig Potter, our Garden Design Director, will go to a site with a designer and help with a project, give advice on materials and what they feel like. A lot of the people there weren't aware that we offer that service."
Chris also highlighted the USPs that have helped make us BALI and APL award-winning suppliers - high stock levels, next-day delivery, split packs and free nationwide delivery on full packs and orders over £1000, not to mention our high level of customer service and that we're easy to get hold of on the phone and will deal with any issues.
"One of the members asked a question about stone and ethics," says Karen. "It was interesting and good to know the details. Chris showed us pictures of the village in India and what they're doing." We've certainly found that, within the trade, designers are the most interested in this aspect of landscaping materials. (For more information, see our blogs on ethical sourcing.)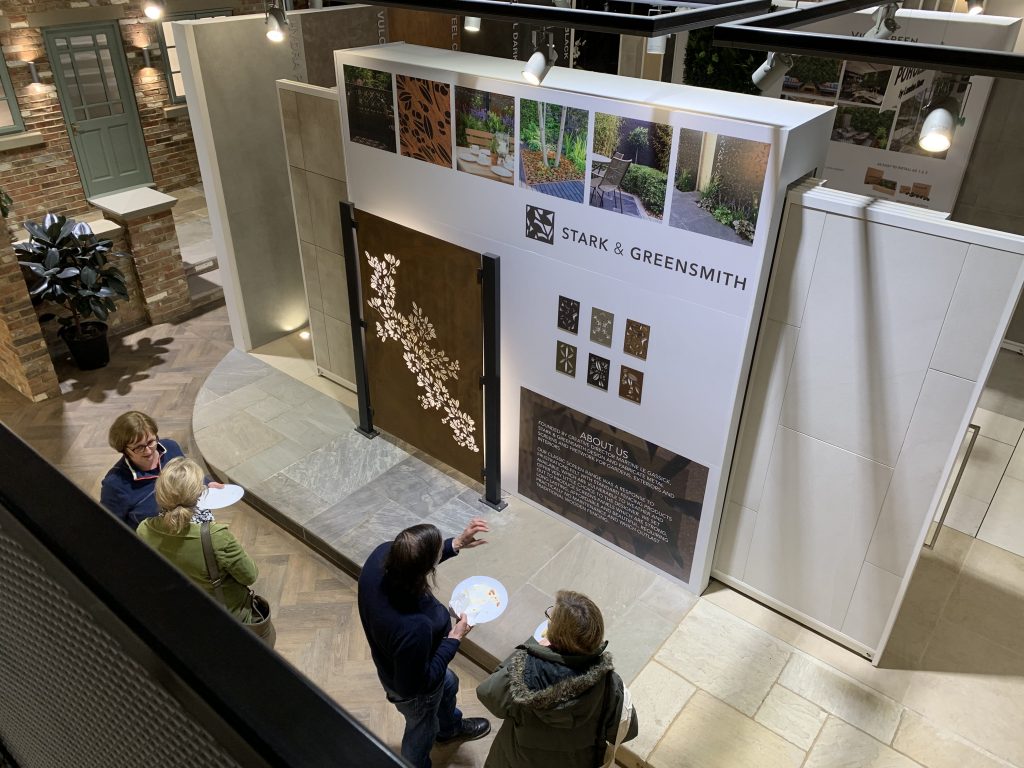 Not just for the floor - there are plenty of vertical solutions to provide inspiration at the showroom.
Refreshments were then served in the form of a finger buffet, which was gratefully received by those who had come straight from work, and the group had a chance to look round.
"They have sliding panels of materials, to show what hasn't fitted on the floor," says Karen. "It made me think outside the box, that I could use something on a wall instead."
We also got to show off our meeting rooms. "Everyone seemed impressed," says Karen. "It's a good idea. Nice to sit down with some smaller samples, mull them over, see them laid, make decisions while you're there with experts on hand. You're much more inclined to ask technical questions because they come and sit down and help you."
The Surrey Garden Design Group made themselves at home next to the cosy fire.
Like all our showrooms, Farnham is also somewhere you can be comfortable bringing your clients. "I'd never take clients to some of the places my contractors use," says Karen. "Other builders' merchants have an office in a hut and you ask a question and they look as if you're mad. London Stone are managing to become a one-stop shop without losing quality. The guys there were very helpful, keen and customer-focused - people that you're happy to take clients to."
We're dead chuffed with Karen's verdict. Bringing a helping hand to you and your clients is exactly what we aim to do, as well as providing a comfortable and inspiring place for you to bring them. If you'd like to visit one of our showrooms to see what we can do for you, then please don't hesitate to visit.
If you'd like a group visit to our Surrey or North London showrooms, then contact Chris on chris@londonstone.co.uk or 01753 212976.
We'll look forward to welcoming you.