Better Together: London Stone Development Day Gets Landscapers And Designers Talking - some of the industries leading figures discuss partnership
Our seventh Development Day this year carried a massive buzz and not just because so many in the industry attended. "I think it's the best event we've done," says our Horticultural Consultant, Jamie Butterworth.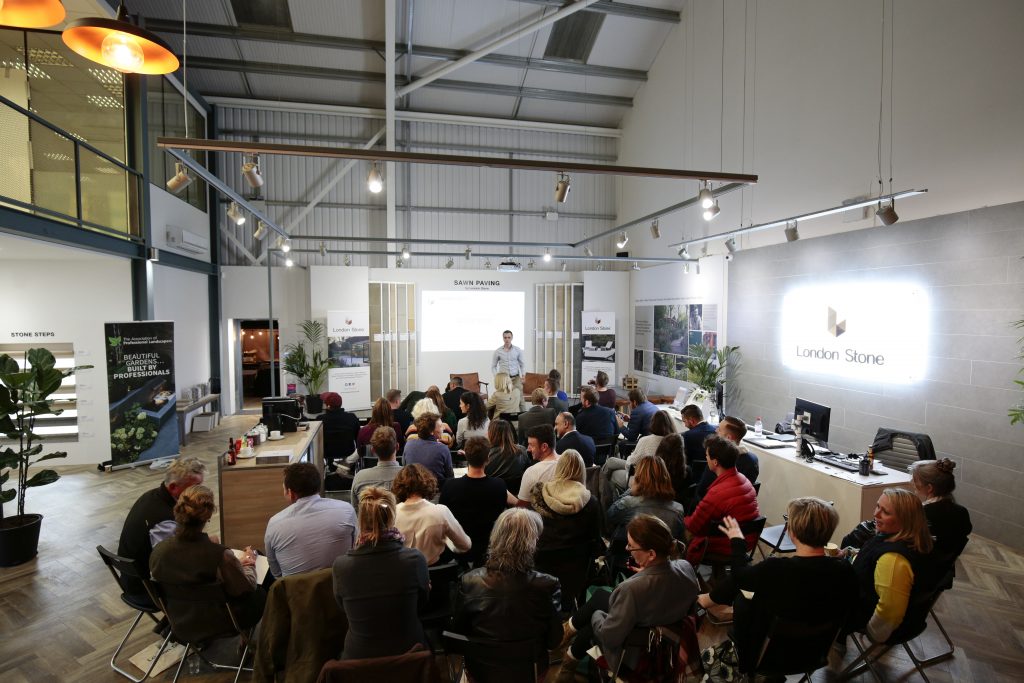 Jamie Butterworth hosts an Evening of Innovation and Integration - North London Showroom, 25.11.2018
Drawn by our invitation to an Evening of Integration and Collaboration, fifty landscapers and designers arrived for three hours of discussion, networking and rather good food.
The outside display area of our North London Showroom, which incorporates a firepit and an outdoor oven, was HQ for the caterers who cooked up a very popular paella, as well as tartiflette and vegetarian stroganoff, and there were plenty of drinks indoors.
APL Chairman's past and present; Mark Gregory and Rod Winrow
But the real star of the evening was the on-stage discussions between industry experts who discussed how they'd started their businesses, what has contributed to their success and what collaboration between designers and landscapers can bring to the table.
First-up was a talk between Bowles & Wyer's chief executive John Wyer and their construction manager Dean Hakner. Bowles & Wyer, as we're sure you know, are leading landscape and garden designers and contractors who have received over forty awards since they set up in 1993. This was followed by a discussion between Matt Keightley and Cameron Wilson, directors of Rosebank Landscaping, which rocketed to fame when Matt's first two show gardens at Chelsea (in 2014 and 2015, respectively) won Silver-Gilts and the prestigious 'People's Choice' awards.
John Wyer and Dean Hakner discuss how working together helps the continued success of Bowles & Wyer
Unlike Bowles & Wyer, about 50% of whose contracts come from building to designs that are not created in-house, Rosebank only build their own designs. "It was an interesting comparison of the two approaches," says Jamie.
What became clear is that there's no definitively right way to do it. "The key message," he adds, "was that the more involved both parties are and the more you work together, rather than just doing the drawing and passing it on, the more communications open-up, and the better the results."
Matt Keightley and Cam Wilson discuss their partnership at Rosebank Landscaping
Audiences at previous events have been made-up, in the majority, of landscapers. With a slightly different twist, and reflecting the drive of our Better Together initiative, to draw all parts of the industry closer, the audience was split pretty much evenly between designers and landscapers, which made it all the more appropriate that the evening wound-up with APL chairman Rod Winrow and SGD chair Sarah Morgan hosting a Q&A session. "There's never been an event where they've been on the same stage discussing how we can work together," says Jamie.
Questions prompted discussion of the problem of the time it takes landscapers to create quotes, with Rod suggesting that less is more and that more of an overview should be provided. There was also discussion on how landscapers could affect the work of designers. What became crystal clear is that we're all working on the same problems, albeit approached from a slightly different direction, and this contributed to the evening's very positive vibe.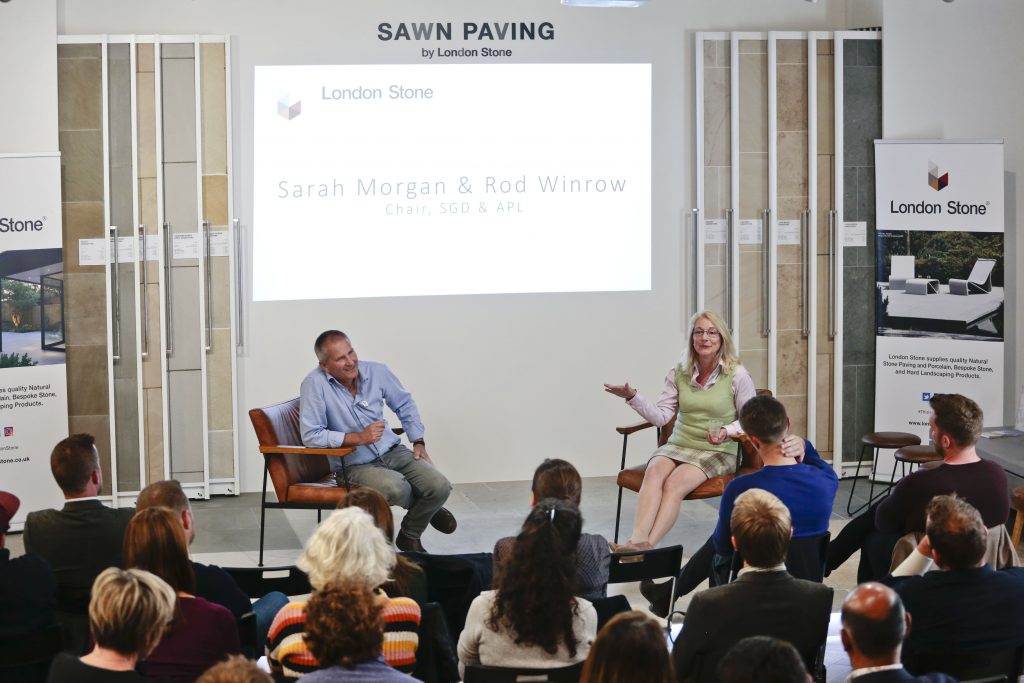 APL Chairman Rod Winrow and SGD Chair Sarah Morgan discuss how trade associations can work better together
"This was the biggest event run at London Stone and in our new North London Showroom," says Jamie. "It was amazing to see so many industry peers, and everyone seemed to love the showroom; especially garden designers who can use the facility as a inspiring consultation space."
This bodes well for our Farnham showroom, launching next month, which will have plenty of space for similar Development events. But more on that, soon! We would like to extend a big thank-you to everyone who gave up their Thursday evening to attend. We raised yet more vital funds for Perennial via voluntary donations.
#ThisIsLondonStone