If we could have asked for something extra to really show off our newest showroom, launched this week, it would be this superb sunshine. There's nothing like a hot day to make you appreciate a shady, well-laid out outdoor space, with drinks available!
Exterior display at the North London Showroom
Our new North London Showroom, in Bounds Green, has been designed in-house by (our rather talented, but shh! Don't tell them) Director Gavin Walley, Design Project Manager Piotr Przytula and Sales Advisor Ionna Vongou. They've put an enormous amount of thought into what you need to see and how you like to see it, based on what you've said to us, and what we've learned from our other showrooms.
"It was a lot of work," said Customer Experience Director Chris Durnford. "We relocated the steps to the mezzanine floor, took away the roller shutter and replaced it with the new glass frontage."
The result is a high-ceilinged, light, airy space that we're really looking forward to hearing your comments on. Come straight in to the relaxed seating area where the bean-to-cup coffee station and fridge offer hot and cold drinks, and fruit and snacks are available.
North London Showroom front desk, Green Living Wall and refreshment and seating area
Our new Showroom's manager is Carl Foster, whom some of you will have met at our Knockholt showroom. He's come to us with a wealth of experience in Natural Stone and Porcelain and in working with customers on design. "It's a very customer-friendly showroom," he says of our new baby. "It's easy to see how to match up colours and textures. We've featured the stone, the indoor/outdoor elements, how paving highlights plants, and outdoors you've got DesignBoard and DesignClad 'in action'."
DesignClad vertical display wall, with sample rack below
Indoors is well-spaced, with an area dedicated to our Italian Porcelain. We have all twenty-two colours on display - in tall hanging racks that give a real idea of how each one looks laid and grouted across an expanse.
Ditto with Millboard. No wondering about how a whole plank will look or the repeat patterns. The hanging display makes all that crystal clear. We've laid our various DesignBoard options in the same area, too, so you only have to look down to see how these products can enhance your next design.
Passing photos (credited, of course) which show what some of you have created with our products, you'll find the Bespoke Masonry area where a brand-new feature gives you a full library of pier cap profiles, as well as edge profiles in both porcelain, natural stone, and composite decking, so you can see exactly what effects they can create.
Italian Porcelain display area with porcelain sliders
There's even a living green wall, lush with Philodendron, spider plants, devil's ivy and red-tinted Aglaenema 'Crete' and contrasting with water walls of Brazilian Black Slate finished below with Black Lava Pebbles. Constructed with Scotscape's versatile planting system, it means we can demonstrate why their system is so easy to maintain (compared with some other systems) and why we recommend it.
But all this sunshine lures us back outside. We've transformed the area to the rear into an attractively landscaped space, planted by our horticultural consultant, Jamie Butterworth. Laid with a full range of our most popular paving, mortared with Larson Streetscape and GftK, it also showcases our stone walling, stone cladding, DesignClad and DesignBoard, incorporated into just the sort of features that your clients are asking for. There's even a firepit and outdoor oven!
Bespoke copings and pier caps display wall, showing edge profile options
North London isn't just a showcase, though. While indoor walls feature the most popular DesignClad colours so you can get a good look at them (both seamless and grouted), we've left one large wall free for projected displays. This gives us a large, relaxed space for CPD and training days, so keep an eye out for announcements later in the year.
And why Bounds Green Industrial Estate? We chose the location because not only is it just off the North Circular but Bounds Green Tube Station (on the Piccadilly Line) is only ten minutes' walk away and 17 minutes from King's Cross, making it easy access from Central and North London.  At the same time we're surrounded by the other trades you often need. In the future we'll be stocking small amounts of accessories like pointing and cleaners, so you can pop in when you run low.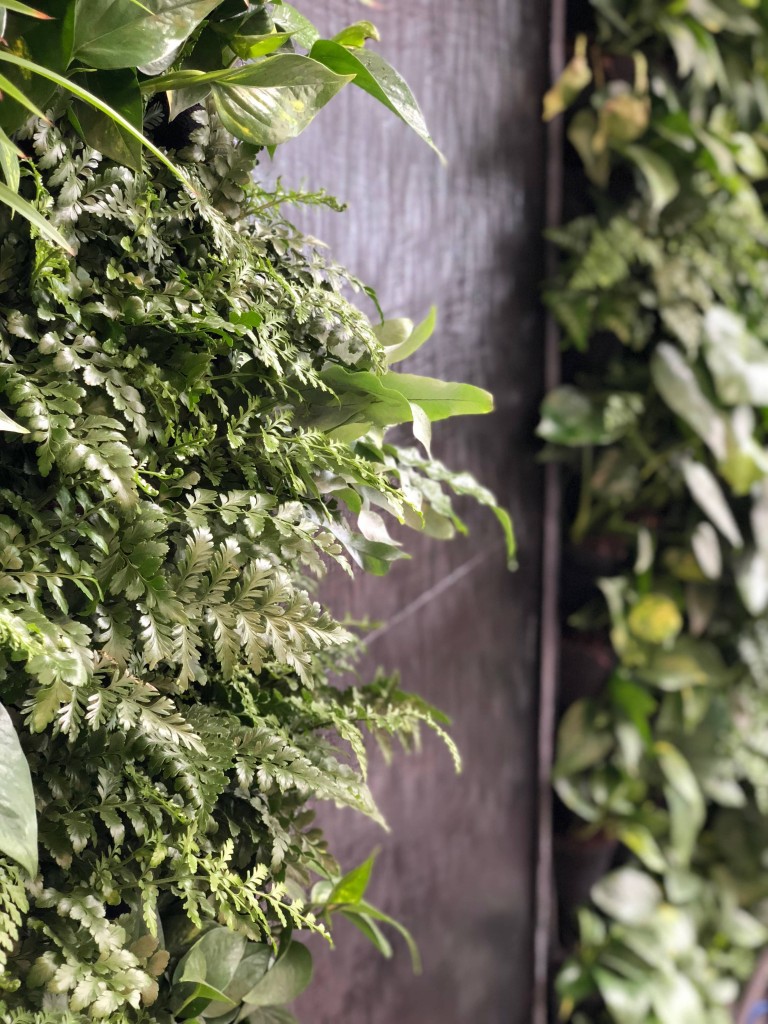 Scotscape Green Living Wall at the North London Showroom, with water feature
We've already had proof that your clients will enjoy a visit. "This is really unexpected; it's beautiful!" said visitor Nicky Brzoscowski on Wednesday. "We came for the front garden but now we're going to look at our back garden too. It's really nice to see everything laid out in this minimalist way. And my daughter loves the water wall!" she added, rushing off to divert her toddler.
Don't miss-out on this spectacular, interactive display area. We are open six days-a-week, and would love to see you here for a coffee soon. The address details can be found by clicking here. We're pretty sure you won't be disappointed.