Here at London Stone we've always maintained the importance of working together, so we love events that make that happen.
London Stone Stand at the SGD Spring Conference
The annual SGD Spring Conference, which took place last Saturday, is a prime example. There's a real sense of community, with garden designers travelling down from as far afield as Scotland to enjoy lectures, meet colleagues, and exchange news—and hugs!
It was a first-time experience for our Garden Design Consultants, Fiona Campbell and Lucy Bravington. "It was a really good platform to introduce ourselves," says Fiona, whose role is to work closely with designers from concept stage to ensure you have everything you need during the specification process.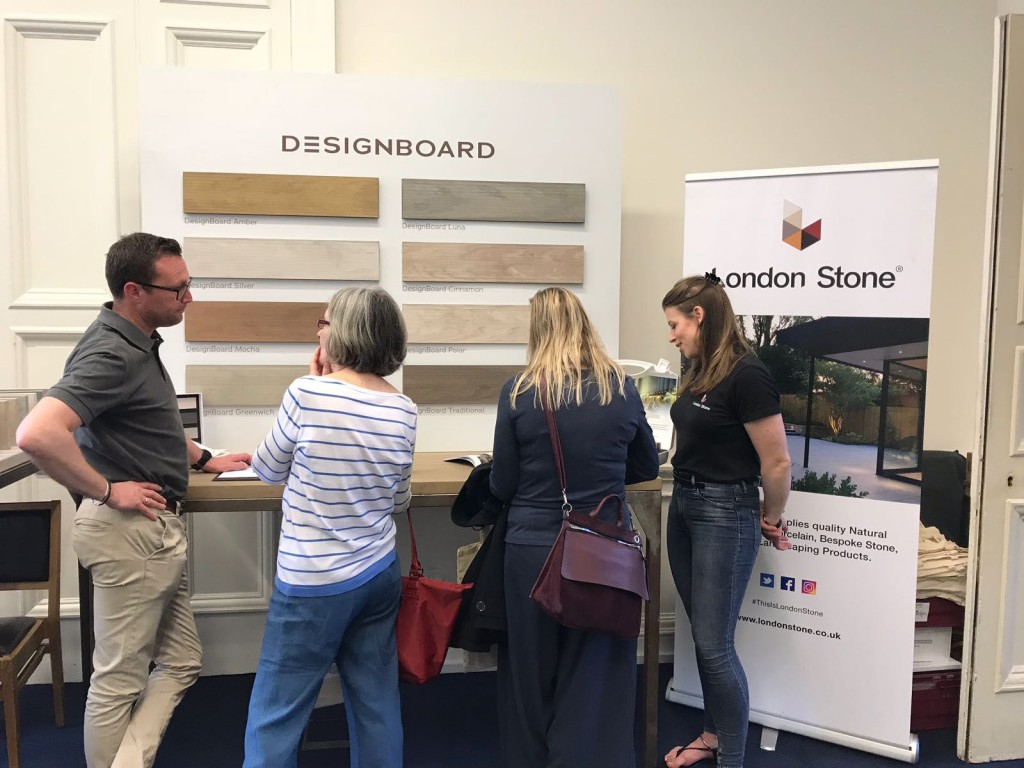 Our Key Projects Manager, Steve Goulds, and our Garden Design Consultant, Lucy Bravington
The visitors certainly kept Fiona and Lucy very busy during the breaks between seminars, which this year were themed around "A Light Touch: the expertise of understatement".
We can understand that. The beauty of our contemporary products is that they're strong enough to speak for themselves in the most understated design. Take our DesignBoard range. "It really drew people in to ask about what's different about it, how you use it, its benefits," says Fiona.
This composite decking, which we introduced to the market last year, continues to be a real hit. Its enormous appeal is, in part, down to the clip installation system. "It's the fact that you don't have to drill holes," says Fiona. "With no holes on surface, there's a contemporary feel and a streamlined effect."
Also on the stand was our entire Porcelain range and designers spent plenty of time handling the samples. Larger than usual, these made it a lot easier to envisage how the colours and textures look in situ. The twenty-two choices mean there's something for just about every situation.
Porcelain Samples available in 22 different colours from London Stone
Which is pretty much how we feel about newly expanded Garden Design Consultancy team. Working alongside Garden Design Director Craig Potter and Key Projects Manager Steve Goulds, Lucy and Fiona are here to help you find exactly what you want, deliver full size samples, look after your clients if they visit our showrooms, guide you through complementary products, offer technical knowledge and, if you'd like, accompany you on a site visit and support you in making a great impression on your client
Fiona Campbell, Lucy Bravington and Steve Goulds
We'd like to thank everyone who visited our stand at the conference and took the time to get to know Fiona and Lucy. If you didn't have the chance and would like to discuss how they can help you in your design projects, then just get in touch. You can email the Garden Design Consultancy Team on design@londonstone.co.uk