What a difference a month makes! From the torrential wind and rain, I am currently sat inside the 'Green Living Spaces' garden we have built at the RHS Malvern Spring Festival. The sun is shining, the gardens look divine, the atmosphere is buzzing, and there is a bottle of something fizzy cooling in the fridge. This can mean only one thing; it must be press day!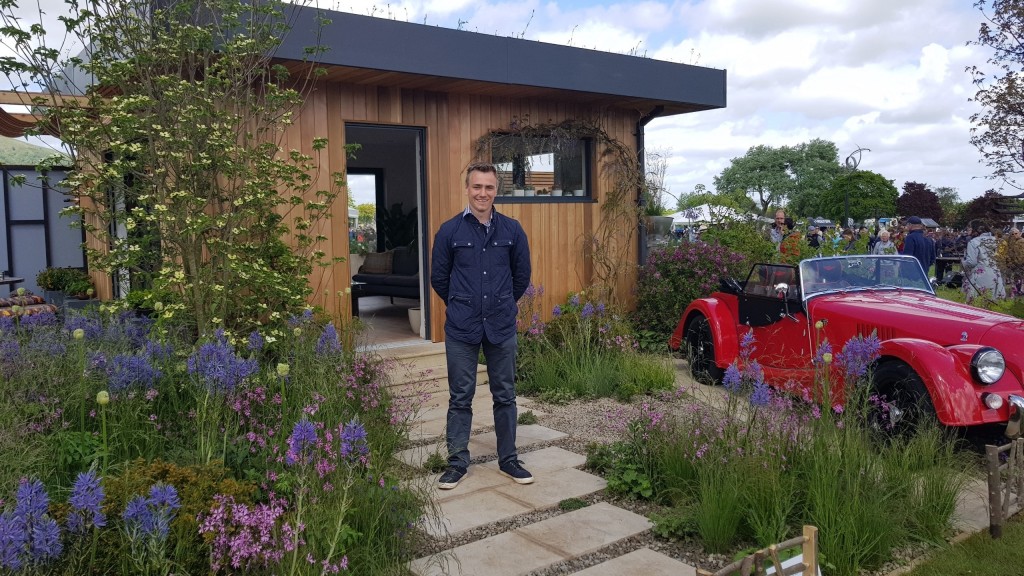 Jamie Butterworth - Green Living Spaces (©Lynn Keddie)
The Green Living Spaces category is all about showing that you can have an amazing, beautiful garden even in the smallest of spaces. Using creative, imaginative and inspiring designs to maximise the most of a small space. With four brilliant gardens, designed by four very talented designers, there is a lot of inspiration to take away.
Anne Keenan has won a Bronze medal for her brilliantly bright balcony garden, using microgreens and a refined selection of plants that are all edible. An eclectic mix of stylish materials, including copper piping to create a canopy to provide shade. Anne has designed an ingenious rain water drainage system with water being collected in copper bowls, which filters-down into water butts that have been beautifully clad in cedar batons; both functional and beautiful.
Anne Keenan -  "At Home - Grow, Dine and Relax" Garden (©Lynn Keddie)
Andy Bending's won a Silver – Gilt, for his edible 'Salad Deck' garden, the favourite garden of Master Chef presenter Jon Torode who has just now visited the gardens. Recycled scaffold boards create a raised deck, that leads down to a Beige Sawn Sandstone patio, edged with a lush border of edible plants, including one of my all-time favourites, Sanguisorba minor.
Andy Bending - "The Salad Deck" Garden (©Lynn Keddie)
Sebastian Conrad, student garden designer at the local Pershore College, has created a beautiful, light, contemporary, Bronze-winning roof garden using Slab Khaki porcelain that also makes-up the raised planters. Organic planting softens the formal structure to the garden, with polished concrete chairs to provide somewhere to escape under a cedar pergola with a marcrame curtain provides dappled shade.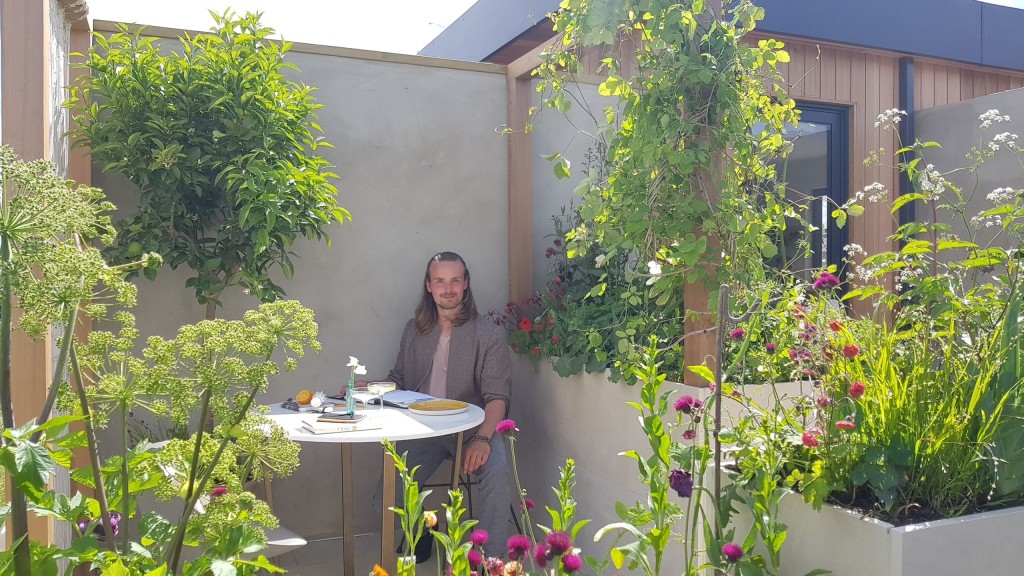 Sebastian Conrad - "The Urban Escape" Garden (©Lynn Keddie)
Elaine Portch has won not only a well-deserved Gold Medal, but also the amazing achievement of 'Best In Category'. Elaine's is an affordable space with impact that could be easily replicated by visitors with some imagination. Recycled and upcycled furniture provides fun and unusual planting solutions. A collection of small growing alpines and edible plants make up the planting pallete.
Elaine Portch - "Outside Number 39" Garden (©Lynn Keddie)
The house that ties it all together, provides context to these four gardens, and it's full of fun ideas for bringing plants indoors so even if you don't have a garden at all, you can still bring plants and greenery into your life. A 'living coffee table' takes centre stage, planted up with a selection of moisture-loving houseplants.
After seven months of planning, and five weeks of build, this incredible project is now finished. I am so proud of the work our four amazing designers. Thank-you to everyone that has helped design, plant, build and promote this wonderful project. Time to crack open the bubbles and enjoy the gardens I think.