Anyone involved in landscaping and garden design could not have missed the increasing desire for a perfect uniform finish to outdoor spaces. When clients choose natural stone, it's always at least in part for its natural variation, both in colour and texture. Clients choose Porcelain, however, for completely different reasons—they want consistent texture and colour and perfectly rectified sizes. And if you choose the right supplier, that perfection is a realistic possibility.
Not all Porcelain is the same though.  Designers and landscapers regularly ask the question, how is Porcelain made?  Well, we know how our Italian suppliers do it. They've been making high-quality Porcelain for a long time and it's fair to say that they've got it down to a fine art.
Porcelain is made from natural materials: feldspar, kaolin, quartz and clay.  In a process lasting six to eight hours, these materials are mixed together in huge drums with water, colour pigment and an abrasive grinding media about the size of a hockey ball.  The balls give the particles in the raw materials a uniform spherical size which is very important later on when the material is vitrified.
Once the mixing process is complete the water (and the balls) are extracted and the remaining semi-wet material is pressed to the correct thickness.  Different styled presses are used to create the required surface textures.  It's amazing how quickly the technology is improving.  Our Italian suppliers are continually adding new finishes and size formats and the stone- and wood-effect tiles are extremely realistic.  There are up to twenty different surface patterns within a given Porcelain product and it's this wide range of patterns that ensure the finished installation looks unique.
When we looked at other manufacturing methods it was immediately obvious that one of the big differences between Italian and cheaper oriental Porcelains is the quality. The Italian product is full bodied—the colour penetrates the whole way through, thanks to that addition of pigment in the mixing process. On lower quality products the colour is printed on the surface only, so the body of the paver is a completely different colour, which causes problems when you attempt to profile the stone and the two-tone manufacture is laid bare.
The pressed Porcelain is then baked in a kiln, initially at a temperature of 300°C which then rises to 1240°C before coming back down to 300°C.  Firing takes about four hours and here's where the even, spherical size and shape of particles and consistent mix is so important. When fired correctly, these materials fuse uniformly and create an incredibly dense structure giving porosity values of 0.05%. While other Porcelains may be vitrified, if natural materials are not prepared to the same level the quality won't be the same, and where manufacturers can't or don't meet these standards you're often left with a higher porosity of up to 0.5%—meeting the ISO standard but not giving clients the required  high stain-resistance and low maintenance.
After firing, the material is stored on huge five metre-high racks to cure.  The racks are loaded automatically by a conveyor belt and, when full taken away and replaced swiftly by robots.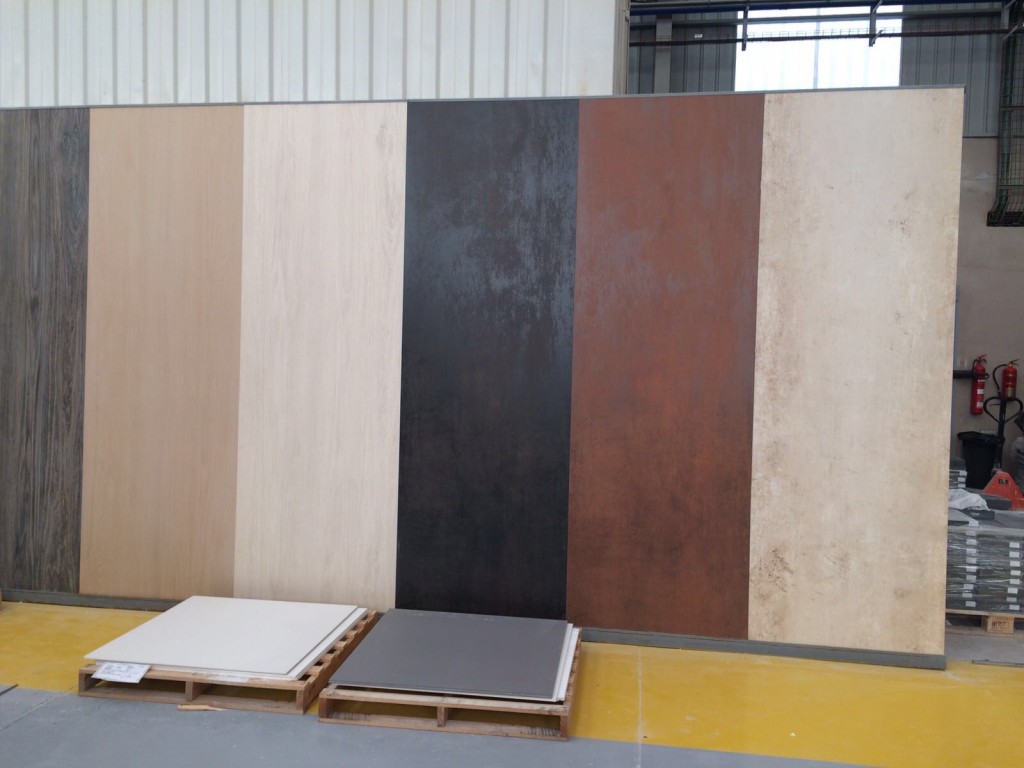 Then comes the most interesting part of the whole process, rectification.
One of the most attractive features of Porcelain is the fact that the dimensions are fully rectified and, unlike natural stone, offer no tolerance.  How is this perfect rectification achieved?
Once the product is cured, finished dimensions can be anything from six to eight millimetres oversize.  The pressed, fired Porcelain is now moved along another conveyor belt, through milling heads that remove a fraction of material from each edge.  By the time the product reaches the end of the milling conveyor line it's perfectly rectified.  Sounds like a normal conveyor belt, right?  Well, it is, apart from one small difference—the whole thing is done under water!  When working with a material as hard as Porcelain using a submerged milling process ensures optimum performance of the milling tools, not to mention offering the ultimate form of dust suppression.  That's why the edge of the porcelain tiles is so smooth—because it's been milled under water.
High-tech production solutions continue as we roll into QC.  Every single piece of Porcelain goes through a scanner and is, effectively, X-rayed.  The X-ray picks up cracks, fissures and any production defects, while also carefully monitoring surface texture and colour.  Anything less than perfect simply doesn't make the grade.
So, you can see the massive investment that goes into a high-end Porcelain factory. This efficient, consistent automation is a huge entry barrier for most companies and explains why some products fall short of the quality mark.  The manufacturing environment needs to be perfect, for how can we create a perfect product in a less than perfect environment? When it comes to Porcelain, you're telling us your clients demand perfection. Buying from established Italian suppliers is akin to a cast-iron guarantee.