What do you picture when you think of Italy?  No, not promiscuous presidents with buoyant beauties on their knee, please. Italy is a land of sunshine and culture—opera, painting and, above all, architecture. So, it's not surprising when Italian paving products show particular refinement.
Our final stone launch for this month is our new range of Porcelain Paving. Straight from Italy, it comes in a range of colours from Sandy White to Urban Grey, with echoes of granite in Beola Bianca and smoky slate in Slab Coke.
Porcelain carries a number of advantages that will appeal to clients. Its careful combination of components—feldspar, kaolin, quartz and clay—creates patio slabs with a fine texture and a tight grain, giving the impression of natural stone.  These materials are heavily compacted and fired to a very high temperature (much higher than ceramic tiles, which are less robust and more likely to crack, should your clients ask the difference), and this transforms them into paving slabs that contain very little water, making them almost completely non-porous (0.05% porosity, since you ask) and therefore highly stain resistant and low maintenance. No sealing is necessary.
The manufacturing process also means that the colour is not (as with some tiles) purely superficial. When cut, the tile is the same colour throughout, so edges blend in nicely and, in the unlikely event that one is chipped, the damage is virtually invisible.
Porcelain reminds us of an ethereal-looking débutante who's really tough as old boots. It's robust enough for all uses, including driveways and high-traffic areas (where its stain resistance comes into its own) yet offers a precise and refined finish for the most exacting position.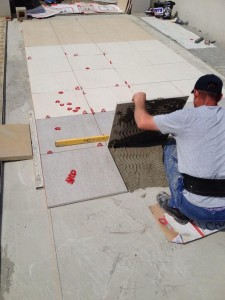 It's also a paving that offers plenty of patio ideas to appeal to designers. The colouring is highly consistent and looks very similar colour wet or dry, which is great in designs where colours need to be precisely matched. The paler stones, because of their tight, even texture, will subtly reflect strong colours nearby, taking on a unique character and adding an extra dimension to their setting. And because all paving slabs are cut to precisely 596 x 596 mm, pointing is ultra-even, maintaining very crisp lines in contemporary designs. (It also, as you can see in the picture, makes for easy laying.)
London Stone's Porcelain Paving arrived with a fanfare at Chelsea last year in Jo Thompson's gold-winning London Square garden. We think you'll strike gold yourself with this range.