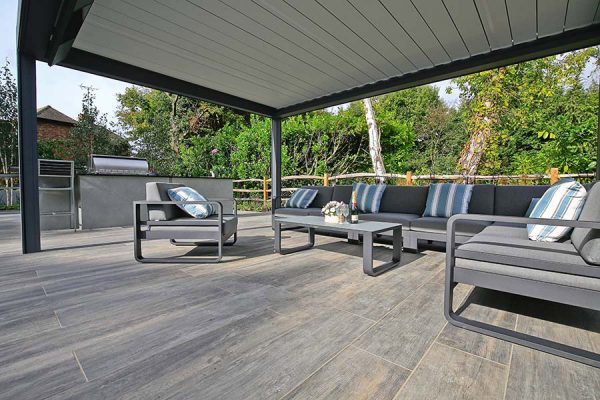 Find out how to style wood effect porcelain patio tiles to create impressive designs.
We have previously looked at how to style wood effect tiles inside, but now let's turn to how you can use wood effect porcelain patio tiles in your garden.
This impressive scheme from Karen McClure and Esse Landscapes is the perfect example of sleek, contemporary  style. Using our Cinder Porcelain Paving.
Let's start with 5 advantages of wood effect porcelain patio tiles over real wood in the garden:
1. Porcelain is far more durable than natural timber and requires far less maintenance over time.
2. Unlike natural wood, porcelain will not fade over time and will retain its beautiful colour for longer.
3. Porcelain is virtually non-porous, making it frost- and waterproof. This means it will not warp over time, as can happen with wood.
4. Appearance-wise, porcelain is now available is a wide variety of natural-looking tones and finishes. This means that you will find the character and natural look of wood, but in porcelain.
5. Extremely durable, porcelain is resistant to the wear and tear of your everyday life. If you are unlucky enough to damage a tile it can be much easy to replace compared to other types of flooring.

This scheme demonstrates how to create an impressive design with wood, featuring our Honey Porcelain Paving.
Modern & Minimalist
If you are looking for a clean and crisp style, minimalist is for you. Keep the colour palette simple. Use a wood effect tile with a greyer tone and pair it with metal furniture. Sleek and simple, this style requires minimal accessories and it a great choice for a chic, modern home.
Traditional
A traditional style needs plenty of rich tones. Use a darker wooden tile and mix it with a variety of textures and patterns. Use wooden furniture and make sure that there is plenty of planting around the garden. You can also think of adding a beautiful arch or arbour to really inject some traditional style.
PC Landscapes and Caroline Davy Studio demonstrate just how well wood effect tiles complement a range of textures and tones with our Rovere Porcelain Paving. 
Rustic
Use distressed wood effect tiles for rustic charm. Draw inspiration from natural materials and raw, unfinished elements and use plenty of wood and stone around the wood effect tiles. A brick firepit would really bring the look together.
Industrial
An industrial feel is a unique but popular style in itself. Using materials like wood and metals creates a sense of unfinished rawness. Pair with a wood-effect tile with a vintage feel; smoky tones are the perfect choice.
Wood effect porcelain patio tiles come in so many colours and finishes and are such a versatile product that they will look right at home in any garden. Lay them in different patterns and pair them with different materials to create a design that is unique to you. You will quickly discover the beauty of these tiles. Shop here.