If you're not designing with Premium and Luxury DesignClad yet, why not? It's a porcelain wall cladding that opens a wealth of vertical design opportunities to make an impressive feature.
Our DesignClad ranges have been used in several impressive schemes, both domestic and in award winning show gardens. We shall explore some of these very different schemes in this blog and help you find inspiration for your next project.
Caro Garden Design used Vulcano Ceniza DesignClad to clad the raised beds on this beautiful scheme
The benefits of DesignClad
Its material qualities
DesignClad wall cladding is made from porcelain and is therefore virtually non-porous. This is what makes it so durable. It is extremely hard wearing and low-maintenance. It is highly scratch-resistant. These qualities are what offer you such a stylish, long-lasting wall covering.
Its appearance
Both our Luxury and Premium ranges are available in a wide range of fade-proof colours. With so many colours to choose from there is sure to be a colour to match your next project. As the product is factory-made, colouring is consistent throughout. The surface texture is smooth, and the edges have been sawn to produce clean feel to the product.
Where is can be used
The panels are perfect for use in both indoors and out. The cladding is appropriate for use in heavily weathered areas, for example to clad retaining or garden walls. It will look stylish when used to clad bathroom and kitchen areas. The cladding looks exceptional when used to create a seamless transition from the inside to the outside. Wherever you use these panels they will provide long-lasting quality.
Luxury range sizing
Our Luxury DesignClad range is available in a large-scale format of 1000 x 1500mm. This offers the opportunity for you to specify bespoke large format sizes and cut-to-size shapes for a custom design effect. At just 5mm thick, and with a re-enforced backing, DesignClad offers a reduced weight whilst still retaining robust strength. Weighing just 13.79 kg/m2, it is an easy-to-handle, quick, lightweight solution to cladding vertical surfaces.
Premium range sizing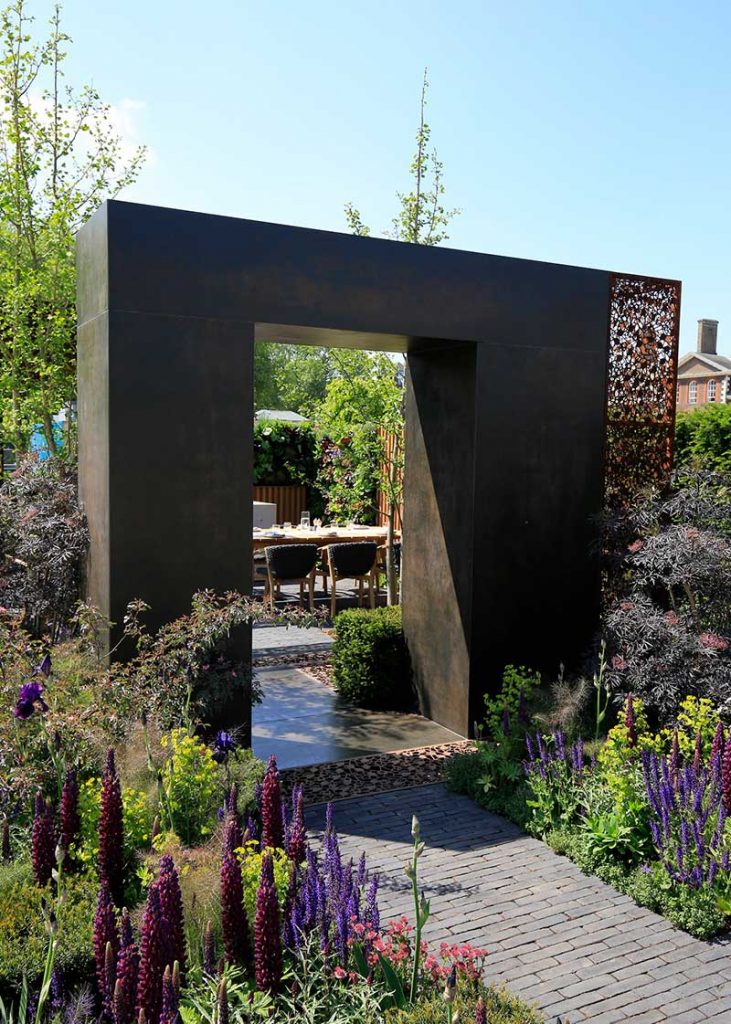 Garden Club London's 2018 RHS Chelsea Urban Flow Garden
Our Premium DesignClad range is available in 1600x800x6mm sheets. These sheets can easily be cut on-site to fit any shape or size. Our in-house specialist stone masons also offer a bespoke cutting service, to prepare the sheets to any size or design; the limit is your imagination.
Schemes that feature Luxury DesignClad
Garden Club London used our Steel Dark Luxury DesignClad as a focal part of their 2018 RHS Chelsea scheme. In this unique design, DesignClad was used to provide some privacy to the garden without limiting light.
The scheme had a calming colour palette of greens and purples which really stood-out against the DesignClad
Laser cut Corten steel from Stark & Greensmith and DesignClad has been used to create a cantilever pergola structure. This structure is what creates the impressive focal point of the garden whilst also providing further privacy and intricate shadows. It is a creative alternative way of creating privacy and structure, whilst also giving the garden a truly distinctive feel.
This garden is a stunning example of a contemporary garden that is full of character. The scheme won designer Tony Woods a gold medal at the show, as well as Best 'Space To Grow' Garden. Whether you are looking to create an equally distinctive garden or something more simplistic, inspiration can still be drawn from this project. By creating a vertical focal point, there is plenty of space at ground level to create a functional garden.
Limebok Landscaping used Premium DesignClad on this scheme, which went viral when posted on Facebook in July
Schemes that feature Premium DesignClad
Desert Beige Premium DesignClad was used by Limebok Landscaping in an impressive garden scheme. In this scheme Limebok were given the clear brief to "design a cool low maintenance garden with exciting entertainment spaces and areas for the young family to enjoy." This brief is one that is related to many.
This modern garden draws beautifully brings together distinctive areas of the garden to create a cohesive design. DesignClad was used throughout the garden which helps bring the project together. Used as a stunning alternative to wall cladding along the stairs as well as behind the bar area for a sleeker finish. Due to is durable qualities the porcelain makes the perfect alternative to stone walling for a more contemporary feel.
The team at Limebok favoured DesignClad over using rendered walls, and we think it was the right call!
Not all gardens will look to bring together so many distinct areas of the garden. However, this beautiful project does serve as a perfect example of how to do this. When designing your garden, consider how to use one product throughout the scheme to create a unified result. It is also a perfect example of how to use DesignClad as an alternative to more traditional vertical designs.
Shop the DesignClad range now and create your own impressive garden. We love to see your finished projects, so don't forget to send us images!